A genetically modified pig heart has been successfully transplanted into a 57-year-old man who had no other treatment options but is "doing well" 3 days after the procedure, officials at the University of Maryland Medical Center (UMMC), Baltimore, announced today.
"This organ transplant demonstrated for the first time that a genetically modified animal heart can function like a human heart without immediate rejection by the body," they said.

First pig-to-human heart transplant.
Three genes associated with antibody-mediated rejection had been knocked out in the pig supplying the transplanted heart, and six human genes associated with immune acceptance of the organ had been inserted into the pig's genome, notes a UMMC press release.
"Lastly, one additional gene in the pig was knocked out to prevent excessive growth of the pig heart tissue, which totaled 10 unique gene edits made in the donor pig," the release states.
The patient, Maryland resident David Bennett, had required mechanical circulatory support to stay alive but was rejected for standard heart transplantation at UMMC and other centers. He was ineligible for an implanted ventricular assist device due to ventricular arrhythmias.

Dr Griffith and Bennett.
Bennett "is being carefully monitored over the next days and weeks to determine whether the transplant provides lifesaving benefits," the announcement says.
"We are proceeding cautiously, but we are also optimistic that this first-in-the-world surgery will provide an important new option for patients in the future," notes a quote from Bartley P. Griffith, MD, the UMMC surgeon who performed the procedure.
The pig supplying the heart was provided to the center by Revivicor (Blacksburg, Virginia), a regenerative medicine company. An experimental antirejection medication (Kiniksa Pharmaceuticals; Lexington, Massachusetts) was also used, in addition to standard immunosuppressants.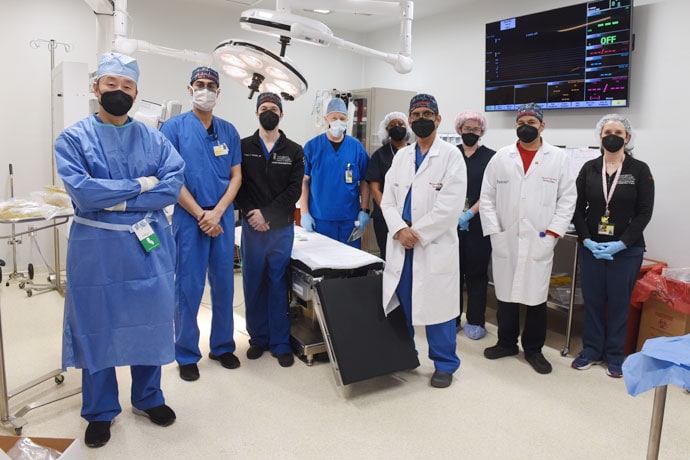 Dr Mohiuddin with the transplant team.
Follow Steve Stiles on Twitter: @SteveStiles2. For more from theheart.org | Medscape Cardiology, follow us on Twitter and Facebook.
Credits:
Images: University of Maryland School of Medicine
Medscape Medical News © 2022 WebMD, LLC

Send comments and news tips to news@medscape.net.
Cite this: Pig Heart Successfully Transplanted to Man - Medscape - Jan 10, 2022.