Many states have restored restrictions on telehealth use that they suspended earlier in the COVID-19 pandemic, according to a new report jointly prepared by the Reason Institute, the Pioneer Institute, and the Cicero Institute.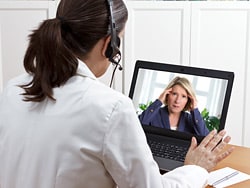 Among the most important restrictions that have been reinstated in some states are those barring requirements for insurers to cover telehealth and regulations that prohibit telehealth visits across state lines unless the physician is licensed in both states.
"Only three states — Arizona, Florida and Indiana — allow all healthcare providers to easily practice telehealth across state lines," says a news release on the think tanks' report. "Forty-seven others have arbitrary barriers in place that limit patients' access to specialists and available appointments based purely on residency."
"Once the [state-based] public health emergency declarations started to end or executive orders were withdrawn, many of the new flexibilities for providers, insurers, and patients were lost overnight," Vittorio Nastasi, a policy analyst at Reason Foundation and a co-author of the report, says in the news release. "States need to adopt a number of telehealth reforms to provide their residents better access to this safe and effective virtual care."
On a positive note, the report says, most states have removed the requirement that a patient must first see a provider in person before they can use telehealth services. The exceptions are Tennessee, Alaska, and West Virginia, which require an in-person visit before certain telehealth services can be provided.
In addition, 20 states allow nurse practitioners to conduct telehealth visits without being under the supervision of a physician. Prior to the pandemic, some states allowed only doctors to use telehealth, the report says; but, during the COVID crisis, "the acute shortage of providers in many counties adds to the need for more kinds of providers to be able to use it."
A number of states place restrictions on the telehealth modalities that can be utilized. Under the definition by the American Telemedicine Association, telehealth includes audio-video visits, remote patient monitoring, and "store and forward" telemedicine, which entails collecting clinical information and sending it to another site for evaluation. The latter method is particularly useful for consultations with specialists, the report notes.
Coverage Mandates and Payment Parity
The report also examines other parameters of telehealth regulations in each state, including whether they have telehealth coverage mandates and whether they require physicians to be paid the same amount for similar types of in-person and telehealth visits.
The report views insurance mandates as beneficial, but not if they require coverage of all virtual services. While telehealth can be a game changer for post-stroke care and for other "treatment-intensive conditions," the report says, the evidence of better outcomes for other conditions treated through telehealth is far less certain. Therefore, it advises states to "protect flexibility so that new innovative models can emerge."
Ateev Mehrotra, MD, a professor at Harvard Medical School who studies telehealth, agrees that it offers more value in some clinical situations than in others. "High value is improving quality or outcomes at a reasonable cost," he told Medscape Medical News. "If a telemedicine visit for stroke can save a person's life and prevent disability, let's pay for it. A telemedicine visit for a cold may not be necessary. Mom's chicken soup is fine."
A little over half of the states still require payment parity, according to the report. While these regulations are intended to promote the use of telehealth, the authors note, they can increase the growth of healthcare costs. Moreover, they argue, it's hard to defend equal payments for virtual visits when the overhead required to deliver them — such as office rental, utility, and labor costs — is much lower than that for in-person visits. Also, it makes no sense for health systems to charge facility fees for telehealth visits when these visits can be initiated from anywhere, they say.
Mehrotra concurs with this view. "If you see someone in your office, your fee includes all the overhead for your office, and it's a substantial cost," he says. "For many procedures, it's more than half of the cost. If you have a telemedicine visit and you're at home, why would you pay the same amount? The visit may take the same amount of time, but all the money that goes for overhead is not accounted for."
Telemedicine Across State Lines
The report's contention about the difficulty of conducting telehealth encounters across most state lines seems to be at odds with the growth in the Interstate Medical Licensure Compact, which makes it easier for physicians in one compact member state to get licensed in others. Currently, 35 states belong to the compact, Joe Knickrehm, vice president of communications for the Federation of State Medical Boards, told Medscape.
In addition, he says, "12 state boards issue a special purpose license, telemedicine license or certificate, or license to practice medicine across state lines to allow for the practice of telemedicine."
The catch, Mehrotra says, is that, despite the streamlining of license applications in compact member states, the fees charged by the state boards are still very high — a point that the report also makes. "If I want to have broad scope of practice, I'd have to pay thousands of dollars to many states. The license fees start to add up. Also, I have to keep track of each state's CME requirements, which are all different. Keeping up with all of that is an administration burden, and it's a pain."
Knickrehm contends that obtaining multiple licenses via the compact "is generally less expensive for physicians than the cost of requesting transcripts, fingerprints, and other necessary paperwork each time they apply for licensure in a new state. Physicians are seeing the benefits of an expedited process that allows them to begin practicing more quickly [in other states]."
Mehrotra says he has seen the same retrenchment in state telehealth regulations that the report references. However, he says, "CMS [the Centers for Medicare & Medicaid Services] has signaled that at least through 2022 and maybe into 2023, they'll continue their extensions of telemedicine [pandemic regulations]." After that, Congress would have to decide whether to make the changes permanent.
"Right now, it's hard for me to see how a payer is going to pull back on telehealth, unless there's ample evidence of overuse of telehealth," he argues. "With the public and providers liking telehealth, it's hard to say on theoretical grounds that we should stop using it. That's why Medicare and others have extended it, and why Congress will too."
Ken Terry is a healthcare journalist and author. His latest book is "Physician-Led Healthcare Reform: A New Approach to Medicare for All."
For more news, follow Medscape on Facebook, Twitter, Instagram, and YouTube.
Credits:
Images: Dreamstime
Medscape Medical News © 2022

Send news tips to news@medscape.net.
Cite this: As Pandemic Regs Expire, States Get Tougher on Telehealth: Report - Medscape - Jan 10, 2022.