The pandemic has been hard on nurses, who were showing symptoms of stress, fatigue, and burnout even before COVID-19 upended their lives. Leaders of nursing professional societies have described their members as being at the breaking point, and even the public believes that nurses are underpaid.
Over the summer of 2021, Medscape invited nurses themselves to weigh in on these issues by answering questions about their work satisfaction, the effects of the pandemic, and workplace abuse.
More than 10,700 licensed practical nurses (LPNs), registered nurses (RNs), nurse practitioners (NPs), nurse midwives (NMs), clinical nurse specialists (CNSs), and certified registered nurse anesthetists (CRNAs) responded, sharing what they're up against and how they feel about their careers for the Medscape Nurse Career Satisfaction Report 2021.
It's Still About the Patients
For many nurses, the pandemic took the shine off their careers, with 41% of NMs and 40% of RNs saying the pandemic decreased their satisfaction with nursing. Smaller percentages reported the opposite. Twenty-three percent of CNSs and 15% of NMs said the pandemic increased their job satisfaction.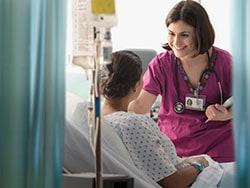 Despite the challenges nurses faced this year, many nurses still value their relationships with patients. About a third of RNs and LPNs said that helping people and making a difference were the most rewarding aspects of their work. Advanced practice nurses — a group that includes NPs, CNSs, and CRNAs — were most likely to cite relationships with patients as the most rewarding aspect of their jobs. CRNAs were the exception among advanced practice nurses, citing the chance to work at a job they like and the amount of money they make as the most rewarding aspect of their careers.
Administration and workplace politics were the least satisfying aspects of the job for RNs and LPNs, with LPNs being more troubled than RNs by patient load, rate of pay, and lack of respect from physicians, managers, or colleagues.
Despite these issues, 90% of all nurses said they were glad they had chosen nursing as a profession, with advanced practice nurses slightly more likely to say that than RNs and LPNs. However, if given the opportunity to start over, only 70% said they'd choose a career in the same field. Still, most of those who would change wouldn't go far. Of those who said they regretted their career choice, most would choose another career within nursing. A minority said they planned to leave nursing within the next 3 years; LPNs were the most likely (26%) to have plans for leaving.
Emotional Toll
Nurses had to face greater-than-normal emotional difficulties this year. Caring for and losing patients to COVID-19 has been stressful. The losses weren't confined to patients. Nurses surveyed, ranging from 14% of NMs to 25% of CRNAs, reported knowing a fellow healthcare provider who died of COVID-19.
Violence against healthcare workers is another problem that has increased since the pandemic. Of the LPNs and RNs surveyed, about 1 in 5 reported being the victim of physical abuse in the past year, most often from patients. At least 40% of all nurses surveyed and 58% of RNs reporting receiving verbal abuse in the past year, again citing patients as the most likely source of verbal abuse.
CRNAs reported that verbal abuse was slightly more likely to come from physicians than from patients (61% vs 58%). For RNs, the most abuse came from visitors. Almost a third of all nurses polled reported being the focal point of emotional abuse, most often from managers and administrators, though CRNAs were more likely to report abuse from physicians.
The vast majority of nurses (between 84% and 91% across the nursing specialties surveyed) said they had not personally experienced sexual abuse. Unfortunately, of the nurses who were victims of such abuse, most did not report it to their managers, and of those who did, most said the issue had not been resolved to their satisfaction.
For more news, follow Medscape on Facebook, Twitter, Instagram, and YouTube.
Credits:
Lead Image: DigitalVision/Getty Images
Medscape Medical News © 2021

Send news tips to news@medscape.net.
Cite this: Amid Shortages, Resignations, Nurses Still Love Their Jobs: Survey - Medscape - Dec 29, 2021.