Jordan Grumet, MD, an internist in Northbrook, Illinois left his private practice about 2 years ago, partly because of competition from local retail clinics.
"We were always fighting the pharmacy clinics," he says. "My generation of doctors was brought up to think we should have a one-stop shop. That was the idea behind being a primary care doctor. So it was very destructive to know your patients were going to another provider."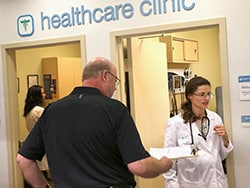 Local retail clinics and urgent care centers were also co-opting many of the minor acute care visits that help primary care practices survive. "The number of visits for flu shots and simple medical problems drops," says Grumet, who is now an end-of-life-care consultant and also works in hospices. "That can put downward economic pressure on primary care practices."
Competition for primary care practices is ready to heat up even more, and the environment may soon become even more threatening for primary care doctors. Over the last year, the two largest pharmacy chains — CVS and Walgreens — announced their intentions to build larger retail clinics that will offer many aspects of traditional primary care. Walmart will also be doing the same.
How many geographical areas will be affected is unknown. However, observers say these new hybrid clinics could affect the revenues of some primary care practices.
"There will be more competition, no question," says George Abraham, MD, MPH, president of the American College of Physicians (ACP).
Andrew Bazemore, MD, MPH, senior vice president of research and policy for the American Board of Family Medicine, agrees. "Seeing retail clinics finally embrace the promise of coordination and comprehensiveness in primary care is a promising step," he says. "It's good to see CVS, Walmart, and Walgreens embracing the notion that they have to do more than just urgent care. On the flip side, it's a source of competition for longstanding primary care clinics."
Jeff Kagan, MD, an internist in Newington, Connecticut, notes that during the pandemic the booming demand for primary care has reduced competition from alternative care settings.
"But if this was not pandemic times, it would be very different. There are more urgent care walk-in clinics that do some primary care, and they are pulling away patients."
New Alternative Care Settings
The number of retail health centers has leveled off at around 2000 clinics, about the same as in 2016. But CVS, which has around half that total, is now adding HealthHUB facilities, which offer non-emergency care. CVS had 800 of these quasi-primary care clinics in the first quarter of 2021 and planned to have 1000 by the end of 2021, according to Managed Healthcare Executive.
Walgreens closed 150 of its retail clinics while partnering with VillageMD to develop 600 VillageMD clinics that are larger than its current in-store offices. The chain plans to build these clinics adjacent to Walgreens stores in 30 markets over the next 4 years. Currently, Walgreens has more than 50 VillageMD clinics, mostly in Sunbelt states.
Walmart opened the first of its new expanded-service clinics in 2019. Now it has clinics in Georgia, Arkansas, Texas, and Florida. These Walmart Health locations offer urgent care, primary care, labs, X-ray, and mental health therapy, as well as dental, optical, and hearing services.
The number of urgent care centers (UCCs), meanwhile, has mushroomed during the last decade. With the addition of 400-500 centers every year since 2014, there were 9279 UCCs in the US as of June 2019, according to the Urgent Care Association.
These UCCs usually have on-staff physicians. In contrast, most retail clinics are staffed by nurse practitioners. Another big difference is that in retail clinics, two thirds of the patients — many of them young and healthy — have no regular primary care clinician; only a third of UCC patients don't have a personal physician.
Because of these rootless patients, competition from retail clinics "is no big deal" to some primary care practices, says Ateev Mehrotra, MD, a Harvard Medical School professor who has studied alternative care settings. On the other hand, he asks, why do so few UCC patients have a regular physician? That raises the question of how many of these patients would go to a primary care office if there were no retail clinics or UCCs.
Economic Pressure on Practices
Grumet's point about retail clinics and UCCs depriving his practice of easy, lucrative visits is widely echoed among his peers. The fee-for-service payment system based on Medicare rates exacerbates the problem. As Abraham points out, when primary care doctors see a higher percentage of patients with complicated problems, the doctors don't get compensated fairly for those visits.
Minor acute care, Abraham notes, is "easier work for the same pay. When I review 100 pages of records for someone who was hospitalized and figure out their 10 different problems and 20 medications, I get paid virtually the same as if I treated a diabetic with a common cold or a foot laceration. The complexity of thought is not factored completely into the reimbursement. And we use the easier visits to offset the more complex ones."
What Happened to Continuity of Care?
The fragmentation of care between primary care practices and alternative care settings also "diminishes the primary care function," Bazemore says.
"Primary care is supposed to be first contact, covering most of what a patient needs — comprehensive, coordinated, and continuous," he observes. "When you fragment and separate an urgent care function from the rest, so it's not done in the context of that first contact, you weaken the primary care component without enhancing its function."
Observers doubt the advent of larger retail clinics that provide more services is likely to solve this problem. In Mehrotra's view, CVS' HealthHUBs "are all about supporting primary care. But are they really? Who are the patients supposed to come back to? This is a critical point: When you ask patients who's in charge of their care, what are they going to say?"
Retail clinics and urgent care centers have a similar issue, Grumet says. "If you see patients in the office, and they have problems late at night, they can call you. There's a continuity of care you don't get in alternative care settings. The real goal in those places is to get patients in, assess them, and get them out. Which is fine — for minor things. But for someone who needs more comprehensive care, it's not so good."
This is why the ACP advised against the provision of chronic care in alternative care settings, says Abraham. He continues, "The problem with retail clinics is they've expanded into chronic care management in one or more episodes that require care, but not true continuity of care. When you go to a primary care physician's office, we discuss more than just acute problems or chronic health issues; we talk about wellness, lifestyle, preventive services, vaccines, and your family. Relationship-building occurs, which transcends more than care interaction. In a setting where you get your care and you leave, longitudinal, holistic care doesn't build."
Kagan puts it more succinctly: "Sometimes urgent care walk-in clinics get in over their head [with chronic care]. They like the guy who has high blood pressure and comes in once or twice a year for a prescription refill. But they're not involved with the guy who has much more trouble."
None of the urgent-care doctors he knows of are taking long-term responsibility for their patients, Kagan adds. "They don't schedule follow-ups. They'll see a patient for something, then say, "If you're not better, come back and see me in a couple of weeks."
Two Flavors of Urgent Care
Kagan has seen another type of doctor–patient relationship since he sold his practice to Hartford HealthCare 2 years ago. Hartford HealthCare owns 50% of an urgent care group called GoHealth.
"If our Hartford HealthCare patients can't get into the office, we encourage them to go to a GoHealth facility," he notes. "It's not competition; it's like one of our colleagues. We use the same EMR, so I can see everything that happens. I can even send someone who needs an X-ray to a GoHealth Center just for that."
Moreover, GoHealth provides only urgent care. "So if it's one of my patients, they refer them back to me for follow-up. And if somebody wanders in there without a primary care physician, they'll hook them up with a Hartford HealthCare clinician."
Bazemore has had a similar experience. He practices one day a week in his residency clinic in Fairfax, Virginia, which is owned by the Inova Health System. Inova created an adjoining urgent care facility that is open 7 days a week and uses the same EMR as Bazemore's clinic.
This is the kind of relationship that Abraham would like to see between alternative care settings and traditional primary care practices: complementary rather than competitive. However, he questions the motives of hospital systems that own urgent care centers.
"Healthcare systems are starting these urgent care centers because they want to cash in on the same market," he says. "I'm not convinced that their goal is to feed their primary care doctors. That is a potential advantage, but they also feed their specialists and try to blend procedures and other lucrative aspects of care into their system."
What Pharmacy Chains Are Up to
Pharmacy chains have their own ulterior motives, Abraham notes. They built retail clinics for the same reason they sell drugs: to increase sales of consumer goods in their stores. Bazemore notes that retail clinics also aim "to achieve a certain patient volume and incentivize what's purchased in the pharmacy."
Exacerbating the situation, CVS now owns Aetna, one of the biggest health insurers. Kagan believes that CVS' new emphasis on HealthHUBs may be related to that. "CVS seems to be closing drugstores and opening up more primary care places, and now that they own Aetna, they're trying to make Aetna patients go to CVS when they have a problem," he says. Aetna patients are now required to fill their prescriptions at CVS, he adds.
Walmart has said it plans to open expanded-service clinics in locales that don't have sufficient primary care, especially rural areas. The experts we consulted agree that Walmart won't stop there if its new model is successful. In fact, Bazemore notes, competition from the new generation of in-store clinics is likely to be in areas where there are plenty of primary care doctors.
"For economic reasons, you're going to see more of these clinics fill spaces where there's already a sufficiency [of primary care] — starting with wealthy suburban areas," Bazemore says. "Where you have a Walmart, Walgreens, or CVS, you tend to find more purchasers. I don't know that it's necessarily the answer to our access problems."
What Should Primary Care Doctors Do?
The obvious response of primary care practices to competition from retail clinics and urgent care centers that are open 7 days a week, 12 hours a day, is to expand their hours. In addition, they can introduce same-day scheduling or reserve a block of time every day for walk-in patients.
That's the approach that Grumet took in his private practice. "When my patients called me, I tried to deal with it right away. So it was baffling that some of them went to retail clinics."
Actually, it's not so baffling, Abraham says, when you consider that retail clinics are part of a one-stop-shopping experience that will become even more all-encompassing in stores that add quasi-primary care clinics. "You can pick up the consumables you need, you can pick up prescriptions, and you can see your physician without having to make multiple stops. It's a great idea for pharmacies."
How about telemedicine? A lot of acute care similar to that provided in alternative care settings can be offered during virtual visits, notes Bazemore. However, he says, the pharmacy chains have been providing telemedicine for years, using third-party services. And while the convenience of virtual visits appeals to some patients, that's no guarantee they won't go to retail clinics.
Reaching out to patients with reminders about the need for checkups and preventive visits, either by phone or through a patient portal, is another technique that practices can use to retain patients. A recent Press Ganey poll shows that people value this kind of communication. But it hardly seems sufficient to hold off the competitive assault of pharmacy chains.
A flaw in the pharmacies' strategy, however, could eventually come back to bite them: Because the new, larger clinics don't provide comprehensive care, people will eventually have to turn to traditional primary care — if it's still around.
"Here's the problem," Grumet explains. "If you're going to do [in-store primary care], you have to take ownership of the patient and manage everything. You have to be a full-fledged primary care practice with on-call hours and ER coverage. Otherwise, you're taking bits and pieces — probably low-hanging fruit — to make money, and taking those away from the primary care practice. Which means you're taking them from the people who should be doing the job."
For more news, follow Medscape on Facebook, Twitter, Instagram, YouTube, and LinkedIn
Credits:
Images: Scott Olson/Getty Images
Medscape Medical News © 2021

Send news tips to news@medscape.net.
Cite this: CVS, Walmart, Plan Bigger In-Store Clinics: Will Primary Care Practices Suffer? - Medscape - Dec 28, 2021.