SILVER SPRING, MD — The FDA issued approval for extended-release injectable cabotegravir (Apretude, CAB-LA) today, providing an alternative to daily oral tenofovir disoproxil fumarate-emtricitabine (TDC-FTC) for pre-exposure prophylaxis (PrEP) against HIV acquisition.
The priority review approval was based on phase 2b-3 clinical trial data submitted to the agency this past August, after one of the studies was stopped early because of encouraging efficacy results of the first pre-planned interim endpoint analysis.
"Although TDF-FTC PrEP could be almost astoundingly effective in preventing HIV acquisition across populations and risk exposures, the adherence to the daily protocols was really challenging and difficult to attain initially, and to maintain for some of our most vulnerable populations," Raphael Landovitz, MD, MDC, lead study investigator and co-director of The Center for HIV Identification, Prevention, and Treatment Services at UCLA, Los Angeles, California, told Medscape Medical News.
Landovitz noted that population level benefits observed with PrEP were limited to people who were highly engaged in healthcare and well resourced, but the same benefits were not observed in the most vulnerable, highest-risk populations.
"The idea was, is there anything that we can do to improve...choices for different options, some of which — like long-acting agents — would remove the obligation to adhere to daily prescribing or a post-coital and be more discreet," he said.
Data Demonstrated Superiority vs TDF-FTC
Details of the prospective, phase 2b-3 randomized, double-blind, double-dummy, active-controlled trial among 4566 cisgender MSM (men who have sex with men) and transgender women) highlighted the superiority of CAB 600 mg intramuscularly vs placebo or active TDF-FTC (300 mg/200 mg), with CAB-LA reducing HIV infection risk by 69%. These results were published August 11 in the New England Journal of Medicine and previously reported by Medscape Medical News.
The second trial evaluated safety/efficacy of CAB-LA administered every 8 weeks in 3224 cisgender at-risk women. Findings, which were reported in November 2020, also highlighted superiority of CAB-LA vs TDF-FTC, demonstrating a 90% reduction in HIV acquisition risk.
In the initial study, investigators identified HIV infections in 57 participants (including 52 who acquired HIV infections after enrollment). The hazard ratio for incident HIV infection vs TDG-FTC was 0.34, P < .001). Notably, effects were consistent across prespecified subgroups and populations.
In the second trial, 38 HIV infections occurred in the CAB-LA arm (incidence rate 0.21%) and 34 infections in the TDF/FTC arm (incidence rate 1.79%). The hazard ratio in the CAB-LA vs TDF/FTC was 0.11 (95% CI, 0.04 - 0.32).
Additionally, integrase strand-transfer inhibitor (INSTI) resistance mutations were detected in 1 of 4 of baseline HIV infection cases among CAB participants, while 2 of 39 incident infections in TDF-FTC participants occurred despite drug concentrations indicating good PrEP adherence.
Adverse Events, Breakthrough Infections, and Other Important Considerations
Because the trial was halted early, long-term safety data were lacking, thereby prompting investigators to launch an ongoing, open-label extension. In the initial trial, injection site reactions were reported in 81.4% (1724) of CAB participants, most beginning a median of 1 day (IQR 0-2 days) post-injection, mild to moderate in severity (60.8% pain, 23.7% tenderness), and lasting a median of 3 days (IQR 2-6 days). In comparison, injection site reactions were reported in 31.3% of TDF-FTC participants (who, incidentally, received at least one placebo injection).
Severe adverse events (grade 3 or higher) were similar between CAB and TDF-FTC groups, They consisted mostly of an increase in creatine kinase level (14.2% with CAB vs 13.5% with TDF-FTC) and a decrease in creatinine clearance (7.0% with CAB vs 8.3% with TDF-FTC).
Although weight gain was higher among CAB participants (1.23 kg/year vs 0.37 kg/year, TDF-FTC participants), most of the differences were observed during the first 40 weeks and were driven by weight loss in the TDF-FDC group. Weight changes were similar (~1 kg/year) thereafter.
Importantly, study participants assigned CAB underwent an oral-tablet, 5-week lead-in phase, which might have contributed to eventual treatment failure.
In a companion piece published November 1 in the Journal of Infectious Diseases, investigators noted that adherence to the oral lead-in was poor in roughly one third of participants with incident, breakthrough infections. They wrote that the barriers to adherence with daily oral PrEP regimens coupled with the favorable CAB-LA safety profile, suggested that "the oral phase before CAB-LA initiation might not be necessary or desirable."
The question remains as to whether or not strategies entailing viral load or other RNA screening tests at follow-up clinic visits might be warranted.
"It's one of the biggest sort of 'what's next' questions that's come out of this study," Landowitz said. "We're now testing the strategy of using viral load or RNA screening at every visit to see if, in fact, we can catch these breakthrough infections earlier and potentially avoid resistance," he added.
Until more data are available, Landowitz said that "the guidance for the clinician would be that until you have resistance testing back on someone who breaks through cabotegravir PrEP, to use a protease inhibitor-based treatment regimen, at least initially."
Decisions as to whether or not to start patients on a 4-week oral cabotegravir lead-in should be made in coordination with patients. Thereafter, CAB-LA is administered as a single 600 mg (3-mL) intramuscular dose every 2 months after two initiation injections administered 1 month apart. A negative HIV test is required before each administration.
Institutional changes to ensure delivery of injections, tracking, and follow-up to ensure optimal use of long-acting PrEP agents is likely to challenge already overburdened healthcare systems, and may require additional strategies for implementation (eg, pharmacy or at-home administration). Despite these factors, CAB-LA approval is welcome news to clinicians and patients alike.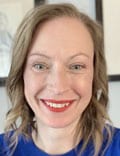 "We're constantly searching for new drugs to expand our repertoire of what we can provide patients," Lina Rosengren-Hovee, MD, MPH, assistant professor of medicine and infectious disease specialist at UNC-Health, Chapel Hill, North Carolina, told Medscape Medical News. Rosengren-Hovee was not involved in the study.
"For folks under 30, the sexual and gender minority, Black, and Latino, they are the ones with the highest need for PrEP, that are in a position that places them at higher risk for HIV. Being able to offer an injectable option is...a game changer," she said.
Rosengren-Hovee reports no relevant financial relationships. Landovitz has consulting relationships with Gilead, Janssen, Roche, and Cepheus.
Liz Scherer is an independent journalist specializing in infectious and emerging diseases, cannabinoid therapeutics, neurology, oncology, and women's health.
For more news, follow Medscape on Facebook, Twitter, Instagram, YouTube, and LinkedIn
Credits:
Lead Image: ViiV
Image 1: University of North Carolina-Chapel Hill
Send news tips to news@medscape.net.
Cite this: FDA Approves Cabotegravir Extended-Release Injectable for HIV PrEP - Medscape - Dec 20, 2021.