Bariatric surgery for weight loss is associated with a significantly increased risk for epilepsy, new research suggests.
Although the epidemiologic study didn't address the potential mechanisms underlying the link between the surgery and epilepsy risk, study investigator Jorge Burneo, MD, professor of neurology, biostatistics and epidemiology, and endowed chair in epilepsy, Western University, London, Canada, believes it may be related to an altered gut microbiome.
"The alteration in the biology of the gut following surgery probably predisposed these patients to have seizures," he told Medscape Medical News.
The findings were presented at the American Epilepsy Society (AES) 2021 Annual Meeting.
"Out of the Blue"
During his epilepsy fellowship, Burneo came across a number of patients who had developed epilepsy "out of the blue."
"The only thing that was important in their medical history was they had bariatric surgery for obesity," he said.
Then, as a practicing epileptologist, he once again encountered patients whose epilepsy he suspected was linked to bariatric surgery.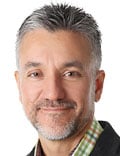 To investigate the potential association between the two, Burneo and colleagues identified 16,958 adult patients from linked databases at the Institute for Clinical Evaluative Sciences (ICES) who had undergone bariatric surgery for weight loss between July 2010 and December 2016. They also analyzed data from a sample of 622,514 obese patients who did not undergo this surgery.
Study participants had no history of seizures, or of taking epilepsy medication and no psychiatric comorbidities. They also had not undergone brain surgery, which may affect epilepsy risk.
The two study groups were similar in terms of age, gender, BMI, and other characteristics.
Researchers followed participants to December 31, 2019 to identify cases of new-onset epilepsy (two or more unprovoked seizures). During follow-up, 73 (0.4%) participants who had bariatric surgery developed epilepsy (the rate was 50.1 per 100,000 person-years).
In addition to epilepsy risk factors, researchers adjusted for stroke and central nervous system infection such as meningitis and encephalitis.
Mechanism Unknown
Investigators found a significantly increased risk for epilepsy among those who received bariatric surgery vs those who didn't (hazard ratio [HR] 1.45; 95% CI, 1.35 - 1.56).
The results were similar for different types of surgery. Some bariatric surgery procedures reduce the body's ability to absorb nutrients whereas others do not.
In addition, researchers found that in the surgery group, there was a significantly increased risk for epilepsy for those who had a stroke during follow-up, relative to those who didn't (HR, 14.03; 95% CI, 4.26 - 46.25).
This make senses as evidence shows stroke increases epilepsy risk. Burneo's research shows up to 6% of patients who have a stroke develop epilepsy. Patients who experience a hemorrhagic stroke have a higher risk than those who have ischemic stroke.
It's not clear from the study why the control group did receive bariatric surgery. Results also didn't show the type of epilepsy that bariatric surgery patients developed. "But I can tell you that all the patients in my practice who had the surgery and developed epilepsy have focal epilepsy," said Burneo.
Although the mechanism connecting bariatric surgery and epilepsy is unknown, Burneo said it is likely related to changes to the microbiome, in line with growing evidence of a relationship between the gut and the brain. The drastic weight loss after bariatric surgery may cause an electrolyte disturbance that could set the stage for seizures, he added.
He noted that future research should explore the underlying mechanisms driving the association.
Burneo noted the etiology of epilepsy is unknown in a large proportion — possibly up to 80% — of epilepsy cases. Using tools available to identify genetic and autoimmune contributors, that rate may be reduced to perhaps 60%, he said.
"But we are still left with a large proportion of patients in whom we don't have an etiology." For these patients, bariatric surgery may be a possible factor predisposing them to epilepsy, said Burneo.
Hypothesis-Generating Research
Commenting for Medscape Medical News, Daniel M. Goldenholz, MD, PhD, instructor in neurology, Beth Israel Deaconess Medical Center, Boston, Massachusetts, who has a research interest in various aspects of epilepsy, said this an "interesting and large-scale analysis."
However, he added, such studies are typically considered "hypothesis generating" because it can be difficult to control for the many variables involved, he said.
The finding of a possibly much higher increased epilepsy risk in the setting of postoperative stroke "is well aligned with other studies" presented at this year's AES meeting that demonstrate this link, said Goldenholz, who was not involved in the study.
He added he is curious to know what factors might increase the risk for epilepsy in those surgical subjects who did not have a stroke.
"More studies will be needed to carefully validate the findings, and to further explore the causes if these results are validated."
The study investigators and Goldenholz have disclosed no relevant financial relationships.
American Epilepsy Society (AES) 2021 Annual Meeting: Abstract 3.373. Presented December 6, 2021.
For more Medscape Neurology news, join us on Facebook and Twitter
Credits:
Lead Image: E+/Getty Images
Image 1: Dr Jorge Burneo
Medscape Medical News © 2021

Send news tips to news@medscape.net.
Cite this: Bariatric Surgery an Epilepsy Risk Factor? - Medscape - Dec 09, 2021.