An abstract and poster presentation questioning the safety of mRNA-based COVID-19 vaccines, embraced by some and lambasted by others, has drawn an "expression of concern" from the American Heart Association (AHA), along with a bid for correction.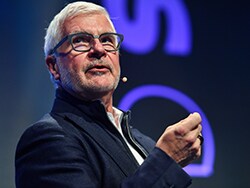 The abstract in question concludes that COVID vaccines "dramatically increase" levels of certain inflammatory biomarkers and therefore the 5-year risk of acute coronary syndromes (ACS), based on pre- and post-vaccination results of an obscure blood panel called the PULS Cardiac Test (GD Biosciences Inc). The findings were presented at the AHA's 2021 Scientific Sessionsas an uncontrolled observational study of 566 patients in a preventive cardiology practice.
Some on social media have seized on the abstract as evidence of serious potential harm from the two available mRNA-based SARS-CoV-2 vaccines, BNT162b2 (Pfizer-BioNTech) and mRNA-1273 (Moderna). But others contend that the study's described design and findings are specious and its conclusions overstated.
They also point to the notoriety of its one listed author, Steven R. Gundry, MD, who promotes his diet books and supplements as well as fringe, highly criticized theories about diet and disease on several websites, including drgundry.com. Gundry has not responded to requests for an interview.
https://twitter.com/lfoquet/status/1462888024862121990
Gundry's abstract from the AHA Scientific Sessions 2021, available on the meeting's program planner, was marked with an "expression of concern" by the AHA that is to stand "until a suitable correction is published, to indicate that the abstract in its current version may not be reliable."
The expression of concern statement, also published online November 24 in Circulation, says "potential errors in the abstract" were brought to the attention of the meeting planners. "Specifically, there are several typographical errors, there is no data in the abstract regarding myocardial T-cell infiltration, there are no statistical analyses for significance provided, and the author is not clear that only anecdotal data was used."
The biomarker elevations on which the abstract's conclusions are based included hepatocyte growth factor, "which serves as a marker for chemotaxis of T-cells into epithelium and cardiac tissue," it states.
"The expression of concern about the abstract will remain in place until a correction is accepted and published" in Circulation, AHA spokesperson Suzanne Grant told theheart.org | Medscape Cardiology by email.
"The specific data needed will be up to the abstract author to determine and supply," she said, noting that Gundry "has been in communication with the journal throughout this process."
Submitting researchers "must always attest to the validity of the abstract," Grant said. "Abstracts are then curated by independent review panels, blinded to the identities of the abstract authors, and are considered based on the potential to add to the diversity of scientific issues and views discussed at the meeting."
Regarding the AHA's system for vetting abstracts vying for acceptance to the scientific sessions, she said it is not primarily intended to "evaluate scientific validity" and that the organization is "currently reviewing its existing abstract submission processes."
A recent Reuters report reviews the controversy and provides links to criticisms of the study on social media.
American Heart Association (AHA) Scientific Sessions 2021: Abstract VMP41. Presented November 13, 2021.
Follow Steve Stiles on Twitter: @SteveStiles2. For more from theheart.org | Medscape Cardiology, follow us on Twitter and Facebook.
Credits:
Lead Image: Dreamstime
Image01: Piaras Ó Mídheach/Web Summit via Sportsfile
Medscape Medical News © 2021

Cite this: Steve Stiles. AHA Challenges Diet Doctor's Study Alleging COVID Vax Risks - Medscape - Dec 07, 2021.