Editor's note: Find the latest COVID-19 news and guidance in Medscape's Coronavirus Resource Center.
An administrator at a South Carolina skilled nursing and rehabilitation center is facing federal charges for creating false COVID-19 vaccination cards as well as lying to investigators.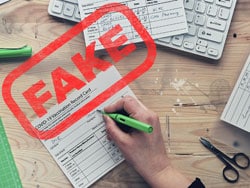 On Thursday, the US Attorney's Office for the District of South Carolina announced the first indictment in the state related to fraudulent COVID-19 vaccine cards. Tammy McDonald, a 53-year-old registered nurse, is charged with two counts of producing fraudulent COVID-19 vaccination records cards. According to federal investigators, she produced the cards in June 2020 and again in July 2021.
The indictment also includes one count of lying to federal investigators. On October 22, agents from the FBI as well as the US Department of Health and Human Services (HHS) questioned McDonald. The indictment alleges McDonald lied by stating she did not have access to COVID-19 vaccination record cards and that she had never produced false or inaccurate cards.
McDonald "defrauded and endangered the public by creating and distributing" the fake cards, according to investigators.
A graduate of the University of South Carolina School of Nursing, McDonald worked as director of nursing services at a skilled nursing and rehabilitation center in Columbia, South Carolina. According to a report in the newspaper, The State, McDonald's attorney, Jim Griffin, said McDonald, who is vaccinated, made "one or two" vaccine cards to help a relative who has anti-vaccination beliefs and that she received no money for the cards.
McDonald pleaded not guilty to all charges and was released on a $10,000 bond after her lawyer argued that she was not a flight risk and posed no threat to the community. However, the judge ordered that if McDonald returns to nursing, her employers should be notified of the charges and that she should not be involved in the vaccination process, according to a report in The State, a South Carolina paper.
At press time, neither McDonald's current employer nor a Department of Justice representative had returned requests for information on her employment status.
She faces up to 15 years in prison for each count of producing a fraudulent COVID-19 vaccination card and 5 years in prison for lying to federal investigators.
Derrick L. Jackson, Special Agent in Charge with the HHS' Office of Inspector General, stated, "engaging in such illegal activities undermines the ongoing pandemic response efforts."
Since President Joe Biden announced his vaccine mandate plan in September, the price of fake COVID-19 cards has risen from $100 to $200 per card and the number of sellers from an estimated 1200 to more than 10,000, according to a report from Check Point Software Technologies.
For more news, follow Medscape on Facebook, Twitter, Instagram, and YouTube.
Credits:
Images: Dreamstime
Medscape Medical News © 2021

Send news tips to news@medscape.net.
Cite this: S.C. Nurse Charged With Producing Fake COVID-19 Vaccination Cards - Medscape - Dec 03, 2021.