Editor's note: Find the latest COVID-19 news and guidance in Medscape's Coronavirus Resource Center.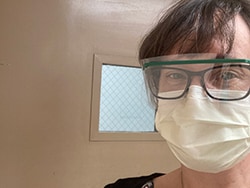 COVID-19's relentless toll on the clinical workforce inspired four doctors to draft an action plan to stem the exits and help colleagues preserve their physical and mental health.
Indeed, a recent poll of 1,000 health care workers conducted Sept. 2-8 by Morning Consult, showed that 18% of medical workers polled quit their jobs during the pandemic. Additionally, 31% said they had at least thought about leaving their work.
"As physicians, educators, peers and friends of COVID-19 responders, we are gravely concerned about our colleagues' exhaustion, burnout, and disillusionment," wrote lead author Eileen Barrett, MD, and coauthors of the new action plan, which was published in the Annals of Internal Medicine.
The 10-point, one-page checklist includes providing "practical support in the areas that clinicians identify as causing emotional stress or moral injury," such as managing anger and grief when patients have chosen not to be vaccinated or confronting misinformation.
"Those are the things that are making people's mental health worse" psychiatrist Jessi Gold, MD, MS, said in an interview. "I don't think I've seen that mentioned other places."
Among the other action items are:
Reduce administrative tasks that are not "mission critical," such as mandatory training that has no evidence of improving patient outcomes and meetings that could be skipped.

Offer free and confidential resources to support clinicians' mental health, such as easy access to crisis hotlines and peer support groups.

Maintain transparency about personal protective equipment and contingency plans when there are shortages to restore trust.

Encourage clinicians to use vacation time; leaders should model this.

Implement suicide prevention strategies, including wellness check-ins for clinicians in hard-hit areas.
The action plan was based on the authors' own experiences and the stories of colleagues and information in literature. It includes 10 changes health care leaders could make to help retain providers who may be on the brink of leaving their jobs or leaving medicine.
Action Items Intended to Be Easily Achievable, Low Cost
Barrett, who is a hospitalist in Albuquerque, said the goal was to present easily achievable and low-cost action items that clinicians and health care leaders could use as a starting point when change seems insurmountable and evidence on what works is slow to come.
She said one of the things that spurred her to coauthor the list was becoming aware of other clinicians' "secret shame" in thinking about leaving medicine.
"Maybe a person who is not being listened to could take this journal article and say 'we don't know where to start. It looks like we can start here,' " said Barrett, who is also an associate professor in the division of hospital medicine, department of internal medicine, at the University of New Mexico, Albuquerque.
She noted that some of the good ideas floated around did not make the list, because they required daunting budget commitments and too much time to put into place.
Numerous other proposed solutions were of the wrong tone, according to Barrett.
"It's not just about a hug or a piece of pizza," she said.
Gold, who is an assistant professor at Washington University, St. Louis, and specializes in the mental health of health care workers, noted that, even though the list was pared to 10 action items, it is still hard for health care organizations to prioritize mental health.
"Many hospitals are still struggling with the active bleed of the pandemic and financially recovering," she said. "If you're dealing with a full ER and people are still dying of COVID and you don't have the resources to support them, it's really hard to then find magic money to deal with mental health. I'd love for that to be true."
Every organization, however, can start with removing questions about mental and physical health diagnoses from credentialing and employment applications, which is one of the items on the list, she said.
"It's the lowest-bar thing that you can fix for making people in crisis not fear getting help," she said. That change must come on a state-by-state and individual hospital level.
Favorable Reactions to List
Barrett, who also serves on the editorial advisory board of Internal Medicine News, said the reactions to the checklist have been "overwhelmingly favorable and appreciative."
Eric J. Topol, MD, founder and director of the Scripps Research Translational Institute in La Jolla, Calif., and editor-in-chief of Medscape Medical News, tweeted about this list: "For COVID-19, more than ever before, it's vital to keep clinicians in the U.S. health care workforce. These are 10 steps that will help." The tweet was retweeted more than 100 times.
Lotte Dyrbye, MD, MHPE, a primary care physician and codirector of the program on physician well-being at the Mayo Clinic in Rochester, Minn., said in an interview that managing the anger around patients who choose to be unvaccinated is critical and something that has gotten little notice since the vaccines became available.
"Physicians and nurses are working extremely hard and seeing a lot of suffering and are taking care of patients very sick with COVID-19, knowing they had access to the vaccine. That is causing anger and frustration. We haven't prepared health care workers to deal with that," she said.
Outside Expert: Not All Items May Be Easy to Implement
Dyrbye said that, though she found adding time to address COVID misinformation questions in appointments is very important, it may be wishful thinking.
The authors suggested training other members of the care team to answer those questions to free up time, but she said, for patients who have been swayed by misinformation, hearing information from someone other than the physician they have a relationship with won't be convincing.
According to Dyrbye, the items on the list are not easy to implement, but the action plan is worthwhile to consider adopting as a multipronged approach.
"Most of these things are hard and we need to be in it for the long run," she said.
The need is clear for efforts to address the mental health of not just experienced clinicians but those in training as well, she noted.
Related Research
A study that was also recently published in the Annals of Internal Medicine suggested that making a few simple changes can help improve the mental health of residents. The research, which included nearly 17,000 first-year residents who started training between 2007 and 2019, addressed indicators of mental health in light of interventions such as limiting residents' work hours and providing more services.
The investigators found that, though depression remains high among residents, depressive symptoms among first-year residents dropped 24.4% from 2007 to 2019 in parallel with four main factors: an increase in mental health services; restrictions on work hours for residents; more sleep hours; and higher-quality feedback from faculty.
Barrett said she hopes her colleagues and health care workers everywhere will find some solace in seeing that the new checklist she coauthored was published in a prominent journal.
The message Barrett said she hopes they see is: "Someone is validating it is not in their head. They are validating we can do better. They are validating that we must."
Barrett and coauthors had no conflicts of interest. Gold and Dyrbye also disclosed having no relevant financial relationships.
This article originally appeared on MDedge.com, part of the Medscape Professional Network.
Credit:
Lead Image: Getty Images
Image 1: Dr Eileen Barrett
Medscape Medical News © 2021 WebMD, LLC

Send comments and news tips to news@medscape.net.
Cite this: 10 Changes That Could Keep Clinicians in the Workforce in a Pandemic - Medscape - Dec 02, 2021.