Editor's note: Find the latest COVID-19 news and guidance in Medscape's Coronavirus Resource Center.
New cases of COVID-19 were down in children during the week leading up to Thanksgiving, but not by as much as vaccinations, which dropped by 71% in the days before and after the holiday, according to new data.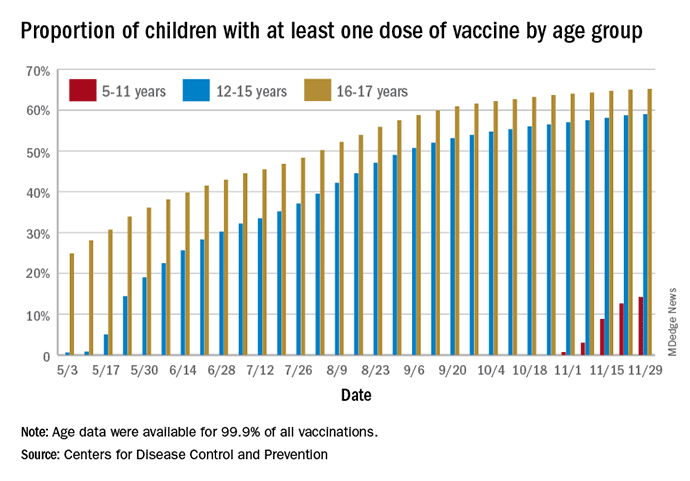 States reported 131,828 new pediatric cases for the week of Nov. 19-25, a decline of 7.1% over the previous week but still enough to surpass 100,000 for the 16th consecutive week. The weekly count had risen for 3 straight weeks since the last decrease in late October, the American Academy of Pediatrics and the Children's Hospital Association said Nov. 30 in their weekly COVID report.
The AAP/CHA analysis, based on data from state and territorial health departments, puts the total number of cases in children at 6.9 million since the pandemic began, representing 17.0% of cases in Americans of all ages. The Centers for Disease Control and Prevention, which uses an age limit of 18 years to define a child, unlike some states, reports numbers of 6.1 million and 15.5%.
New vaccinations among the youngest eligible children, those aged 5-11 years, were down for the second week in a row after reaching almost 1.7 million during the first full week after approval on Nov. 2. Since then, the vaccination counts have been 1.2 million (Nov. 16-22) and 333,000 (Nov. 23-29), the CDC said on its COVID Data Tracker. A similar drop in the last week – from 127,000 to just 50,000 – also was seen for those aged 12-17 years.
Altogether, 14.2% of children aged 5-11, almost 4.1 million individuals, have received at least one dose of the vaccine, compared with 59.0% (10 million) of the 12- to 15-year-olds and 65.2% (5.5 million) of those aged 16-17. Just under 1% of the youngest group has been fully vaccinated, versus 49.0% and 55.8% for the older children, the CDC said.
It has been reported that Pfizer and BioNTech, which produce the only COVID vaccine approved for children, are planning to apply to the Food and Drug Administration during the first week of December for authorization for a booster dose for 16- and 17-year-olds.
This article originally appeared on MDedge.com, part of the Medscape Professional Network.
Credits:
Lead Image: Jack Guez/AFP via Getty Images
Image 1: MDedge News
Medscape Medical News © 2021 WebMD, LLC

Cite this: Children and COVID: New Cases, Vaccinations Both Decline - Medscape - Dec 01, 2021.