A single dose of human papillomavirus (HPV) vaccine was highly effective at preventing oncogenic infection, rivaling the protection offered by multidose regimens, according to results from the KEN SHE trial, based in Kenya.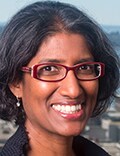 The findings, published on the preprint server Research Square and presented November 17 at the 34th International Papillomavirus Conference in Toronto, Canada, bring "renewed energy to the push to make cervical cancer the first cancer to be wiped out globally," according to co–principal investigator Ruanne V. Barnabas, PhD, a professor of global health at the University of Washington School of Medicine, Seattle.
Decision-makers will consider these findings, which have not yet been peer-reviewed, along with other evidence to determine if dosing-schedule changes are warranted, she told Medscape Medical News.
In a press release, Samuel Kariuki, PhD, acting director general, Kenya Medical Research Institute, who was not involved in the research, called the findings a "game changer" that could "substantially reduce the incidence of HPV-attributable cervical cancer."
Between 2018 and 2019, Barnabas and her colleagues enrolled 2275 sexually active, HPV-vaccine-naive women in Kenya in their study. The women, 15 to 20 years of age, were randomly assigned to receive a bivalent vaccine (HPV 16/18), a nonavalent vaccine (HPV 16/18/31/33/45/52/58/6/11), or a vaccine against meningococcal meningitis.
Most participants (57%) were between 15 and 17 years of age, and 61% reported one lifetime sexual partner. The women underwent genital and cervical swabs at enrollment to test for HPV DNA and had blood drawn to test for antibodies. During 18 months of follow-up, they had cervical swabs every 6 months and a vaginal swab at 3 months to test for HPV DNA.
The researchers detected 38 persistent HPV 16/18 infections in women who had tested negative for HPV 16/18 antibodies at enrollment and for HPV 16/18 DNA at enrollment and month 3 — one in each of the HPV-vaccine groups and 36 in the meningococcal group. This infection rate corresponded to a vaccine efficacy of 97.5% (P < .001) against HPV 16/18 for both the bivalent and nonavalent vaccines, which is "comparable to that seen in multidose vaccine trials," the researchers write.
Among women negative for HPV 16/18/31/33/45/52/58 at the beginning of the trial, 33 had persistent infections: four in the nonavalent vaccine group and 29 in the meningococcal group, demonstrating an efficacy of 89% (P < .001) against all seven oncogenic strains contained in the vaccine.
Even if women tested positive for one strain of HPV, the vaccine protected them from other strains of the virus, the investigators noted.
Serious adverse events occurred in 4.5% to 5.2% of participants across the study arms.
The KEN SHE trial comes 15 years after the US Food and Drug Administration approved the first HPV vaccine — Merck's Gardasil. Two others, Cervarix and Gardasil-9, have since been approved, but cost and supply issues have inhibited coverage, particularly in areas where the cervical cancer burden is high, the researchers noted.
Recent data indicate that just 15% of girls globally are vaccinated against HPV, but a single-dose vaccine would "simplify logistics and decrease costs," thereby improving the chances of reaching the World Health Organization goal of vaccinating 90% of 15-year-old girls against HPV by 2030, Barnabas said in a press release about the trial.
Co–principal investigator Nelly Mugo, MBChB, MPH, senior principal clinical research scientist with the Center for Clinical Research at the Kenya Medical Research Institute in Nairobi, further emphasized the importance of the findings, noting in the press release that the "trial brings new energy to the elimination of cervical cancer. It brings great hope to the women living in countries like Kenya, who have a high burden of the disease."
Mugo is also an associate research professor of global health at the University of Washington, Seattle.
Barnabas said women have been given multiple doses of the HPV vaccine because of "gaps in evidence for the effectiveness of a single-dose vaccine and concerns about clinically meaningful differences in efficacy.
"Observational data suggested that the single-dose HPV vaccine could have good efficacy, but because the data were not from randomized trials, that could have been from chance," she explained, noting, however, that "sufficient evidence supported the decrease in doses from three to two doses for girls 15 years of age and younger."
Going forward, the researchers will conduct immunobridging studies to other populations and will continue follow-up to assess the durability of single-dose efficacy, Barnabas said.
"The results from the KEN SHE trial support the use of single-dose HPV vaccination to increase access and coverage," she concluded.
The KEN SHE trial was funded by the Bill & Melinda Gates Foundation (BMGF). Barnabas reports grants from BMGF and grants from King K. Holmes Professorship in STDs and AIDS during the conduct of the study and grants from BMGF, National Institutes of Health, and manuscript and abstract writing support from Regeneron Pharmaceuticals outside the submitted work.
This research is from a preprint study. The full text can be found at researchsquare.com.
34th International Papillomavirus Conference: Presented November 17, 2021.
Sharon Worcester is an award-winning medical journalist at MDedge News, part of the Medscape Professional Network.
For more news, follow Medscape on Facebook, Twitter, Instagram, and YouTube.
Credits:
Lead Image: Getty Images
Image 1: Dr Ruanne Barnabas
Medscape Medical News © 2021

Send news tips to news@medscape.net.
Cite this: Single-Dose HPV Vaccination Highly Effective - Medscape - Nov 30, 2021.