A new study on diversity, equity, and inclusion in the healthcare leadership structure of organizations in the United States has found that women are underrepresented, despite making up a majority of the overall healthcare workforce. Fifteen percent of health system and health insurer CEOs are women, according to the study, which was published online today in JAMA Network Open. Representation by women as chairpersons of the board of directors at health systems and health insurers was just slightly better: 17.5% of chairpersons at health systems are women, and 21.3% of boards of directors have chairpersons who are women.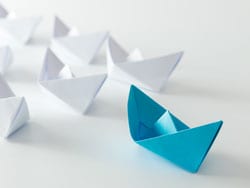 The study also found that having a woman as a health system CEO was associated with a higher proportion of women on the board of directors or in roles as senior executives. Having more women in senior leadership roles at health insurance companies was also associated with increased representation of women as CEOs, per the study.
Researchers also learned that more than half (58.1%) of the leadership positions in the US Department of Health and Human Services (HHS) are held by women.
Bismarck Odei, MD, lead author of the study, told Medscape Medical News that he was most surprised that "the healthcare system in one of the largest populated countries in the world, where women form a slight majority, has so few women leaders influencing the day-to-day healthcare realities of women."
Still, he points to the gender diversity of healthcare organizations' boards of directors as "not a trivial statistic."
"It may be one of the more important parameters that can increase the representation of women in the CEO position across healthcare organizations," said Odei, a radiation oncology resident at the Ohio State University Comprehensive Cancer Center.
Healthcare Organizations Are More Diverse Than Fortune 500
As a benchmark, women are more likely to serve as CEO at healthcare organizations than at Fortune 500 companies. Fortune reported in June that only 8.1% of these companies are led by women CEOs. Barron's reported in July that 29% of US board directors were women in 2020, which is up from 19% in 2014.
In addition, a 2019 analysis by consulting firm McKinsey revealed that organizations in the top quartile in terms of gender diversity on executive teams were 25% more likely to deliver above-average profitability than companies in the fourth quartile.
The JAMA study authors wrote that the underrepresentation of women on leadership teams, especially since women make up slightly more than half (50.8%) of the US population, "likely diminishes their role in policy decisions that affect population and women's health."
Putting the study in the larger context of research in this area, Odei observes that increased diversity improves organizational performance. "The US healthcare system has been valiantly trying to reach its full potential for some time now, and strengthening its leadership ranks with diverse and innovative voices will be key to achieving its goals."
Odei's other observations about the study include:
The underrepresentation of women in leadership in the US healthcare system is "pervasive across organizations and will likely not self-correct without a deliberate organizational appreciation of the problem with commensurate interventions."

Women continue to dominate in leadership positions such as human resources, marketing, and communications, but balance should be sought across executive leadership roles. Odei's advice: "A pool of gender-diverse candidates should be considered when positions such as CEOs, CFOs, and COOs are being considered as well, since some of these positions serve as preparatory roles for other more executive leadership opportunities."

Mentorship and sponsorship of women in the leadership pipeline is a must, he said. "While the burden of executive leadership is already high, I believe it is paramount for current leaders to actively seek ways they can serve as mentors and sponsors for the rising generation."
Doctors and nurses who are early in their careers also have a role to play. Odei encourages them to seek opportunities in education and leadership, such as leadership academies and internships, to start to wrestle with the current challenges and burdens facing the healthcare system. Novice doctors and nurses should also seek out mentorship and sponsorship opportunities with healthcare leaders, he said.
The study included 3911 senior executives from health systems and 1303 from health insurance groups. Also included were 3462 board directors of health systems and 1143 from health insurers, in addition to 31 leadership positions at HHS.
Odei has disclosed no relevant financial relationships. Study coauthor Crystal Seldon, MD, reported receiving personal fees from Elekta.
JAMA Network Open. Published online November 29, 2021. Research Letter
For more news, follow Medscape on Facebook, Twitter, Instagram, YouTube, and LinkedIn
Credits:
Images: Dreamstime
Medscape Medical News © 2021

Send news tips to news@medscape.net.
Cite this: Study Finds Healthcare Lacks Female Leadership, Opportunities - Medscape - Nov 29, 2021.