Ohio Doctor Convicted of Prescribing Unnecessary Controlled Substances, Fraud
A federal jury found William R. Bauer, 84, of Port Clinton, Ohio, guilty of prescribing powerful controlled substances, including opioids, to patients without medical necessity and outside the usual course of medical practice.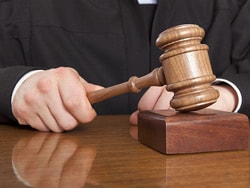 Bauer, a neurologist with over 50 years of experience, was convicted of 76 counts of distribution of controlled substances and 25 counts of healthcare fraud. According to television station WTOL, a federal indictment from 2019 listed 270 charges against the physician.
Federal officials claim that through his practice in Bellevue, Ohio, Bauer repeatedly prescribed controlled substances, including oxycodone, fentanyl, morphine, and tramadol, outside the usual course of professional practice and without legitimate medical purpose. The charges focused on 14 of his patients, to whom he prescribed high doses of opioids and other controlled substances without medical necessity. He also prescribed dangerous drug combinations. He ignored patients' signs of addiction and abuse, such as early requests for refills, claims that medications had been lost, and claims that family members were stealing pills.
Bauer was also convicted of healthcare fraud for regularly administering epidural injections and trigger-point injections without medical necessity. Because these injections failed to meet the procedural requirements, they were rendered ineffective and were fraudulently billed to insurers. Bauer's illegal prescriptions resulted in insurers paying for these medically unnecessary controlled substances.
Evidence at trial indicated that between January 2007 and August 16, 2019, Bauer prescribed controlled substances outside the usual course of medical practice and for illegitimate medical purposes. Insurers paid for these medically unnecessary controlled substances as well.
He will be sentenced at a later date.
Lab Pays $1.2 Million to Resolve Allegations of False Claims for Drug Testing
Bluewater Toxicology, LLC, a clinical laboratory in Mount Washington, Kentucky, has agreed to pay $1.2 million to resolve civil allegations that it violated the False Claims Act.
The US Department of Justice alleged three issues relating to claims for urine drug testing services that Bluewater submitted to Medicare, Kentucky Medicaid, Indiana Medicaid, TRICARE, and CHAMPVA. First, Bluewater submitted claims in which it misrepresented the number of drug classes it tested. Bluewater claimed it conducted definitive urine drug tests of 22 or more drug classes. In truth, Bluewater tested for fewer than 22 drug classes and secured reimbursement for drug tests that it did not conduct.
Second, Bluewater submitted certain claims without sufficient documentation to support the physician's intent to order the test that was billed. In this way Bluewater obtained further unwarranted reimbursements.
Finally, Bluewater billed Medicare for specimen validity testing, a quality control process used to analyze a urine specimen to ensure that it has not been diluted or adulterated. Since January 2014, Medicare's guidance has stated that specimen validity testing should not be separately billed to Medicare, but Bluewater did so anyway.
Home Care Company Owner Pays $1 Million in Medicare Fraud Restitution
Richard Wennerberg, 72, of Grantham, New Hampshire, pleaded guilty and was sentenced to two counts of class B felony Medicaid fraud, according to the New Hampshire Department of Justice.
Wennerberg is the owner of Alternative Care @ Home, LLC, a company licensed to provide in-home personal care services to Medicaid beneficiaries. He also pleaded guilty to a third charge of Medicaid fraud, through which Alternative Care @ Home, LLC, will be excluded from future participation in federal healthcare programs.
According to New Hampshire officials, Wennerberg submitted claims for reimbursement for in-home, personal care services that were never provided. Wennerberg billed Medicaid up to the maximum hours allowed under certain clients' service authorizations, knowing that his employees did not provide care for all of those hours. He would use the difference to reimburse some caregivers for mileage.
Wennerberg will serve 1 year in state prison and will pay $1 million in restitution.
North Carolina Wins Two "Operation Root Canal" Settlements
North Carolina Attorney General Josh Stein announced two separate civil settlements with ProHealth Dental Inc and Henry W. Davis, Jr, DDS, as part of Operation Root Canal, an ongoing effort to find and stop healthcare fraud among dental practitioners. The settlements, totaling $75,000, resolve allegations of the submission of false claims to the North Carolina Medicaid program.
In Operation Root Canal, the state Medicaid investigations department reviews billing practices for a wide variety of dental services, including dental cleanings, use of nitrous oxide, repetitive restorations on the same tooth, palliative care, and upcoding of patient examinations. In total, the operation has netted more than $7 million for the state.
The recent settlement relates to a prior criminal plea the attorney general's Medicaid Investigations Division obtained involving Christian Ekberg, of Maryland, who was sentenced to 18 months in prison for healthcare fraud and was ordered to pay $173,870.12 to the North Carolina Medicaid Fund in restitution. Ekberg was an officer and minority shareholder of ProHealth Dental, a company that entered into a practice management agreement with Henry W. Davis, Jr, DDS., a North Carolina dentist and Medicaid practitioner who provided dental services to patients living in skilled nursing facilities throughout North Carolina. ProHealth Dental would provide professional management services to Davis, including submitting Medicaid claims. The company submitted claims for dental services that Davis did not perform on Medicaid recipients.
For more news, follow Medscape on Facebook, Twitter, Instagram, and YouTube.
Credits:
Images: Dreamstime
Medscape Business of Medicine © 2021

Send news tips to news@medscape.net.
Cite this: Neurologist Guilty of Overprescribing Thousands of Doses of Painkillers - Medscape - Nov 22, 2021.