Erenumab, a calcitonin-gene related peptide receptor (CGRP) inhibitor, is more tolerable and effective than topiramate for treating patients with migraine, according to data from almost 800 patients in the first head-to-head trial of its kind.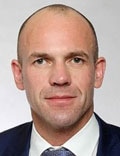 The findings suggest that erenumab may help overcome longstanding issues with migraine medication adherence, and additional supportive data may alter treatment sequencing, reported lead author Uwe Reuter, MD, professor at Charité Universitätsmedizin Berlin, and colleagues.
"So far, no study has been done in order to compare the efficacy of a monoclonal antibody targeting the CGRP pathway to that of a standard of care oral preventive drug," the investigators wrote in Cephalalgia.
The phase 4 HER-MES trial aimed to address this knowledge gap by enrolling 777 adult patients with a history of migraine. All patients reported migraine with or without aura for at least 1 year prior to screening. At baseline, most patients (65%) reported 8-14 migraine days per months, followed by 4-7 days (24.0%), and at least 15 days (11.0%). No patients had previously received topiramate or a CGRP-targeting agent.
"HER-MES includes a broad migraine population with two-thirds of the patients in the high-frequency migraine spectrum," the investigators noted. "Despite a mean disease duration of about 20 years, almost 60% of the patients had not received previous prophylactic treatment, which underlines the long-standing problem of undertreatment in migraine."
The trial had a double-dummy design; patients were randomized in a 1:1 ratio to receive either subcutaneous erenumab (70 or 140 mg/month) plus oral placebo, or oral topiramate (50-100 mg/day) plus subcutaneous placebo. The topiramate dose was uptitrated over the first 6 weeks. Treatments were given for a total of 24 weeks or until discontinuation due to adverse events, which was the primary endpoint. The secondary endpoint was efficacy over months 4-6, defined as at least 50% reduction in monthly migraine days, compared with baseline. Other patient-reported outcomes were also evaluated.
After 24 weeks, 95.1% of patients were still enrolled in the trial. Discontinuations due to adverse events were almost four times as common in the topiramate group than the erenumab group (38.9% vs. 10.6%; odds ratio [OR], 0.19; confidence interval, 0.13-0.27; P less than .001). Efficacy findings followed suit, with 55.4% of patients in the erenumab group reporting at least 50% reduction in monthly migraine days, compared with 31.2% of patients in the topiramate group (OR, 2.76; 95% CI, 2.06-3.71; P less than.001).
Erenumab significantly improved monthly migraine days, headache impact test (HIT-6) scores, and short form health survey version (SF-35v2) scores, including physical and mental components (P less than .001 for all).
Safety profiles aligned with previous findings.
"Compared to topiramate, treatment with erenumab has a superior tolerability profile and a significantly higher efficacy," the investigators concluded. "HER-MES supports the potential of erenumab in overcoming issues of low adherence in clinical practice observed with topiramate, lessening migraine burden, and improving quality of life in a broad migraine population."
Superior Tolerability
Commenting on the study, Alan Rapoport, MD, clinical professor of neurology at the University of California, Los Angeles, and editor-in-chief of Neurology Reviews, said this is "a very important, very well conducted trial that documents what many of us already suspected; erenumab clearly has better tolerability than topiramate as well as better efficacy."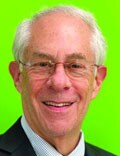 Rapoport, a past president of the International Headache Society, said the study highlights an area of unmet need in neurology practice.
"Despite most patients in the trial having chronic headaches for 20 years, 60% of them had never received preventive treatment," he said, noting that this reflects current practice in the United States.
Rapoport said primary care providers in the United States prescribe preventive migraine medications to 10%-15% of eligible patients. Prescribing rates for general neurologists are slightly higher, he said, ranging from 35% to 40%, while headache specialists prescribe 70%-90% of the time.
"How can we improve this situation?" Rapoport asked. "For years we have tried to improve it with education, but we need to do a better job. We need to educate our primary care physicians in more practical ways. We have to teach them how to make a diagnosis of high frequency migraine and chronic migraine and strongly suggest that those patients be put on appropriate preventive medications."
Barriers to care may be systemic, according to Rapoport.
"One issue in the U.S. is that patients with commercial insurance are almost always required to fail two or three categories of older oral preventive migraine medications before they can get a monoclonal antibody or gepants for prevention," he said. "It would be good if we could change that system so that patients that absolutely need the better tolerated, more effective preventive medications could get them sooner rather than later. This will help them feel and function better, with less pain, and eventually bring down the cost of migraine therapy."
While Reuter and colleagues concluded that revised treatment sequencing may be warranted after more trials show similar results, Rapoport suggested that "this was such a large, well-performed, 6-month study with few dropouts, that further trials to confirm these findings are unnecessary, in my opinion."
The HER-MES trial was funded by Novartis. Reuter and colleagues disclosed additional relationships with Eli Lilly, Teva Pharmaceutical, Allergan, and others. Rapoport was involved in early topiramate trials for prevention and migraine, and is a speaker for Amgen.
This article originally appeared on MDedge.com, part of the Medscape Professional Network.
Credits:
Lead Image: Getty Images
Image 1: Charité Universitätsmedizin Berlin
Image 2: Dr Alan Rapoport
Medscape Medical News © 2021 WebMD, LLC

Cite this: Erenumab Bests Topiramate in First Head-to-Head Migraine Trial - Medscape - Nov 19, 2021.