A report issued by the Commonwealth Fund points to structural racism and "generations of disinvestment in communities of color" as driving "pervasive US health inequities."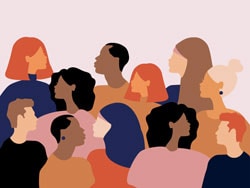 Health systems across the country aren't meeting the needs of people of color, according to the report, Achieving Racial and Ethnic Equity in US Health Care: A Scorecard of State Performance.
"For generations, federal, state, and local leaders have made policy choices that have produced worse health outcomes for people of color, including economic suppression, residential segregation, and failing to invest in the places where people live and work," said David Blumenthal, MD, president of the Commonwealth Fund, during a briefing about the report.
Laurie Zephyrin, MD, MPH, vice president for advancing health equity at the Commonwealth Fund, added that the root causes of the inequities have existed for centuries and that the pandemic has only made things worse.
"COVID-19 has unveiled for many the influence of structural racism on these disparities," she said.
Lack of Community Investment Results in Unequal Health Outcomes
Blumenthal drew a connection between the lack of investment in communities and social determinants of health, including inequities in income, access to food, economic security, and health outcomes, for people of color across all 50 states.
The following groups are included in the report: Blacks; Whites; American Indian/Alaska Natives; Asian Americans; Native Hawaiians; Pacific Islanders; and Latinx.
The scorecard, which includes data from 2019 and 2020, presents findings regarding three aspects of healthcare: health outcomes, healthcare access, and quality and use of healthcare services.
Additional findings from the scorecard include the following:
Health equity is nonexistent in any US state. That is true even in areas that have strong healthcare systems, such as the District of Columbia, Massachusetts, and Connecticut. According to the US Centers for Disease Control and Prevention (CDC), achieving health equity means enabling each person to "attain his or her full health potential" and ensuring that no one is held back from achieving this outcome "because of social position or other socially determined circumstances." The CDC says that health inequities can result in differences in length and quality of life; rates of disease, disability, and death; disease severity; and access to appropriate healthcare treatments.

Black, Latinx, and American Indian and Alaska Native populations experience inferior health outcomes in US healthcare systems in comparison to White patients.

Massachusetts, Connecticut, Rhode Island, New York, Hawaii, and Oregon fared better in the report. The available data indicate that for racial and ethnic groups in these states, health equity was above average.

Among the groups studied, some of the highest racial inequities occurred in Midwestern states, such as Minnesota and Wisconsin. The report also found that although residents of all races and ethnicities in Mississippi and Oklahoma have a substandard experience in the healthcare system, there are demonstrable health inequities in these states.
Blacks Are More Likely to Die from Preventable and Treatable Diseases
In most states, Black residents are more likely to die early from preventable causes than White residents, according to the report. Although Black persons are less likely to have access to high-quality care, Latinx residents are less likely to succumb to preventable diseases than Black residents, per the scorecard.
Diabetes is one condition that can be managed successfully through ongoing monitoring of blood glucose levels and medications. For patients with diabetes, health outcomes vary across races and ethnicities. The scorecard found that Blacks, American Indians, and Alaska Natives have a much greater chance of dying as a result of complications from diabetes.
Breast cancer, which is treatable when it's detected early, is more likely to be diagnosed in later stages among Black women. In addition, Black women are more likely to die as a result of breast cancer than women of other races and ethnicities, per the report.
Barriers such as poor insurance coverage, lack of a regular healthcare practitioner, and unaffordable medications can result in the ineffective treatment of conditions such as diabetes and high blood pressure, according to the scorecard.
The report's policy recommendations include ensuring universal, affordable, and equitable health coverage; strengthening primary care and improving the delivery of services; reducing inequitable administrative burdens that affect patients and practitioners; and investing in social services.
Specific recommendations for supporting lower-income families include providing unemployment compensation and promoting participation in earned income tax credit and child tax credit programs, according to the report. Other efforts by federal and state policymakers may include investments in childcare, food security, and targeted wealth-building programs.
The Commonwealth Fund published the first state scorecard in 2007. It has published the report on a near-annual basis since 2014. According to a spokesperson, the 2021 report is the first to focus in depth on racial and ethnic gaps in the healthcare system.
For more news, follow Medscape on Facebook, Twitter, Instagram, and YouTube.
Credits:
Images: Dreamstime
Medscape Medical News © 2021

Send news tips to news@medscape.net.
Cite this: 'Pervasive' Health Inequities Exist Across the US: Report - Medscape - Nov 18, 2021.