Taylor Chiang, a Rutgers second-year medical student, has grown accustomed to the blank stares and awkward pauses when responding to questions by healthcare practitioners who don't truly understand transgender patients.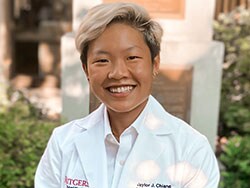 But having a first name that could be male or female makes it easier for Chiang than for others whose given name isn't traditional for their gender identity.
From not taking the time to ask for gender identity or sexual orientation ― or recording for future reference a person's preference regarding the pronouns "they/them" ― the medical student recognized an unmet need and devised a way to address it.
Chiang came up with the idea for TranZap, a web-based app to connect trans patients with each other so that they can share experiences about medical practitioners they have seen. By being armed with more information about potentially gender-affirming healthcare practitioners, patients can make more informed decisions about their care, Chiang told Medscape Medical News.
There are apps for the LGBTQ+ community and apps that deal with surgery for trans patients, Chiang said, but there are no apps for general practice and diverse specialty practitioners. "It's hard to visit a physician you've never been to before as a trans person," Chiang said.
Finding "Trans-Competent" Physicians
Through the TranZap, trans patients review practitioners regarding the care they received and whether they felt comfortable in the practice, Chiang explained. It takes the guesswork out of visiting a practitioner for the first time and not knowing what to expect. The app lets patients read what the experience was like for others in the trans community and helps them decide whether to see that practitioner or not, Chiang said.
To develop the app, Chiang teamed up with Rutgers; co-founder Eli Lucherini, a tech grad student at Princeton University; and the PROUD Gender Center of New Jersey. A $2000 innovation grant from Rutgers' Division of Diversity, Inclusion, and Community Engagement helped to move the app along the marketing pathway. The Rutgers Robert Wood Johnson Medical School's institutional review board (IRB) is considering the protocols submitted for the app.
Chiang expects approval to be granted soon on the beta version of the app. Once approved, beta testing can begin in January. Testing would continue for 3 months and would involve about 300 participants at Rutgers. The app could be released to the general public in late spring, according to Chiang.
The idea for the app grew from Chiang's personal experience. An unofficial poll of Chiang's Instagram trans community of followers confirmed that they had similar concerns about healthcare.
"They said they'd like to find doctors who are trans-competent," Chiang said. In addition to specialists who might be involved more frequently with the trans population, such as endocrinologists offering gender-affirming hormone therapy or plastic surgeons performing reconstructive chest surgery, the app will let trans patients review primary care doctors and specialists who don't regularly treat the trans population, Chiang said.
A Teaching Opportunity for Healthcare Practitioners
Gloria Bachmann, MD, a faculty mentor on the project and medical director of PROUD Gender Center of New Jersey, said the app is expected to serve as a learning tool. "It embraces the education of the healthcare team and provides good information to those who want to get the optimal care in an office as well as through telehealth," Bachmann said.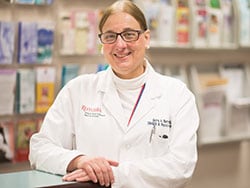 Another purpose of the app, Bachmann said, is to provide "optimal healthcare to everyone regardless of who they are. This is an area where more education and outreach is needed."
Bachmann serves in various women's health leadership capacities at the Rutgers Robert Wood Johnson Medical School and is principal investigator of the IRB protocol to test the app. She said there are many learners on campus who contribute their talents to research. "This stands out because it is so culturally necessary. It is absolutely needed to improve healthcare," Bachmann said.
Chiang originally developed TranZap as a project to gain distinction in Rutgers' medical innovation and entrepreneurship program.
"I'd like to emphasize this is an app built by trans folks, for trans folks, ultimately driven by trans folks," Chiang said.
Nathan Dawson is a transgender New York social worker who counsels LGBTQ+ individuals. He told Medscape Medical News that he sees the value of the app from the perspective of both a trans practitioner and patient. "There are so few gender-affirming clinicians and providers," he said. He envisioned the app being much like the Rate My Professor review site and as a way for practitioners such as himself to be recognized for their specialty serving trans persons, not just in a generic listing in industry publications.
Chiang hopes that in the future, healthcare professionals will know to ask up front about their patients' genders and preferences, record them on their charts, and be mindful of these facts during subsequent visits so that trans patients feel more at ease with their healthcare practitioners.
In terms of personal medical aspirations, Chiang isn't quite decided but is leaning toward pediatrics, emergency medicine, cardiology, or endocrinology.
For now, Chiang is just focusing on finishing med school and seeing the new tech venture to fruition. "I'm super excited to see where this project is going."
You can follow the app's progress on Instagram.
For more news, follow Medscape on Facebook, Twitter, Instagram, and YouTube.
Credits:
Lead Image: Taylor Chiang
Image 1: Taylor Chiang
Image 2: Rutgers University
Medscape Medical News © 2021

Send news tips to news@medscape.net.
Cite this: Med Student's App Connects Trans Patients With Gender-Affirming Docs - Medscape - Nov 17, 2021.