Patients who saw their physicians by video or on the phone did not seek substantially more follow-up care than those who had traditional in-person visits, according to a study by Kaiser Permanente that was published November 16 in JAMA Network Open.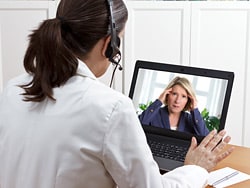 "This study answers the previously open question about whether video and phone visits are less efficient because the bulk of patients might have to come to clinic anyway to resolve their clinical issue," commented lead author Mary Reed, DrPH, a research scientist with the Division of Research at Kaiser Permanente, in a news release.
The percentage of in-person visits that occurred within 7 days after a telehealth visit was slightly higher than the percentage of in-person visits following an office encounter, but the margin of difference was "surprisingly small, less than 2%," Reed said. "That can put to rest some of the concerns about telemedicine's overall efficiency for primary care."
The investigators analyzed 2.2 million primary care video, telephone, and in-person visits scheduled by patients online in Kaiser Permanente's Northern California region between 2016 and mid-2018.
Fourteen percent of the visits were for telemedicine. Seven percent of the telehealth visits were conducted by video, and the rest by telephone.
Reed told Medscape Medical News that the reason the percentage of video visits was small was probably that the telehealth program in Kaiser Permanente Northern California was relatively new at the time of the study. Clinicians have had access to telehealth technology only since 2014, and starting in 2016, patients who scheduled primary care appointments through the system's online portal had to choose between office, video, or telephone visits.
The number of video visits, she added, increased significantly during the pandemic, along with the number of telehealth visits in total.
The study evaluated only "index visits," which were defined as visits not preceded by any other healthcare encounters within the previous 7 days. Routine physical examinations were excluded, because they could not be performed via telemedicine. The researchers identified subsets of visits involving diagnoses of upper respiratory tract infections and skin infections, two common types of telehealth diagnoses that had been examined in previous studies.
Among the 2.18 million primary care visits scheduled by 1.13 million patients, 54.9% of the patients were female, 59.8% were for White patients, and 95.1% were for English-speaking patients. In addition, 13.5% of the appointments were for patients younger than 18 years, and 22.2% were for patients aged 65 or older.
Post-Visit Follow-up Events
After statistical adjustments, 24.5% of office visits, 25.4% of video visits, and 26% of telephone visits were followed by an in-person office visit in the subsequent 7 days. Adjusted rates of emergency department (ED) visits within 7 days were not significantly different between office visits (1.3%) and video visits (1.23%) but were slightly higher for telephone visits (1.37%). Hospitalization rates within 7 days were also similar for in-person visits (0.23%), video visits (0.23%), and telephone visits (0.22%).
In contrast, a recent study showed a significantly higher rate of downstream visits following telehealth encounters among people who used direct-to-consumer (DTC) telemedicine services than among patients who saw their doctors in person. In many cases, those who used DTC services had telehealth visits with physicians whom they didn't know and who didn't have access to their electronic health record (EHR).
"We think that maintaining the ongoing physician-patient relationship in telemedicine is key," Reed said. "It's very distinct from the DTC model, where the doctor might not be someone that a patient has seen before and will be able to see again. And we mentioned the EHR because it helps provide efficient and clinically reasonable care. The physicians in our study were able to see whether the patient recently had an ER [emergency room] visit or whether they had a chronic condition."
The Kaiser study used ED visits and hospitalizations after primary care encounters as a proxy for safety and quality in telehealth visits. Reed acknowledged that those events are limited as a means of gauging quality, because most telehealth encounters are for minor acute or chronic problems that are unlikely to lead to a health emergency within a week. More research needs to be done, she added.
Prescriptions and Orders Higher in Office Visits
The rate of visits in which any medication was prescribed was 51.9% for office visits, 38.6% for video visits, and 34.7% for telephone visits. The rate of antibiotic prescribing was 13.5% for office visits, 10.6% for video visits, and 9.7% for telephone visits.
The rate of ordering any laboratory test or imaging was 59.3% for office visits, 29.2% for video visits, and 27.3% for telephone visits.
Reed and her colleagues hypothesized that the reason why the percentage of visits in which drugs were prescribed or tests were ordered was higher for office visits than for telehealth visits was because patients made office appointments when they had more serious symptoms. However, she said, there is no evidence to support this.
Kaiser provided no guidance to patients on which symptoms were appropriate for telehealth, she said, although she noted that some physicians undoubtedly suggested to their patients which kinds of complaints were suitable for telehealth visits.
Reed said the difference between the prescribing of antibiotics during office visits in comparison with telemedicine visits may be related to the fact that physicians must follow guidelines when they prescribe antibiotics.
The fact that the rate of prescribing of antibiotics was higher for offiice visits than for other types of visits "was good news, because there had been speculation that if a patient couldn't see the physician in person, doctors might be more willing to overprescribe things like antibiotics, and we don't see evidence of that," she said. In the earlier-mentioned study of DTC telehealth, however, there was overprescribing, she added.
Reed cautioned that the study's results are based on one large, integrated healthcare system in California. Nevertheless, she said, the indications of the integrated telehealth model's superiority to the DTC approach probably apply to other healthcare systems in which physicians conduct telehealth visits.
In addition, she said, the study's finding that telehealth visits need not generate extra follow-up encounters might apply to smaller, nonintegrated practices. "We have no reason to think it can happen only in an integrated system," she said.
JAMA Netw Open. Published online November 16, 2021.
Ken Terry is a healthcare journalist and author. His latest book, published by the American Association for Physician Leadership, is Physician-Led Healthcare Reform: A New Approach to Medicare for All. Follow him @kenjterry.
For more news, follow Medscape on Facebook, Twitter, Instagram, and YouTube.
Credits:
Images: Dreamstime
Medscape Medical News © 2021

Send news tips to news@medscape.net.
Cite this: Follow-up Visits Don't Increase After Telehealth Visits: Study - Medscape - Nov 16, 2021.