Brain biopsies may be a quick, safe, and promising way of determining which patients with severe traumatic brain injury (TBI) are most likely to benefit from aggressive treatment, early research suggests.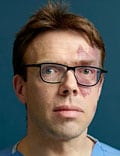 The study showed that a grading system that assesses four aspects of TBI based on brain biopsy is a better classification tool than the currently used Glasgow Coma Scale (GCS), study investigator Christopher E.G. Uff, MBBS, PhD, consultant neurosurgeon and head of neurotrauma and neurovascular surgery, Royal London Hospital, London, United Kingdom, told Medscape Medical News.
Uff believes biopsies can help guide clinical decision-making, although he said at this early point he's "wary" about recommending that clinicians "should immediately jump in and use our classification system for clinical decisions."
The research was posted online October 28 on the preprint server medRxiv and has not been peer-reviewed.
More Accurate Prognoses?
"There is some evidence these trials failed because essentially the results are watered down by a bunch of patients who were so severely injured that they were never going to survive anyway, and a bunch of patients who were just drunk or high and appeared to have a severe injury but really didn't," said Uff.
The new study included 25 patients with severe TBI (22 men and 3 women), mean age 41.2 years and mean GCS 6.9. Injuries were due to a fall, road accident, assault, or gunshot wound.
In these patients, a biopsy of the superior frontal gyrus was conducted when the dura was surgically opened for the purposes of diagnostic intracranial pressure (ICP) monitoring or therapeutic craniotomy. Therefore, acquiring the biopsy did not increase the burden of care. In addition, the investigators report, there were no adverse events.
Soon after the biopsy, tissue samples were cut into sections and stained for markers, lead author Ping Yip, PhD, non-clinical senior lecturer in neuroscience, Centre for Neuroscience, Surgery & Trauma, Queen Mary University of London, UK, told Medscape Medical News. Yip has more than 20 years of experience performing immunostaining in animal models of TBI and spinal cord injury.
Brain injury in study participants was classified into four progressively severe grades based on neuronal injury, dendritic injury, neurovascular injury, and neuroinflammation. Each of these grades has a maximum score of 4, so severely brain-injured patients can have a maximum score 16.
The grading system illustrates that injury severity can vary between individuals suffering the same type of traumatic event, said Yip. He added that previous research and therapeutic strategies focused on only one specific parameter of brain injury such as neuronal injury, but "treating only one form of the injury will most likely be unsuccessful."
A First?
Uff described a patient who suffered a severe head injury after falling off his bicycle.The man had regained consciousness and his prognosis seemed promising. However, after 10 days, the patient experienced "horrific bleeding in the brain and died." Based on brain biopsy results, Yip predicted this patient's death, said Uff, adding, "no one has ever done that before."
Researchers correlated the biopsy grading system with the Glasgow Outcome Scale-Extended (GOS-E), which is used to assess recovery at 3, 6, and 12 months.
A GOS-E score of 1 indicates death and score of 2 indicates a vegetative state, whereas a GOS-E score of 5-6 indicates moderate disability and a GOS-E score of 7-8 good recovery.
Using the grading system, all 11 patients with a total grade of ≥ 11 had a GOS-E of ≤ 4, including death (54.5%), vegetative state (18.2%) and severe disability (27.3%) at 3 months post-injury. In contrast, all eight with a grade of ≤ 8 had a GOS-E of 5 or higher, indicating a favorable outcome.
Linear regression showed a significant negative correlation between the GOS-E and neuronal injury (P = .0129), dendritic injury (P = .0004), neurovascular injury (P < .0001), and neuroinflammation (P = .0015).
Yip noted that biopsy information can be available within 24 hours after a TBI, whereas a GOS-E assessment showing the extent of functional recovery takes at least 3 months.
The biopsy-derived grading system could identify which patients might benefit from aggressive treatment, such as decompressive craniectomy, said Uff.
He used the analogy of treating patients with cancer. If clinicians knew which patients would not benefit from chemotherapy, it would prevent patients who are destined to die from suffering "appalling" side effects, he said.
Potential for Early Intervention?
Commenting for Medscape Medical News, Frank Conidi, DO, director of the Florida Center for Headache and Sports Neurology in Port St. Lucie, said this "very interesting" study "adds another potential tool" for treating TBI.
"Although not applicable to every patient, the biomarkers and classification system will help with prognostic and even care decisions in patients who fall in the gray area on the GCS — for example the 5 to 8 range."
The study also provides potential targets for treatment, perhaps using monoclonal antibodies to block some of the inflammatory biomarkers, similar to what is already used in headache, said Conidi, who is also past president of the Florida Society of Neurology.
Conidi said it would be interesting to conduct postmortem brain research in patients with TBI and subsequent dementia to determine whether they also have elevated levels of these biomarkers. If so, he said this might provide a "potential target for early intervention."
The study investigators and Conidi have disclosed no relevant financial relationships.
For more Medscape Neurology news, join us on Facebook and Twitter
Credits:
Lead Image: Dreamstime
Medscape Medical News © 2021

Send news tips to news@medscape.net.
Cite this: Brain Biopsy a Promising Tool to Assess Severe Brain Injury - Medscape - Nov 15, 2021.