Back in September, expecting couple Yazmine and Mayron were set to exchange vows at Boston City Hall in Massachusetts. But then Yazmine, who wasn't due to give birth for another 5 weeks, began experiencing contractions. The couple rushed to Brigham and Women's Hospital. They intended to be married before the birth of their baby, but it seemed as though the baby had other plans.
Luckily for Yazmine and Mayron, a nurse had overheard their predicament and alerted Gregory Woods, MD, a Brigham ob/gyn resident and, coincidentally, wedding officiant. Woods offered to step in and perform the ceremony for the couple.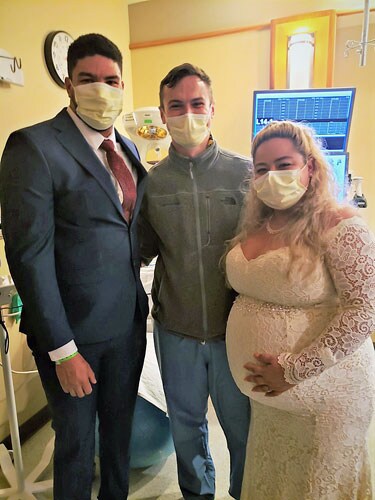 "They felt, for themselves, it was very important to be married prior to the birth of their child," said Nora Scharf, MSN, RN, nurse director for Brigham and Women's Center for Labor and Birth who spoke with Boston 25 News. "So, it was a very upsetting time for the family, for the couple. But then, when the nurse heard that they really were intending to be married that day, she said, 'Wait a minute, because we've done this before.' "
The father of the bride stopped by the couple's home to pick up Yazmine's wedding dress and Mayron's suit. Clad in their wedding attire with a room full of hospital staff to witness the ceremony, the two exchanged vows in the labor room of the hospital.
"To help keep the day a special one for the couple, members of their care team and other staff on the unit sprang into action to organize a festive wedding ceremony," the hospital said in a Facebook post, according to MassLive.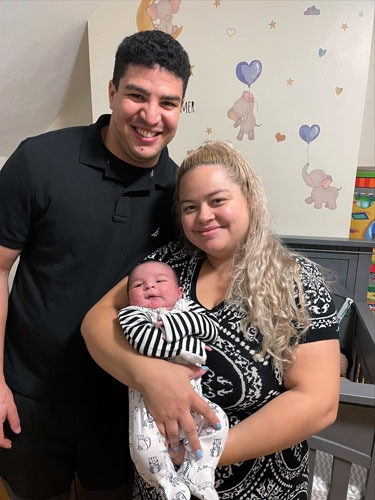 Scharf described the scene not only as joyful and exciting for the family, but also as heartwarming for the staff knowing they helped make the couple's wishes come true. After the ceremony, the hospital team was able to stabilize the baby and the couple headed home. They wouldn't have their baby boy, whom they named Kaleb Gabriel, until a few weeks later on October 18. "We all knew they were out there waiting to come back to have their baby," Scharf said. "And so, when they did come in, they were welcomed back."
The family had a quick stay in the NICU and then went home happy and healthy with their newborn son. Scharf told Boston 25 her team has helped arrange weddings before, but until Yazmine and Mayron, they hadn't had a ceremony in their unit for several years.
"We do whatever it takes to make the birth experience the best possible. But there are other things we sometimes have to take care of, such as having a wedding," Scharf said.
For more news, follow Medscape on Facebook, Twitter, Instagram, YouTube, and LinkedIn
Credits:
Images: Omar Deane/Brigham and Women's Hospital
Medscape Medical News © 2021

Send news tips to news@medscape.net.
Cite this: Resident Doubles as Officiant, Marries Couple in Labor Room - Medscape - Nov 12, 2021.