Editor's note: Find the latest COVID-19 news and guidance in Medscape's Coronavirus Resource Center.
COVID-19 has been difficult for parents trying to balance careers, home life, and keeping their loved ones safe. A new study indicates that not only are physicians not immune to these stressors, but the long-term effects could be devastating for healthcare overall.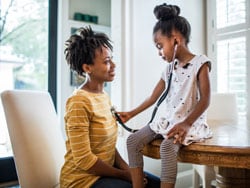 In a study published November 12 in JAMA Network Open, researchers found that stresses to work/life balance and family life caused by the pandemic have differed among men and women physicians. Women physicians have borne more of the burden, and the consequences could reach far beyond home.
Physicians and other healthcare workers have been at the front lines of the COVID-19 pandemic, and their work lives have been the focus of a lot of attention in the media and by researchers. Their family lives, not so much. But physicians have families, and the pandemic has upended almost everything about their lives, particularly where work life and home life intersect. School and day-care closures, working from home, working extra hours, or working less — all of these changes have consequences on family life and the mental health of parents who are also physicians.
Findings from a Medscape survey published earlier this year indicate that more female physicians than male physicians were either "conflicted" or "very conflicted" as parents because of work demands (42% vs 23%) nearly 6 months into the pandemic.
In the current study, researchers from the University of Michigan, Harvard University, and the Medical University of South Carolina teamed up to investigate gender differences in how work/family factors affected the mental health of early-career physician parents in the United States during the first year of the COVID-19 pandemic. The results suggest that the pandemic has increased gender disparity and added disproportionately to the burden of female physicians.
Managing the Household Falls Mostly on Moms
Participants were physicians enrolled in the Intern Health Study, a longitudinal study that regularly surveys medical interns in the United States to assess stress and mood. When researchers compared survey results from before the onset of the pandemic (2018) with later results (2020), they found a striking gender difference in how the pandemic has changed family and work duties for physicians.
The authors of the study point out that previous research had found that female physicians take on a greater share of household and childcare duties than male physicians. The current study found that their share had increased with the pandemic. Physician moms are now 30 times more likely to be in charge of these tasks than physician dads.
In families in which both parents were physicians, none of the men said they took the primary role in managing the extra demands caused by the pandemic. In addition, women were twice as likely as men to work primarily from home and to work reduced hours.
The extra stress seems to be taking a toll on women physicians. In the 2020 survey, physician mothers had higher scores for anxiety and depression symptoms compared with men. Notably, the 2018 survey did not show a significant difference in depression scores between men and women. Nor were there significant differences in depression and anxiety scores between women and men who were not parents or in reports of work/family conflict before and after the pandemic.
In general, the results indicate that the pandemic has only widened the gender gap between women and men physicians when it comes to managing family life and dealing with the stresses of maintaining a suitable work-life balance.
"Long-term Repercussions" for Gender Equity in Medicine
Although these are serious problems for women physicians and their families, the effects go beyond the home and beyond individuals. Even before the pandemic, women in medicine struggled for parity in career advancement and opportunities as well as in pay, and this new setback could make those challenges even greater.
"Even short-term adjustments can have serious long-term repercussions as they may lead to lower earnings and negatively impact opportunities for promotion, further exacerbating gender inequalities in compensation and advancement," the study's authors write.
The potential damage extends to the entire profession and the healthcare system itself. The profession is already struggling to retain young female physicians, and this situation is likely to make that problem worse and have long-term consequences. Citing data showing that female physicians spend more time with patients and that their patients may have better outcomes, the authors write that the consequences of losing more early-career female physicians "could be devastating to the US healthcare system, particularly in the context of a global pandemic and an impending physician shortage."
The sample size was small (276 US physicians), and the study relied on self-reported data. The findings suggest that more research on this topic is needed, especially research that includes other demographic factors, such as sexual orientation and ethnicity. The authors recommend that institutional and public policymakers take into account the effects of the pandemic on physician mothers to ensure that recent gains in gender equity for women physicians do not fall victim to COVID-19.
JAMA Netw Open. Published online November 12, 2021. Full text
For more news, follow Medscape on Facebook, Twitter, Instagram, and YouTube.
Medscape Medical News © 2021

Send news tips to news@medscape.net.
Cite this: Pandemic Stresses Harder on Physician Moms Than Physician Dads: Study - Medscape - Nov 12, 2021.