LOS ANGELES — When Adam Friedman, MD, establishes a diagnosis of hyperhidrosis with patients and informs them that it's a medical condition, sometimes they break down in tears.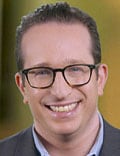 "That's because for years they may have been thinking, 'It's my fault,' 'It's caused by something I've been doing,' or 'I'm gross,' " Friedman, professor and chair of dermatology at George Washington University, Washington, DC, said at the Society of Dermatology Physician Assistants (SDPA) 19th Annual Fall Dermatology Conference. "Simply telling a patient that hyperhidrosis is a billable diagnosis is a validation; it takes the burden off their plate. That alone can be therapeutic."
Sweat is the body's natural air conditioner, a process through which humans thermoregulate. Hyperhidrosis is excessive, bilateral, and generally symmetric sweating that is not prompted by activity or environmental factors. The amount of sweating is least fourfold greater than the amount needed to cool off. "This is the way I talk to patients about it: 'Are you at home in an air-conditioned room, relaxing with Netflix, and you still are sweating profusely?'" Friedman said. "It's tricky for patients, because sweat is normal, it's physiologic, but at what point do you draw a line in the sand to say that this is abnormal sweating? It can be difficult for patients and practitioners to identify this. I think a lot of patients are suffering with hyperhidrosis and don't even know it's a medical condition."
The prevalence is 4.8%, which means that nearly 10 million Americans have hyperhidrosis. Half of these individuals have axillary hyperhidrosis. Of these patients, two thirds have never discussed it with their primary care physician, "maybe because they're embarrassed, or maybe because they don't know it's a medical condition," Friedman said. It peaks in early adulthood and primarily affects those aged 18 to 54 years. Children and adolescents are also affected. An estimated 2.1% of adolescents and 0.6% of prepubertal children have hyperhidrosis – which can affect their handwriting and their ability to keep papers and computer keyboards dry.
"Think about a child with palmar-plantar hyperhidrosis; the touch screens of an iPad and other devices may not respond to a sweaty finger," he said. "Or holding hands for the first time, playing on monkey bars, or participating in sports — all of these things can be impacted by hyperhidrosis."
There are two types of hyperhidrosis: primary focal and secondary generalized. Primary focal hyperhidrosis is excessive focal sweating of at least 6 months' duration without any obvious cause and with at least two of the following features: onset as early as age 9 years; a bilateral and symmetric pattern; impairment of daily activities; occurrence at least once per week; cessation during sleep; and a positive family history (reported by two thirds of patients).
Secondary generalized hyperhidrosis usually begins in adulthood. It can be caused by drugs, toxins, or substance abuse and can be associated cardiovascular disorders, respiratory failure, infections, and malignancies, including Hodgkin lymphoma, myeloproliferative disorders, and cancers with catabolism. It can also be caused by endocrine/metabolic disorders, including thyrotoxicosis, pheochromocytoma, acromegaly, carcinoid tumor, hypoglycemia, and menopause. This form of hyperhidrosis typically affects large areas of the body, and patients may also sweat during sleep.
Localized hyperhidrosis is usually secondary. It can be caused by social anxiety disorder, eccrine nevus, gustatory sweating, Frey syndrome, and impaired evaporation. "You have to take a unique approach to every patient and get to the heart of what type of hyperhidrosis it is before you move forward with a treatment algorithm," Friedman said.
Patients who present with suspected hyperhidrosis should be asked about age of onset and location. Workup includes a review of symptoms and a physical exam. "Is it asymmetric or bilateral?" asked Friedman, who is also director of translational research in the Department of Dermatology at George Washington University, Washington, DC. "Does it occur multiple times per week? Does it get better when you go to sleep? Are there certain triggers that make it worse or better?"
Some of the most important questions pertain to quality of life. "That's usually where I first engage with patients," he said. "I'm picking these cases up on full body skin exam because patients are wearing these paper-thin gowns and they're sweating through them. They're falling apart or sticking to their back, and they feel uncomfortable about it. They may say something like, 'I'm sorry I'm so sweaty.' I'll ask, 'Is that something that bothers you a lot? Does your sweating interfere with your daily activities? Do you think about your sweating throughout the day? Does it impact your clothing choices?' Maybe only once after years of doing this I had a patient say, 'It doesn't bother me. I don't want to talk about it.' "
It always helps to administer the Hyperhidrosis Disease Severity Scale. Patients are asked to rate the severity of their hyperhidrosis on a scale from 1–4, with 4 being most severe. There are four possible responses: "My sweating is never noticeable and never interferes with my daily activities" (score of 1); "My sweating is tolerable but sometimes interferes with my daily activities" (score of 2); "My sweating is barely tolerable and frequently interferes with my daily activities" (score of 3); and "My sweating is intolerable and always interferes with my daily activities" (score of 4). A score of 1 or 2 indicates mild or moderate hyperhidrosis; a score of 3 or 4 indicates severe hyperhidrosis.
During the early stages of the COVID-19 pandemic, some people expressed concern that sweating could spread the virus. There is no scientific evidence for this, Friedman said. He joined a public health campaign with the International Hyperhidrosis Society to dispel that myth. "Not only do we say that sweating does not transmit COVID-19, but sweating has inherent antimicrobial properties, so maybe sweating can prevent transmission of infection," he said. "I've had patients ask me about this as well. Be aware that misinformation is out there, and it's important for us to address it so that these patients aren't further isolated. Patients with HH are already suffering from so much social stigma, and this only adds extra to that."
Friedman serves as a consultant and/or adviser for Loreal, La Roche Posay, Cerave, Galderma, Aveeno, Microcures, Pfizer, Novartis, Dermira, Brickell Biotech, Incyte, UCB, Janssen, Pfizer, BMS, Almirall, Zylo Therapeutics, Hoth Therapeutics, Corbus, Greenway Therapeutics, TruPotency, and Dermavant. He is a speaker for Regeneron/Sanofi, AbbVie, Janssen, Brickell Biotech, and Incyte, and has received grants from Pfizer, the Dermatology Foundation, Incyte, and Galderma.
Society of Dermatology Physician Assistants (SDPA) 19th Annual Fall Dermatology Conference: Presented November 5, 2021.
Doug Brunk is a San Diego–based award-winning reporter for MDedge and Medscape who began covering healthcare in 1991. He is the author of two books about the University of Kentucky Wildcats men's basketball program.
For more news, follow Medscape on Facebook, Twitter, Instagram, and YouTube.
Credits:
Lead Image: Wikimedia Commons
Image 1: Dr Adam Friedman
Medscape Medical News © 2021

Send news tips to news@medscape.net.
Cite this: Multiple Features Help Distinguish Hyperhidrosis From Normal Sweating - Medscape - Nov 09, 2021.