Pharma Rep Admits to Healthcare Fraud, Money Laundering, and More
Paul Camarda, a pharmaceutical sales representative, admitted to conspiring to defraud New Jersey County health benefits programs and conspiring to engage in money laundering and obstruct justice. Camarda pleaded guilty in federal court to one count of conspiracy to commit healthcare fraud and one count of conspiracy to obstruct justice and engage in money laundering.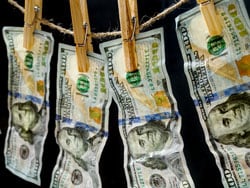 Camarda, 39, of Holmdel, New Jersey, created a side business called Dynasty Capital LLC to independently market medical products and services for other companies, including compounded prescription medications for specialty pharmacies, according to the US Department of Justice.
Camarda learned that certain local government employees had insurance coverage for these compounded medications and discovered that certain compounded medications were reimbursed up to thousands of dollars for a 1-month supply. Camarda recruited individuals with insurance coverage to fraudulently obtain medically unnecessary compounded medications.
He marketed compounded medications for several pharmacies. As part of his arrangements with the compounding pharmacies and his conspirators, Camarda was paid a percentage of the insurance payments received for prescriptions arranged by him and those working for him.
Camarda received more than $2.2 million in payments for the prescriptions he and those working with him arranged. Camarda and his recruits caused more than $3.4 million in fraudulent claims to be submitted to the pharmacy benefits administrator for compounded medications.
He is due to be sentenced in November and faces up to 15 years in prison plus $500,000 in fines.
Home Healthcare and Hospice Agency Owner Defrauds Medicare for $31 Million
Akop Atoyan, 48, of Glendale, California, pleaded guilty to one count of conspiracy to commit healthcare fraud and one count of conspiracy to pay and receive healthcare kickbacks.
According to the US Department of Justice, Atoyan and his wife, Liana Karapetyan, owned and controlled home healthcare and hospice agencies in the greater Sacramento area: ANG Health Care Inc, Excel Home Healthcare Inc, and Excel Hospice Inc. Atoyan and Karapetyan certified to Medicare that their agencies would not pay kickbacks in exchange for Medicare beneficiary referrals.
Officials claim Atoyan and Karapetyan paid and directed others to pay kickbacks to multiple individuals for beneficiary referrals, including employees of healthcare facilities, as well as employees' spouses. In total, Atoyan, Karapetyan, and others caused the agencies to submit over 8000 claims to Medicare for the cost of home healthcare and hospice services. Medicare was billed about $31 million.
As part of his guilty plea, Atoyan agreed to pay about $2.5 million in restitution to the US Department of Health and Human Services. He also agreed to forfeit that amount to the United States.
Pair Charged With Selling Fraudulent Nursing Diplomas, Certificates
A federal grand jury charged two Lauderhill, Florida, residents for their roles in a fraud conspiracy in which they sold fake nursing degrees to people who had not completed the required nursing coursework or clinicals.
Geralda Adrien, 51, and Woosvelt Predestin, 35, worked for PowerfulU Health Care Services LLC. Adrien was the president of PowerfulU, and Predestin was an employee.
PowerfulU advertises itself on social media as a group of nurses and doctors who want to empower men and women by helping them to become healthcare practitioners. Adrien and Predestin allegedly assisted various individuals in procuring fraudulent nursing diplomas and transcripts from two nursing schools in Florida by falsely documenting that the individuals had completed the necessary courses and/or clinicals to obtain nursing degrees.
In one instance in March, the pair explained that for $16,000, they would process an applicant through a Florida nursing school that was either on probation or had closed, making it appear as if the person attended that school. They also offered help to pass nursing exams, according to officials.
The indictment charges Adrien and Predestin each with one count of conspiring to commit wire fraud and mail fraud. They face up to 20 years in federal prison on each count.
Medical Clinic Owner Sentenced to Jail for Medicaid Fraud
Larry Lance Crawford, 49, of Las Vegas, Nevada, was sentenced in a Medicaid fraud case involving the failure to maintain adequate records to substantiate claims submitted to Nevada Medicaid.
The Nevada Attorney General's Office announced that Crawford was given 364 days in jail and was ordered to pay $50,000.00 in restitution.
The Medicaid Fraud Control Unit received information that Crawford, the owner of Dynamic Future LLC, was using his business to submit false claims for services that were never provided to Medicaid recipients. The investigation revealed that Crawford failed to maintain records to support the services that were allegedly provided.
For more news, follow Medscape on Facebook, Twitter, Instagram, and YouTube.
Credits:
Images: Getty Images
Medscape Business of Medicine © 2021

Send news tips to news@medscape.net.
Cite this: Pharma Rep Admits to Money Laundering, Obstruction of Justice - Medscape - Nov 03, 2021.