Clinicians should use standardized risk assessments, clinical pathways, and tools to evaluate and communicate with patients who present with chest pain (angina), advises a joint clinical practice guideline released today by American Heart Association (AHA) and American College of Cardiology (ACC).
While evaluation of chest pain has been covered in previous guidelines, this is the first comprehensive guideline from the AHA and ACC focused exclusively on the evaluation and diagnosis of chest pain.
"As our imaging technologies have evolved, we needed a contemporary approach to which patients need further testing, and which do not, in addition to what testing is effective," Martha Gulati, MD, University of Arizona, and chair of the guideline writing group, told theheart.org | Medscape Cardiology.
"Our hope is that we have provided an evidence-based approach to evaluating patients that will assist all of us who manage, diagnose, and treat patients who experience chest pain," said Gulati, who is also president-elect of the American Society for Preventive Cardiology.
The guideline was simultaneously published online October 28 in Circulation and the Journal of the American College of Cardiology.
"Atypical" Is Out, "Noncardiac" Is In
Each year, chest pain sends more than 6.5 million adults to the emergency department (ED) and more than 4 million to outpatient clinics in the United States.
Yet, among all patients who come to the ED, only 5% will have acute coronary syndrome (ACS). More than half will ultimately have a noncardiac reason for their chest pain, including respiratory, musculoskeletal, gastrointestinal, psychological, or other causes.
The guideline says evaluating the severity and the cause of chest pain is essential and advises using standard risk assessments to determine if a patient is at low, intermediate, or high risk for having a cardiac event.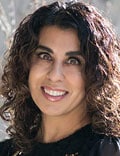 "I hope clinicians take from our guidelines the understanding that low-risk patients often do not need additional testing. And if we communicate this effectively with our patients — incorporating shared-decision making into our practice — we can reduce 'overtesting' in low-risk patients," Gulati told theheart.org | Medscape Cardiology.
The guideline notes that women are unique when presenting with ACS symptoms. While chest pain is the dominant and most common symptom for both men and women, women may be more likely to also have symptoms such as nausea and shortness of breath.
The guideline also encourages using the term "noncardiac" if heart disease is not suspected in a patient with angina and says the term "atypical" is a "misleading" descriptor of chest pain and should not be used.
"Words matter, and we need to move away from describing chest pain as 'atypical' because it has resulted in confusion when these words are used," Gulati stressed.
"Rather than meaning a different way of presenting, it has taken on a meaning to imply it is not cardiac. It is more useful to talk about the probability of the pain being cardiac vs noncardiac," Gulati explained.
No One Best Test for Everyone
There is also a focus on evaluation of patients with chest pain who present to the ED. The initial goals of ED physicians should be to identify if there are life-threatening causes and to determine if there is a need for hospital admission or testing, the guideline states.
Thorough screening in the ED may help determine who is at high risk vs intermediate or low risk for a cardiac event. An individual deemed to be at low risk may be referred for additional evaluation in an outpatient setting rather than being admitted to the hospital, the authors write.
High-sensitivity cardiac troponins are the "preferred standard" for establishing a biomarker diagnosis of acute myocardial infarction, allowing for more accurate detection and exclusion of myocardial injury, they add.
"While there is no one 'best test' for every patient, the guideline emphasizes the tests that may be most appropriate, depending on the individual situation, and which ones won't provide additional information; therefore, these tests should not be done just for the sake of doing them," Gulati said in a news release.
"Appropriate testing is also dependent upon the technology and screening devices that are available at the hospital or healthcare center where the patient is receiving care. All imaging modalities highlighted in the guideline have an important role in the assessment of chest pain to help determine the underlying cause, with the goal of preventing a serious cardiac event," Gulati added.
The guideline was prepared on behalf of and approved by the AHA and ACC Joint Committee on Clinical Practice Guidelines.
Five other partnering organizations participated in and approved the guideline: the American Society of Echocardiography (ASE), the American College of Chest Physicians (CHEST), the Society for Academic Emergency Medicine (SAEM), the Society of Cardiovascular Computed Tomography (SCCT), and the Society for Cardiovascular Magnetic Resonance (SCMR).
The writing group included representatives from each of the partnering organizations and experts in the field (cardiac intensivists, cardiac interventionalists, cardiac surgeons, cardiologists, emergency physicians, and epidemiologists), as well as a lay/patient representative.
This research had no commercial funding. A complete list of disclosures for the wri ting group is available with the original articles.
Circulation. Published online October 28, 2021. Full text
J Am Coll Cardiol. Published online October 28, 2021. Full text
For more from theheart.org | Medscape Cardiology, join us on Twitter and Facebook
Credits:
Lead Image: Dreamstime
Image 1: Dr Martha Gulati
Medscape Medical News © 2021

Send news tips to news@medscape.net.
Cite this: AHA/ACC Issues First Comprehensive Guidance on Chest Pain - Medscape - Oct 28, 2021.