Using stool samples to test for Helicobacter pylori antibiotic resistance provides highly similar results to those of gastric biopsy samples, which suggests that stool testing may be a safer, more convenient, and more cost-effective option, according to investigators.
Head-to-head testing for resistance-associated mutations using next-generation sequencing (NGS) showed 92% concordance between the two sample types, with 100% technical success among polymerase chain reaction (PCR)–positive stool samples, lead author Steven Moss, MD, of Brown University, Providence, RI, and colleagues reported.
"H. pylori eradication rates have declined largely due to rising antimicrobial resistance worldwide," Moss said at the annual meeting of the American College of Gastroenterology. "There is therefore a need for rapid, accurate, reliable antibiotic resistance testing."
According to Moss, molecular resistance testing of gastric biopsies yields similar results to culture-based testing of gastric biopsies, but endoscopic sample collection remains inconvenient and relatively costly, so "it is not commonly performed in many GI practices.
"Whether reliable resistance testing by NGS is possible from stool samples remains unclear," Moss said.
To explore this possibility, Moss and colleagues recruited 262 patients scheduled for upper endoscopy at four sites in the United States. From each patient, two gastric biopsies were taken, and within 2 weeks of the procedure, prior to starting anti–H pylori therapy, one stool sample was collected.
For gastric biopsy samples, H pylori positivity was confirmed by PCR, whereas positivity in stool samples was confirmed by both fecal antigen testing and PCR. After confirmation, NGS was conducted, with screening for resistance-associated mutations to six commonly used antibiotics: clarithromycin, levofloxacin, metronidazole, tetracycline, amoxicillin, and rifabutin.
Out of 262 patients, 73 tested positive for H pylori via stool testing; however, 2 of these patients had inadequate gastric DNA for analysis, leaving 71 patients in the evaluable dataset. Within this group, samples from 50 patients (70.4%) had at least one resistance-association mutation.
Among all 71 individuals, 65 patients (91.5%) had fully concordant results between the two sample types. In four out of the six discordant cases, there was only one difference in antibiotic-associated mutations. Concordance ranged from 89% for metronidazole mutations to 100% for tetracycline, amoxicillin, and rifabutin mutations.
"It is now possible to rapidly obtain susceptibility data without endoscopy," Moss concluded. "Using NGS to determine H. pylori antibiotic resistance using stool obviates the cost, inconvenience, and risks of endoscopy resistance profiling."
Moss noted that the cost of the stool-based test, through study sponsor American Molecular Laboratories, is about $450, and that the company is "working with various insurance companies to try to get [the test] reimbursed."
For cases of H pylori infection without resistance testing results, Moss recommended first-line treatment with quadruple bismuth–based therapy; however, he noted that "most gastroenterologists, in all kinds of practice, are not measuring their eradication success rate...so it's really difficult to know if your best guess is really the appropriate treatment."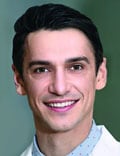 According to Lukasz Kwapisz, MD, of Baylor College of Medicine, Houston, TX, the concordance results are "encouraging," and suggest that stool-based testing "could be much easier for the patient and the clinician" to find ways to eradicate H pylori infection.

Kwapisz predicted that it will take additional successful studies, as well as real-world data, to convert clinicians to the new approach. He suggested that the transition may be gradual, like the adoption of fecal calprotectin testing.
"I don't know if it's one singular defining study that will tell you: 'Okay, we all have to use this [stool-based resistance testing],' " he said. "It kind of happens over time — over a 2- or 3-year stretch, I would think, with positive results."
The study was supported by American Molecular Labs. The investigators disclosed additional relationships with Takeda, Phathom, and Redhill. Kwapisz reported no conflicts of interest.
This story originally appeared on MDedge.com, part of the Medscape Professional Network.
Credits:
Lead Image: Dreamstime
Image 1: Courtesy Baylor College of Medicine
Medscape Medical News © 2021

Cite this: Stool Tests Rapidly Predict H pylori Antibiotic Resistance - Medscape - Oct 27, 2021.