MANCHESTER—World-renowned oncologist Professor Justin Stebbing has told a medical tribunal that insurance company AXA "didn't like" paying out for his treatment of private cancer patients.
He also claimed that a funding application to another insurer was not about making "money for me" but about giving "hope" to a patient who'd been told she had just weeks to live.
Prof Stebbing, a cancer medicine and oncology professor at Imperial College London with a private practice in Harley Street, appeared before a MPTS (Medical Practitioners Tribunal Service) after being found guilty of 33 out of 36 charges, 30 of which he admitted, relating to his failure to provide good clinical care to 12 patients between March 2014 and 2017.
The charges included the "inappropriate" treatment of dying cancer patients, overstating life expectancy and benefits of chemotherapy, and continuing to treat patients when it was futile.
Others concerned his inadequate record keeping and failure to obtain consent for treatment from patients.
The tribunal, which handed down its verdict earlier this month, is now considering whether Prof Stebbing's fitness to practise has been impaired.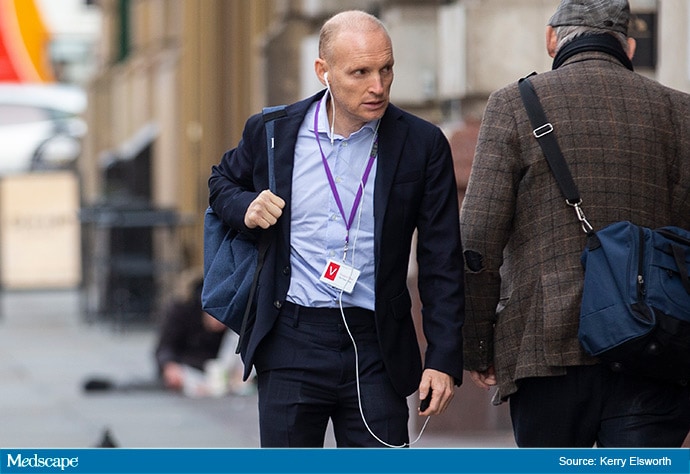 Patient C
Sharon Beattie, QC for the General Medical Council (GMC), questioned Prof Stebbing about his treatment of one lung cancer patient - a 70-year-old woman known as Patient C - and why he'd inappropriately escalated her care, which included giving her assisted ventilation and second-line full-dose chemotherapy.
This was based on his initial assessment that her cancer was "eminently reversible" when in reality, as Prof Stebbing admitted, there was a "low probability" she would get better and died 12 days after receiving the chemotherapy.
He said he would never treat in this situation again but he was "trying to save her life and do the best for her family".
"These were incredibly challenging decisions in a perilous medical situation," he said.
Ms Beattie made reference to Prof Stebbing's response to a letter from AXA PPP (now AXA Health) insurers, who are one of the complainants in the case.
She asked whether they were "worried" about his treatment of Patient C.
"They [AXA] made it clear to me that they did not like paying out.
"They did not like it when patients got better."
Patient D
Prof Stebbing admitted he'd been wrong to treat another patient, a 48-year-old woman known as Patient D who'd been diagnosed with breast cancer.
The patient had initially received treatment on the NHS at The Christie hospital in Manchester but it was then stopped after doctors told her she only had weeks to live.
She'd then turned to Prof Stebbing, who prescribed her chemotherapy, but her condition deteriorated and she died 2 weeks later.
Prof Stebbing attempted to obtain funding for £3000 treatment from the Grand Masonic Lodge but it was refused.
He then failed to inform the patient or her family, leaving her father to pick up the bill.
Ms Beattie asked Prof Stebbing why his funding letter had wrongly stated that The Christie was taking "an enormously long time" to make a decision about treatment when that wasn't the case and whether the wording was intended to "assist" his application.
Prof Stebbing replied: "The funding here was a bit of a mess but there was no malice or malintent."
He said he was "remorseful" the patient's father had ended up paying for her treatment.
"I wanted to treat her on the NHS," he said.
"This was not about money for me. With these sorts of patients, I never charged them."
He said he'd given the patient and her family "hope and a chance" but he shouldn't have treated her.
'Cavalier'
Ms Beattie questioned Prof Stebbing further about the timing of his admissions during the tribunal after initially denying many of the charges and his assertion that his decision to treat several patients "fell on the wrong side" of a "fine line".
'You admit things only if you absolutely have to but then say it was a fine line or other people were doing it," she said
She described his actions in some instances as "cavalier" and said that he'd chosen to give patients "what they were asking for".
Ms Beattie said that it was important to "look at the human aspect" of cases and allow patients the opportunity to decide their end of life care.
She pressed him about his treatment of one patient, a 73-year-old man known as Patient G who suffered a collapsed lung and surgical emphysema and was given chemotherapy before dying a few days later.
Prof Stebbing said the patient, along with Patients C and F, were the only three non-small cell cancer patients in his career who were "treatment naive" and died "immediately" following treatment.
The GMC, he claimed, would never have made Patient G part of the case had he lived.
He added that instead of suing him he wished the patient's family could say, "I gave him a chance" but he acknowledged the chemotherapy should never have been given.
Once the tribunal has concluded its current stage, the MPTS panel - if it rules Prof Stebbing's fitness to practise is impaired - will then decide what sanction to take.
That could include suspension or being struck off the medical register.
Ian Leonard is a freelance journalist experienced in covering MPTS hearings.
Credits:
Lead Image: MPTS
Image 1: Kerry Elsworth
© 2021 WebMD, LLC

Send comments and news tips to uknewsdesk@medscape.net.
Cite this: Ian Leonard. Leading Oncologist Tells Tribunal Treatment Was About Hope Not Money - Medscape - Oct 23, 2021.