MANCHESTER—Leading oncologist Professor Justin Stebbing has apologised for "misleading" a medical tribunal by claiming a review of up to 25,000 of his patients had found "no concerns" with his practice.
Prof Stebbing, a cancer medicine and oncology professor at Imperial College London with a private practice in Harley Street, was found guilty of 33 out of 36 charges - 30 of which he admitted - after he was accused of failing to provide good clinical care to 12 patients between March 2014 and 2017.
The charges related to his "inappropriate" treatment of dying cancer patients, overstating life expectancy, and benefits of chemotherapy and continuing to treat patients when it was futile.
Others concerned his inadequate record keeping and failure to obtain consent for treatment from patients.
A MPTS (Medical Practitioners Tribunal Service) panel, which handed down its verdict earlier this month, is now considering whether his fitness to practise has been impaired.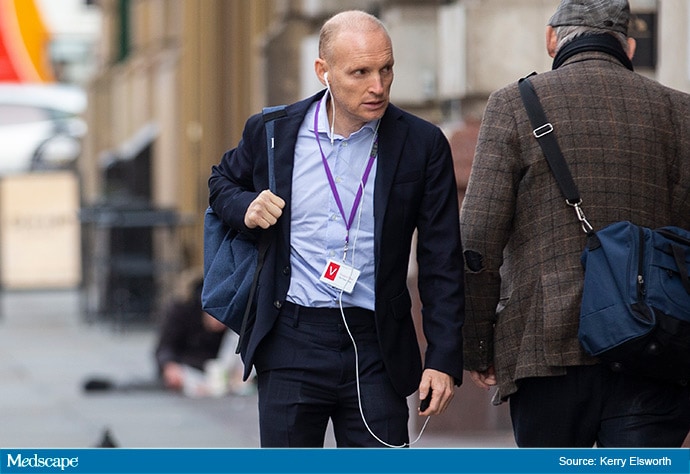 Misleading
The tribunal heard about claims made by Prof Stebbing that Imperial College Healthcare NHS Trust had carried out a review of his NHS and private patients between 2010-17.
Sharon Beattie, QC for the GMC, said a statement he provided last month claimed that he was "painfully aware" that "every single patient" he'd cared for since working as a consultant for the trust had been looked at.
Prof Stebbing had stated the review included between 10,000 and 25,000 patients, she said.
He'd then told the tribunal that the scope of the review was confirmed during a recent telephone conversation with Professor Catherine Urch, divisional director for surgery, cardiovascular and cancer, and trust cancer lead, but "there were no concerns".
But Ms Beattie said emails from Ms Urch revealed that the review was much more limited, and only concerned a 3-month period in 2017 and approximately 150 patients.
She accused Prof Stebbing of "misleading" the tribunal in the hope "nobody would check" his claims.
Prof Stebbing said he'd been told - in past conversations with two colleagues - that the review would cover all his patients.
He said he'd misunderstood his conversation with Ms Urch and was confused by her phrase "a cut-off of 2017" which he believed meant "up to 2017".
Prof Stebbing admitted he'd been mistaken, saying: "I'm sorry, I got the wrong end of the stick."
He also admitted that his calculations on patient numbers in this instance and others were "back of an envelope".
Expert Witness
Prof Stebbing also apologised to the tribunal after a threatening legal letter was sent on his behalf.
Ms Beattie said the letter had targeted Dr Martin Eatock, a consultant medical oncologist for the Belfast Health and Social Care Trust, who later appeared as expert witness for the GMC in the case.
It called into question Dr Eatock's suitability as an expert witness and claimed "misguided" and "unreasonable" £300,000 costs would be incurred if he gave evidence, which would then be pursued.
Ms Beattie said: "The clear inference was if Dr Eatock gave evidence costs would be sought and if there was any excess they would be pursued, presumably with Dr Eatock.
"It's quite a threat against someone instructed as an expert witness."
Prof Stebbing said he couldn't recall the letter but he agreed with the MPTS panel who'd described Dr Eatock as a "credible" witness.
He couldn't remember "specific instructions" for it to be sent but he was "sorry" for its content, he said.
Prof Stebbing was also asked by Ms Beattie why he'd continued treating patients who shouldn't have been treated.
He said he'd had "too cavalier at attitude and should have stopped earlier", adding: "I clearly did not know the right line to stop and I do now."
Once the tribunal has concluded its current stage, the MPTS panel - if it rules Prof Stebbing's fitness to practise is impaired - will decide what sanction to take.
That could include suspension or being stuck off the medical register.
Prof Stebbing already has conditions on his registration which mean he must get the approval of the GMC before starting work in a non-NHS post or setting, and must not provide cancer treatment that isn't recommended by multidisciplinary team colleagues.
Furthermore, he must not prescribe drugs for the treatment of cancer beyond their UK licensed indications.
The hearing is continuing.
Ian Leonard is a freelance journalist experienced in covering MPTS hearings.
Credits:
Lead Image: MPTS
Image 1: Kerry Elsworth
© 2021 WebMD, LLC

Send comments and news tips to uknewsdesk@medscape.net.
Cite this: Ian Leonard. Leading Oncologist Apologises for Misleading Tribunal - Medscape - Oct 22, 2021.