MANCHESTER—World-renowned oncologist Professor Justin Stebbing has admitted that he "fell on the wrong side" of a fine line when making clinical judgements with dying cancer patients, a medical tribunal heard.
Prof Stebbing said he's been wrong to treat patients, despite giving them "a chance" or "hope", and he was now a "very cautious, conservative doctor".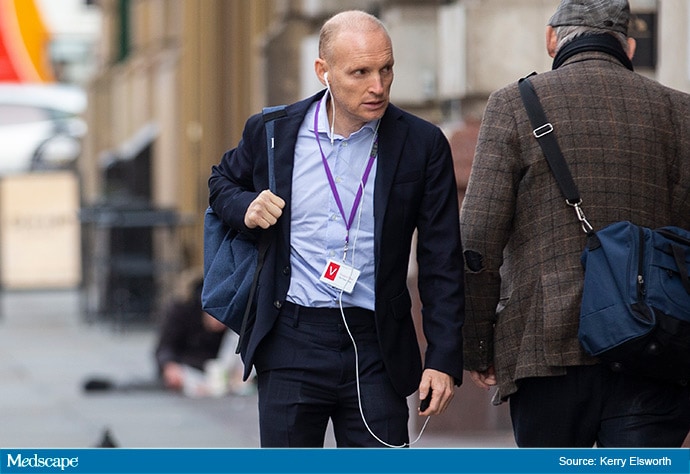 He was found guilty earlier this month of 33 out of 36 charges - 30 of which he admitted - after he was accused of failing to provide good clinical care to 12 patients between March 2014 and 2017.
The charges included inappropriately treating patients given their advanced cancer or poor prognosis, overstating life expectancy and benefits of chemotherapy, and continuing to treat patients who failed to respond or were nearing the end of life.
Other charges concerned his failure to gain informed consent for treatment from patients and failing to maintain proper records.
A MPTS (Medical Practitioners Tribunal Service) panel, which handed down the verdict, is now considering whether his fitness to practise has been impaired.

Wrong Side of the Line
During cross-examination, Prof Stebbing was asked by Sharon Beattie, QC for the GMC, about a statement he'd provided to the tribunal prior to the panel's decision.
She asked why he'd changed his position and now accepted that experts called by the GMC were qualified to comment on clinical issues and whether he still maintained they couldn't form a view about the seriousness of his conduct.
"In my view, they were very difficult situations of clinical judgement that couldn't be looked up in a book," he replied.
"And I fell on the wrong side of 49/51 line.
"In these cases, I gave them a chance and gave them hope.
"But as the tribunal has gone on I've realised that I fell on the wrong side of the line."
Prof Stebbing said he was now more open to others challenging or discussing his decisions, saying he'd made "mistakes" with patients and recognised he'd been "wrong".
But Ms Beattie pointed out how he'd been critical of colleagues, who'd questioned his clinical decisions, when giving evidence before the tribunal.
"I was very defensive and I found the whole process adversarial as opposed to inquisitorial," he said.
"I felt it was threatening and I was retaliatory and shouldn't have been like that and I'm sorry."
Ms Beattie said it was Prof Stebbing who'd been "adversarial" and had chosen "to come out fighting" when he answered the allegations against him.

Life Jacket
She also questioned why he'd accepted the views of cancer experts Professor Karol Sikora and Professor Nick Plowman who appeared for the defence but were criticised by MPTS panel chair Hassan Khan because neither was "reliable, impartial or independent".
"I listened to what they said and thought about it," Prof Stebbing said.
"It emphasises some of this clinical judgment was fine lines and I fell the wrong side of that."
He admitted he'd worked "too alone" at times and should have sought the input of other oncologists before making decisions.
Ms Beattie said Prof Stebbing had relied on the opinions of Prof Sikora and Dr Plowman, who'd been "entirely uncritical" of his conduct and had attempted to dissuade him from making admissions because "they were trying to row you out of the situation".
Prof Stebbing said it was reaction to the evidence of GMC experts, who'd labelled his decisions "wrong, wrong".
He said he'd used Prof Sikora and Dr Plowman as a "life jacket" and "comfort blanket" but he "should have taken a step back and looked at things" and made admissions on the charges sooner.
But he reiterated that many of his clinical decisions with the 12 patients were "fine line" decisions and made under time pressures.
"Since these events I have been a very cautious, conservative doctor," Prof Stebbing said.
'Giving Hope'
He was then asked by Ms Beattie whether he saw a "pattern" in the way he'd treated the 12 patients.
Prof Stebbing said his documentation had been poor and, in general, there was a lack of patient consent.
He's also been overly focussed on treating patients and "giving them hope" instead of not treating them.
If the MPTS panel decides Prof Stebbing's fitness to practise has been impaired it will then rule on what sanction he will face, which includes being struck off.
The hearing continues.
Ian Leonard is a freelance journalist experienced in covering MPTS hearings.

Prof Sikora comments on cancer issues for Medscape UK.
Credits:
Lead Image: MPTS
© 2021 WebMD, LLC

Send comments and news tips to uknewsdesk@medscape.net.
Cite this: Ian Leonard. Leading Oncologist 'Fell on Wrong Side of Fine Line': MPTS Hearing - Medscape - Oct 21, 2021.