Editor's note: Find the latest COVID-19 news and guidance in Medscape's Coronavirus Resource Center.
As the COVID-19 vaccine heads toward approval for children under age 12 years, the number of older children receiving it dropped for the 10th consecutive week, based on data from the Centers for Disease Control and Prevention.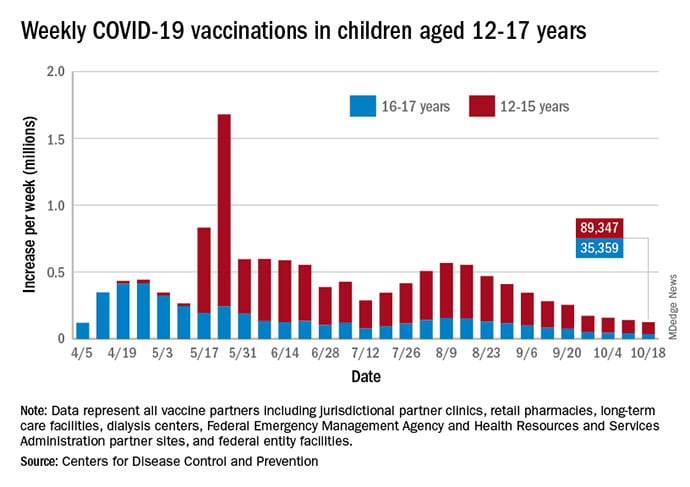 Over 47% of all children aged 12-17 years — that's close to 12 million eligible individuals — have not received even one dose of COVID-19 vaccine, and less than 44% (about 11.1 million) were fully vaccinated as of October 18, the CDC reported on its COVID Data Tracker.
During the week ending October 18, almost 125,000 children aged 12-17 years received a dose of vaccine — that's about 20% of the highest number seen when vaccinations spiked in August and just 7.4% of the peak recorded during May 18-24 (nearly 1.7 million doses), when eligibility expanded to include 12- to 15-year-olds, according to the CDC data, which also show that weekly vaccinations have never been lower.
Fortunately, the decline in new cases also continued, as the national total fell for a 6th straight week. There were more than 130,000 child cases reported during the week of October 8-14, compared with 148,000 the previous week and the high of almost 252,000 in late August/early September, the American Academy of Pediatrics and the Children's Hospital Association said in their weekly COVID-19 report.
That brings the cumulative count to 6.18 million, with children accounting for 16.4% of all cases reported since the start of the pandemic. For the week of October 8-14, children represented 25.5% of all COVID-19 cases in the 46 states with up-to-date online dashboards, the AAP and CHA said, noting that New York has never reported age ranges for cases and that Alabama, Nebraska, and Texas stopped reporting over the summer.
Current data indicate that child cases in California now exceed 671,000, more than any other state, followed by Florida with 439,000 (the state defines a child as someone aged 0-14 years) and Illinois with 301,000. Vermont has the highest proportion of COVID-19 cases occurring in children (24.3%), with Alaska (24.1%) and South Carolina (23.2%) just behind. The highest rate of cases — 15,569 per 100,000 children — can be found in South Carolina, while the lowest is in Hawaii (4838 per 100,000), the AAP and CHA reported.
The total number of COVID-related deaths in children is 681 as of October 18, according to the CDC, with the AAP/CHA reporting 558 as of October 14, based on data from 45 states, New York City, Puerto Rico, and Guam. The CDC reports 65,655 admissions since August 1, 2020, in children aged 0-17 years, and the AAP/CHA tally 23,582 since May 5, 2020, among children in 24 states and New York City.
This article originally appeared on MDedge.com, part of the Medscape Professional Network.
Credits:
Lead Image: Dreamstime
Image1: Centers for Disease Control and Prevention
Medscape Medical News © 2021 WebMD, LLC

Cite this: Children and COVID: Vaccinations Lower Than Ever as Cases Continue to Drop - Medscape - Oct 19, 2021.