It's difficult enough when a patient's prostate is removed because of cancer. But it's another thing altogether when the prostate is removed because of a medical error, as a report on 3 CBS Philly, among other news outlets, makes clear.
The patient, Eric Spangs, lives in southeastern Pennsylvania. Testing indicated an elevation in prostate-specific antigen (PSA) level. He subsequently underwent biopsy of the prostate, which appeared to indicate cancer. In time, though, Spangs learned there had been an error: the tissue section used in the microscopic diagnosis had come from the biopsy specimen of a different patient. Spangs himself didn't actually have cancer.
Ordinarily, such news would be cause for celebration. But this was far from a normal situation: Following his initial cancer diagnosis, Spangs underwent a radical laparoscopic prostatectomy at a local hospital. The fact that he was now judged to be cancer free was of little consolation, especially in light of the effects of his surgery, which included urinary leakage and erectile dysfunction.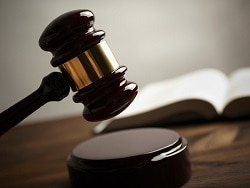 "It's devastated me emotionally and physically," Spangs said. It has also been emotionally devastating for his wife, Melissa. (The couple has five children.)
Their attorney, Aaron Freiwald, has filed a suit against the health system to which the local hospital belongs and the area's largest urologic practice.
The Spangs wish to caution other patients not to make the same mistake they did: they failed to get a second opinion from an oncology specialist, as recommended by the American Cancer Society. (Eric Spangs did receive a second opinion from someone at the urologic practice, but that practice doesn't specialize in oncology.)
The Spangs also worry about the patient who received the false-negative biopsy result. They have been assured, however, that that patient will be properly notified of his actual cancer status.
Fertility Specialist Uses Own Sperm to Impregnate Patients
A suit claims that a Rochester, New York, gynecologist and fertility specialist used his own sperm to inseminate multiple patients, according to a story reported by the Associated Press and other news outlets.
The suit was filed last month by the daughter — call her "Harriet Jones" — of one of the women who received fertility services from the doctor during the 1980s. Jones's suit alleges that at the time, the doctor told her mother that the sperm donor would be a medical student at the University of Rochester. In fact, the donor was the doctor himself. He kept that fact a secret for years, even after Jones — his own daughter — sought him out for gynecologic services.
The secret gradually began to come to light in 2016, when Jones's nonbiological father — the man who had helped to raise her — died. Curious about her biological father, Jones sought to learn his identity from the Rochester gynecologist who had treated her mother and was now her own gynecologist. The doctor said he couldn't be of help; he claimed he hadn't kept the relevant records.
Jones then submitted a blood sample to a direct-to-consumer genetic testing company. The results surprised her: Not only did she learn of her ethnicity, but she also discovered the existence of two half siblings, who were donor-conceived in 1984 and 1985, respectively, the very period when her own mother was undergoing insemination procedures. Jones subsequently discovered the existence of additional half siblings, all born in the first half of the 1980s.
Initially elated by the discoveries, Jones soon grew despondent and anxious. She suffered from migraine headaches, among other symptoms. Her biological father, it seemed, had been "a serial sperm donor."
Still, she continued to go to her Rochester doctor for treatment, having no reason to suspect anything untoward about him. Her visits, including those for prolonged menstrual bleeding, involved routine breast and pelvic exams, transvaginal ultrasounds, and intrauterine contraceptive placements under sedation.
Over this period, her doctor was friendly, asking her a variety of questions about her personal life. During one especially strange visit, however, he began chuckling and said, "You're a really good kid, such a good kid." During this visit, he invited his wife into the exam room, presumably to meet Jones.
It was at this moment that Jones had a revelation: Could her gynecologist actually be her biological father?
In May 2021, Jones and a half brother with whom she had been in touch contacted the gynecologist's daughter from his first marriage. All three underwent genetic testing. The results showed a 99.99% chance of a genetic link.
Jones has said in her suit that "no reasonable woman" would have submitted to pelvic examinations and other examinations by a doctor whom she knew to be her father.
Besides fraud, her suit alleges medical malpractice, battery, infliction of mental distress, and lack of informed consent. She is seeking compensation for all harm caused to her, including past and future economic damages, past unreimbursed medical expenses, and future expenses related to her mental health treatment and care.
The story included no further details about the civil litigation. As for criminal charges, it's unlikely Jones's biological father — her gynecologist — will face criminal charges for his alleged crimes because they fall outside of the state's statute of limitations.
Parents Say Daughter's Stroke Wasn't Identified
The Georgia parents of a young woman who died from a stroke following a series of alleged misdiagnoses are suing multiple practitioners, reports Legal Newswire and other news outlets
In June 2019, Michaela Smith was training for her job as a detention officer when she began experiencing a variety of symptoms, including headache, shortness of breath, throat swelling, and slurred speech. She was taken to the emergency department (ED) at Hamilton Medical Center, in Dalton, Georgia.
There, she was examined by an attending ED doctor, who ordered a CT scan. The results were read by radiologist Michael J. Cooney, MD. In his reading, the Smith family's lawsuit alleges, Cooney failed to identify the basilar artery sign, which is a key indicator of a vessel occlusion in stroke patients. Cooney concluded that Smith's scan showed no acute intracranial abnormality. He sent her home without further discharge instructions.
At home, Smith fell asleep but awoke in an altered mental state, one of several classic stroke symptoms that she had been experiencing. She returned to the ED. This time, she was examined by David F. Hawkins, MD, an ED physician. Although his differential diagnosis identified Smith's symptoms as most likely stroke related, Hawkins allegedly failed to immediately corroborate his findings with additional vascular imaging. Later in the day, Smith did undergo an MRI, which a second radiologist, Kevin F. Johnson, MD, misread as showing no signs of ischemia in her basilar artery, according to the lawsuit.
That same day, Hawkins conferred with a second neurologist, Jeffrey T. Glass, MD, who recommended that Smith be admitted to the hospital because of her deteriorating condition. The Smiths' suit claims that Glass also failed to diagnosis their daughter's underlying condition, although he did sign off on her transfer to Baroness Erlanger Hospital, in Chattanooga, Tennessee.
There, Smith's condition continued to worsen. She soon required mechanical ventilation and tube feeding. On July 3, 2019, she was pronounced dead.
"This is an egregious case of negligence," said the attorney representing the Smiths, who are suing the physicians involved and their practices, as well as Hamilton Medical Center and several unnamed defendants.
"Although two radiology studies and her clinical presentation indicated that Michaela was having a catastrophic stroke, her doctors repeatedly misread the studies as normal, failed to diagnose the stroke, and failed to treat her deficits as a neurological emergency," the family's lawyer stated.
At press time, there had been no response from any of the defendants or their attorneys.
The content contained in this article is for informational purposes only and does not constitute legal advice. Reliance on any information provided in this article is solely at your own risk.
Wayne J. Guglielmo, MA, is an independent journalist based in Mahwah, New Jersey.
For more news, follow Medscape on Facebook, Twitter, Instagram, and YouTube.
Medscape Business of Medicine © 2021

Send news tips to news@medscape.net.
Cite this: Patient Loses Prostate After Biopsy Slide Switched; More - Medscape - Oct 19, 2021.