Editor's note: Find the latest COVID-19 news and guidance in Medscape's Coronavirus Resource Center.
Risk for Alzheimer's disease (AD) and susceptibility to severe COVID-19 share a common genetic mechanism involved in the immune response to viruses, investigators report. The findings could lead to new treatment targets to slow progression and severity of both diseases.
Investigators found that a single genetic variant in the oligoadenylate synthetase 1 (OAS1) gene increases the risk for AD and that related variants in the same gene increase the likelihood of severe COVID-19 outcomes.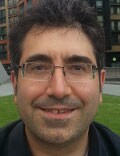 "These findings may allow us to identify new drug targets to slow progression of both diseases and reduce their severity," Dervis Salih, PhD, senior research associate, UK Dementia Research Institute, University College London, the United Kingdom, told Medscape Medical News.
"Our work also suggests new approaches to treat both diseases with the same drugs," Salih added.
The study was published online October 7 in Brain.
Shared Genetic Network
The OAS1 gene is expressed in microglia, a type of immune cell that makes up around 10% of all cells in the brain.
In earlier work, investigators found evidence suggesting a link between the OAS1 gene and AD, but the function of the gene in microglia was unknown.
To further investigate the gene's link to AD, they sequenced genetic data from 2547 people ― half with AD, and half without.
The genotyping analysis confirmed that the single-nucleotide polymorphism (SNP) rs1131454 within OAS1 is significantly associated with AD.
Given that the same OAS1 locus has recently been linked with severe COVID-19 outcomes, the researchers investigated four variants on the OAS1 gene.
Results indicate that SNPs within OAS1 associated with AD also show linkage to SNP variants associated with critical illness in COVID-19.
The rs1131454 (risk allele A) and rs4766676 (risk allele T) are associated with AD, and rs10735079 (risk allele A) and rs6489867 (risk allele T) are associated with critical illness with COVID-19, the investigators report. All of these risk alleles dampen expression of OAS1.
"This study also provides strong new evidence that interferon signaling by the innate immune system plays a substantial role in the progression of Alzheimer's," said Salih.
"Identifying this shared genetic network in innate immune cells will allow us with future work to identify new biomarkers to track disease progression and also predict disease risk better for both disorders," he added.
"Fascinating" Link
In a statement from the UK nonprofit organization, Science Media Center, Kenneth Baillie, MBChB, with the University of Edinburgh, said this study builds on a discovery he and his colleagues made last year that OAS1 variants are associated with severe COVID-19.
"In the ISARIC4C study, we recently found that this is probably due to a change in the way cell membranes detect viruses, but this mechanism doesn't explain the fascinating association with Alzheimer's disease reported in this new work," Baillie said.
"It is often the case that the same gene can have different roles in different parts of the body. Importantly, it doesn't mean that having COVID-19 has any effect on your risk of Alzheimer's," he added.
Also weighing in on the new study, Jonathan Schott, MD, professor of neurology, University College London, noted that dementia is the "main preexisting health condition associated with COVID-19 mortality, accounting for about 1 in 4 deaths from COVID-19 between March and June 2020.
"While some of this excessive mortality may relate to people with dementia being overrepresented in care homes, which were particularly hard hit by the pandemic, or due to general increased vulnerability to infections, there have been questions as to whether there are common factors that might increase susceptibility both to developing dementia and to dying from COVID-19," Schott explained.
This "elegant paper" provides evidence for the latter, "suggesting a common genetic mechanism both for Alzheimer's disease and for severe COVID-19 infection," Schott said.
"The identification of a genetic risk factor and elucidation of inflammatory pathways through which it may increase risk has important implications for our understanding of both diseases, with potential implications for novel treatments," he added.
The study was funded by the UK Dementia Research Institute. The authors have disclosed no relevant financial relationships. Schott serves as chief medical officer for Alzheimer's Research UK and is clinical advisor to the UK Dementia Research Institute. Baillie has disclosed no relevant financial relationships.
Brain. Published online October 7, 2021. Full text
For more Medscape Psychiatry news, join us on Facebook and Twitter.
Credits:
Lead Image: Dreamstime
Image1: Dr Dervis Salih
Medscape Medical News © 2021

Send news tips to news@medscape.net.
Cite this: 'Fascinating' Link Between Alzheimer's and COVID-19 - Medscape - Oct 13, 2021.