This transcript has been edited for clarity.
Just saying the words "emergency department" (ED) can stir up visceral and reflexive emotions in someone because everyone has an ED story. After all, 100 million of us visit emergency departments every single year, and 10% of those visits turn into hospital admissions, according to the CDC. Then there's a pandemic, which put EDs in headlines everywhere as they were getting packed.
Everyone has an opinion about the ED — the wait time, the workflow, the resources, whatever. As a hospitalist, I talk to ED staff and to patients about the ED on every single shift. Patients tell me everything. They tell me about their ED experience, how long they must wait, and worries about the cost. And recently, some of them told me that they couldn't tell if they were being treated by a doctor or not.
On that note, let's take a look at a recent poll put on by the American College of Emergency Physicians (ACEP) and Morning Consult called "Public Opinion on the Value of Emergency Physicians." This was an online poll of 2200 Americans, and data were weighted to approximate a target sample of adults based on gender, educational attainment, age, race, and region so that the results would be more generalizable.
At the top of the poll results was that access to an ED is important for most Americans. That's reassuring. Nine out of 10 adults say that 24/7 access to an ED is essential — the highest priority, the highest of any utility or service that communities provide, and 4 in 5 adults were satisfied with the medical care they received.
But honestly, I want to talk to the 1 out of 10 who doesn't think that 24/7 access to an ED is important. What's your game plan if all of a sudden you have shortness of breath or get shot and need immediate medical care? Where are you going?
The survey also covered some questions about costs, with about half of adults saying they were worried their insurance providers wouldn't actually cover them if they had to go to the emergency room (ER). And these results were consistent across demographics.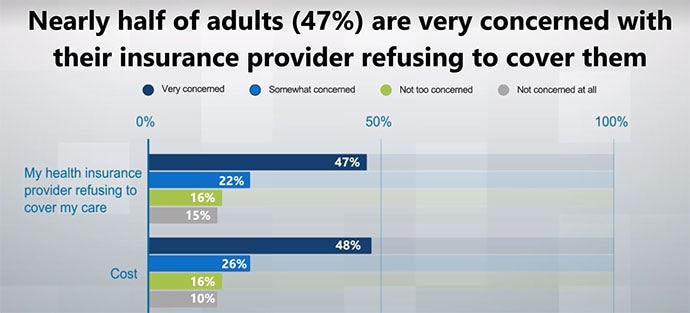 Now, according to the Affordable Care Act, an insurance provider can't charge you more for going to an ER for a true emergency as out-of-network. But, number one, ER costs vary. And number two, if you get admitted, you get inpatient bills, and you may even get some surprise bills. That's a whole other topic.
So costs are on everyone's mind, and let's be real: How many of you have thought twice about going to an ER because of the potential costs? I definitely have.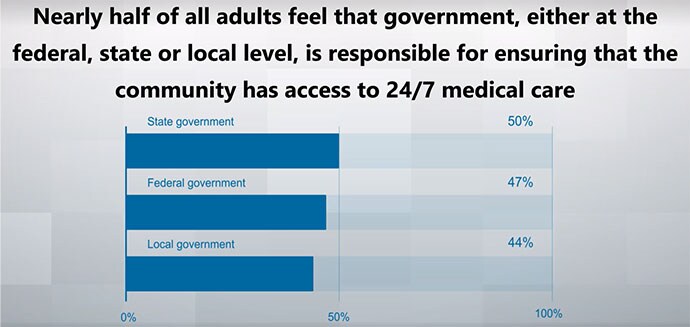 Also, according to the ACEP survey, nearly half of adults feel that the government at the federal, state, or local level is responsible for ensuring that Americans have 24/7 access to emergency medical care led by a physician. Now this phrase says two things: Number one, it says that the majority of people have some trust in government-led healthcare. But also, let's go back to that last phrase: "medical care led by a physician." This brings me to an important and necessary talking point.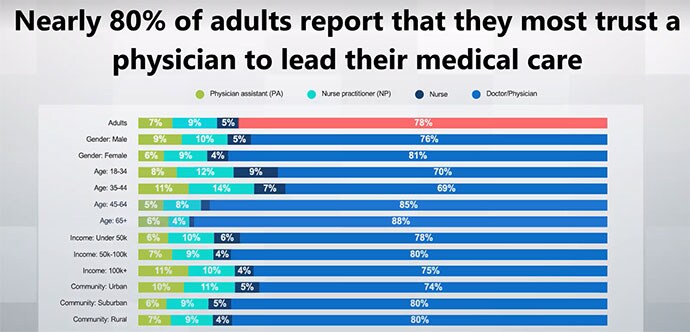 Nearly 80% of people said they most trusted a physician to lead their medical care, with 9% saying nurse practitioners, 7% saying physician assistants, and 5% saying nurses. This percentage increased as medical conditions became more severe, with more than 80% saying they preferred physician-led care for a heart attack, a stroke, or after a car accident.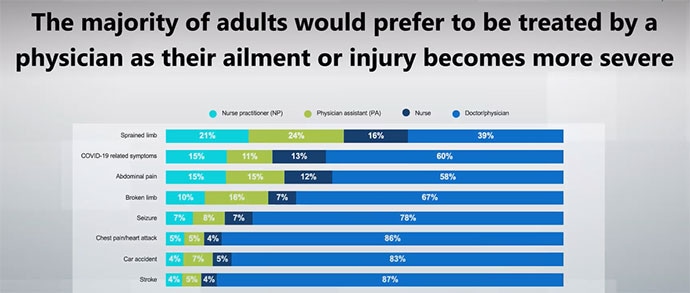 Now, I understand this opinion may not be popular to some, but it makes sense that as medical conditions get more severe, patients may prefer the health professional with the most amount of training. But this does not take away from the integral role that everyone plays in the ER.
So, let's say patients want to know who is treating them in the ER. How do they know whether someone they're interacting with is a physician? Well, not surprisingly, according to the poll, most adults were likely just to look at the badge or listen to the introduction very carefully or just ask directly.
Some other ways people try to figure out whom they were talking to was whether or not the person was wearing a white coat or carrying around a stethoscope, or the color of their scrubs. First of all, a lot of different people wear white coats, and the majority of my physician colleagues actually don't. They make fun of me for even wearing one, and I sometimes leave my stethoscope at home or in the call room and have to borrow one from a resident or a nurse. But let's get back to scrub color.


Twenty percent of young people (age 18-34) said that scrub color mattered when they were trying to decide who was a physician. What does that even mean? Who's supposed to be wearing the sexy scrubs or the pink ones or the cool new heather gray joggers? What do these blue scrubs say about me? I blame social media for the fact that this conversation even has to exist.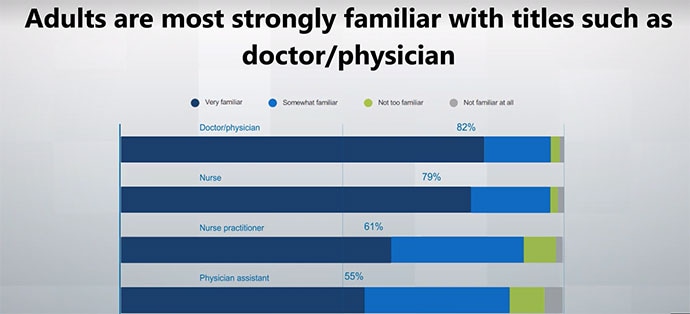 Regardless, all the clinician titles can be confusing for patients in the ER. According to the poll, 82% of people are familiar with the term "doctor" or "physician"; 61% are familiar with the term "nurse practitioner"; and 55% are familiar with "physician assistant."
Terms are confusing. People still ask me what a hospitalist is. I've got patients who don't know the difference between a psychologist and a psychiatrist. Did you know that in some states you could see an associate [assistant] physician or a physician associate? Do you know the difference?
Maybe we need a little more clarity so patients don't have to play guess-the-health-professional with white coat, badge, and scrub color context clues.
All in all, emergency departments, whether they're part of a massive academic hospital or a smaller community one, are an important mainstay in healthcare delivery. They definitely shouldn't be used in lieu of primary care or urgent care, but until we fix broader access issues, that's just going to keep happening.
Hopefully these poll results shape our communication, our transparency, and our overall approach to patients and the community.
Do any of these poll results surprise you? What are your thoughts on patients being afraid of ER costs, or trying to judge who's a doctor by the color of somebody's scrubs, or all the confusing clinician titles?
I'm kind of already sensing what a future video is going to be about. But until then, please share your thoughts.
Alok S. Patel, MD, is a pediatric hospitalist, television producer, media contributor, and digital health enthusiast. He splits his time between New York City and San Francisco, as he is on faculty at Columbia University/Morgan Stanley Children's Hospital and UCSF Benioff Children's Hospital. He hosts The Hospitalist Retort video blog on Medscape.
Follow Alok Patel on Twitter.
Follow Medscape on Facebook, Twitter, Instagram, and YouTube
Credits:
Image 1: Morning Consult on behalf of the American College of Emergency Physicians
Image 2: Morning Consult on behalf of the American College of Emergency Physicians
Image 3: Morning Consult on behalf of the American College of Emergency Physicians
Image 4: Morning Consult on behalf of the American College of Emergency Physicians
Image 5: Morning Consult on behalf of the American College of Emergency Physicians
Image 6: Morning Consult on behalf of the American College of Emergency Physicians
© 2021 WebMD, LLC

Any views expressed above are the author's own and do not necessarily reflect the views of WebMD or Medscape.
Cite this: Patients Want Docs, Not NPs or PAs, Leading Their ER Care - Medscape - Oct 18, 2021.