Each year, on the anniversary of his quadruple coronary artery bypass surgery, 80-year-old Michael Lalli and his family send baked goods to the cardiovascular surgeon who was in charge of the operation, James Fingleton, MD.
When he was 65, Lalli was told he would have to undergo the surgery and was later prepared for the procedure at Miriam Hospital in Newport, Rhode Island. There, the staff and team reassured Lalli and his three daughters that he was in good hands. Lalli speaks highly of his treatment and of Fingleton after the successful surgery.
"To this day, I can't say enough about the man. He is great, just great," says Lalli in an interview with television station WJAR.
Lalli's family wanted to show appreciation to Fingleton and his team by sending a cake, an act that would become a yearly occasion on every July 20.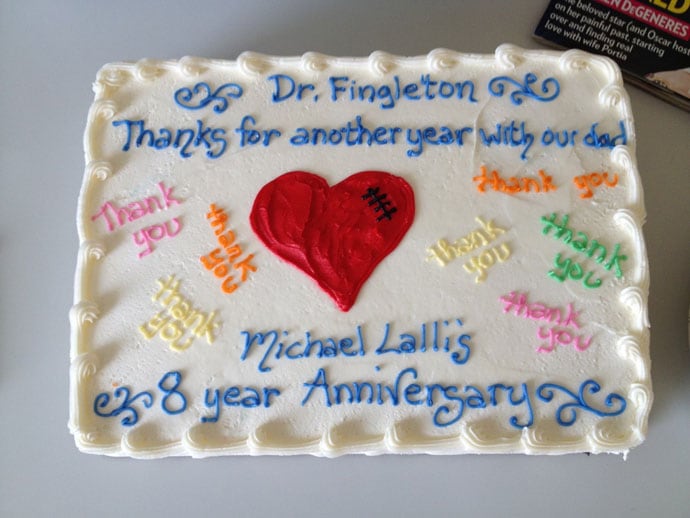 "That's what I do, is cakes, so that's why on the anniversary every year we thought it would be nice to send him something," says Audra, Lalli's daughter and the owner of Mad Hatter Bakery in downtown Newport. "It's just such a small thing we can do to say thank you for saving our dad."
Now, 15 years later, the tradition continues, with the Lalli family sending a cake or cupcakes to Fingleton, now at Rhode Island Hospital. Most of the time, Lalli hand-delivers the gift to the hospital, always decorated with a heart theme and a thankful message celebrating each year. Text on each cake counts the years since the operation and thanks Fingleton and his crew for their work: "Thanks for another year with our dad" or "The beat goes on."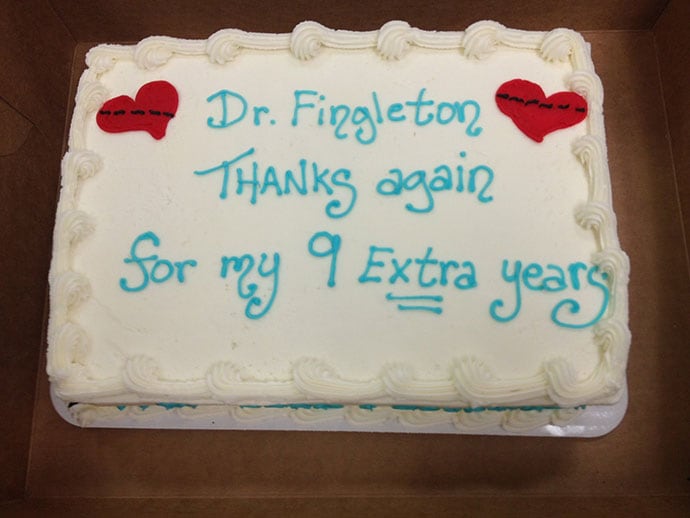 "They are all heart-themed," says Lalli. "They say thank you or something heart-related and when I go there, I feel great just seeing him. They'll say he's at the hospital and I see him, he's like, 'Mike how are ya? How's everything going?' And Jesus, he hasn't changed either. I just can't believe how good I feel since my surgery and I know he did that."
Fingleton enjoys sharing Audra's creations with the heart team — he insists that heart surgery is a team, and it takes every one of them to care for the patient. In Fingleton's 28 years as a heart surgeon, he says he's never had anyone show their appreciation for their care in this way before.
"This has been a very unusual and consistent form of gratitude on this particular patient," Fingleton says. "It means a lot to me, for us, it makes us feel good because really that's all we want, that's why we do this. It's a nice show of gratitude and we deeply appreciate it."
For more news, follow Medscape on Facebook, Twitter, Instagram, and YouTube.
Credits:
Lead Images: Rhode Island Hospital
Medscape Medical News © 2021

Cite this: Jay Lankau. Patient Gifts Cakes Every Year to Doctor Who Saved His Life - Medscape - Oct 07, 2021.