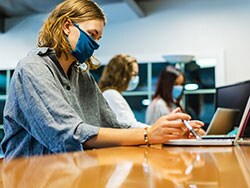 The shift from medical school to residency has long pushed young doctors to their physical and mental limits. A new comprehensive report proposes a slate of reforms to make the path smoother and give doctors-in-training a stronger foundation to guide them through years of practice.
The report, drafted by the Coalition for Physician Accountability's Undergraduate Medical Education to Graduate Medical Education Review Committee (UGRC), proposes more than 30 separate fixes to the current transition process. They include changing recruitment practices to increase resident diversity, creating more uniform methods of evaluating learners, and revamping funding structures to make it easier for residents to switch to other specialties. This is the second such report in recent months to propose sweeping changes to the physician training process.
The UGRC's proposed reforms arose out of frustrations that had been building in the medical community for years, said George Mejicano, MD, a senior associate dean for education at the Oregon Health & Science University School of Medicine in Portland, and a co-chair of the UGRC. "Are we really producing what the doctors of the country need? I would argue, no," Mejicano said. "This is a once-in-a-generation opportunity to address major problems in the current system."
Residents and program directors generally endorse UGRC's reform plan, but they point out that medical education leaders will need to make major commitments, both logistical and financial, to meet the report's objectives. "They're starting with some good goals," said Josh Mugele, MD, the director of Northeast Georgia Medical Center's emergency medicine residency program. "How to implement those goals is a bit more difficult."
A Comprehensive Transition Reform Plan
The idea of broad-based reform started brewing at an American Medical Association (AMA) meeting years ago, as Mejicano and other doctors discussed the prospect of weighting US Medical Licensing Exam scores differently when evaluating learners. In ongoing conversations, reform-minded doctors agreed that the issues at hand were bigger than any one testing process. They formed the UGRC to propose overall changes to the med school-residency transition, and the committee included members from national organizations such as the AMA, the Association of American Medical Colleges (AAMC), the National Board of Medical Examiners, and the American Osteopathic Association.
As they drafted their recommendations, the committee reached out to doctors around the country for feedback. "We were very deliberate in making sure that the community had input at various stages in our process," Mejicano said.
Among the report's primary recommendations is that medical educators create a common framework for assessing learners' abilities. Right now, Mejicano said, each medical school has the freedom to develop its own program objectives. The lack of standardized assessments makes it harder for residency programs to compare candidates from different medical schools, and assessment inconsistencies can lead to preparation deficits among incoming residents. The report stresses that common assessment models should be based on direct observation of students' performance in the clinic.
The report also proposes making it easier for residents to switch their specialty focus early on. Because incoming residents have limited exposure to the field they're entering, it's essential to provide a bail-out option if their chosen specialty isn't a good fit, said Marina Haque, MD, an anesthesiology resident at the Detroit Medical Center, Michigan. Currently, if a resident switches specialties within the first year, hospitals do not receive full funding for that year, which has made them reluctant to allow such switches. To address this issue, the report advises calculating the main residency period starting with the second year of post-graduate training rather than the first.
At the same time, the report advises giving medical students more thorough training in their planned specialty before they actually receive their degrees. "One of the major purposes of medical education is to prepare our learner to be residency-ready, because they're taking care of patients on the first day," Mejicano said. "'MD' or 'DO' is simply not enough. It has to be more than that."
Other recommendations address what Mejicano called urgent "pain points" that hamper the resident match process. For instance, the report advises placing limits on the number of residency programs to which students can apply. Right now, residency program directors are drowning in applications, Mejicano said. "It's runaway inflation. It's not uncommon to have a program that has 20 slots get 5000 applicants." Capping applications, he said, would help residency programs evaluate prospects from diverse backgrounds thoroughly and fairly.
The AAMC, which previously expressed its desire to improve the med-ed transition process, endorsed the report after its release. "We support the concepts and themes addressed in the recommendations," AAMC President David J. Skorton, MD, said in a statement. "We stand ready to work with our colleagues across academic medicine to address the issues identified and achieve the objectives of the recommendations."
Many residents and program directors also approve the direction of the report's proposed reforms. Haque especially supports the committee's recommendation to increase the diversity of specialized training programs. As a medical student, she was interested in emergency medicine, but some programs she scouted were so White- and male-heavy that she questioned whether she could fit in. "I realized how stacked the decks were against women in that field," she said. "My interest shot dramatically down." Other incoming residents, she added, have had similar experiences when considering fields dominated by White men.
A Long-Haul Commitment to Change
While it's one thing to draw up a list of well-intended reforms, it's quite another to secure institutional resources to carry them out. Mejicano stressed that the report is only the first step in what will be a long and multiphase reform campaign.
Some proposed changes in the report, he said, have already happened or are currently being implemented. "The most obvious one is virtual [residency] interviews because of the pandemic — everyone's complying with that. That's pretty much a turnkey piece." But other changes, such as creating a common framework for assessing learners, will take longer to enact and will require cooperation between several different organizations.
Among the Coalition for Physician Accountability's next steps, Mejicano said, will be promoting the kinds of large-scale conversations that are necessary to arrive at agreement on issues like this, to determine whether any of the report's suggestions will turn into across-the-board mandates, for instance.
The committee that drafted the report "has no formal role in implementation except to encourage the Coalition and our peers to make the necessary changes in each of our networks," Mejicano said. "Groups are going to have to say, 'How do we work together to move this forward?'"
Since the UGRC officially ended after releasing its report, Mejicano and other UGRC members have advised the formation of a new committee that would manage ongoing collaborations and quality improvements related to the med school-residency transition. The UGRC has also drafted a proposed timeline for implementing some of its recommendations. The new committee to manage collaborations, they said, could be started later this year, and improved measures for assessing learners could be finalized and put in place by 2022 or 2023.
Questions remain about where the money to enact the proposed reforms will come from. The report committee "didn't have the resources to do an economic analysis," Mejicano said. "No one knows the total ticket cost of this." Some residents and program directors are skeptical that the needed funding will materialize, especially post-COVID. "Given how stretched most healthcare systems are," Haque said, "I'm hesitant to believe any significant changes in financing trainee education would occur."
As big organizations like the AAMC consider how to act on the report's recommendations, Mugele thinks medical education leaders need to establish very clear criteria for accomplishing each point. "The more specific and bite-sized the recommendation can be, the more willing these large organizations will be to tackle it," he said. For example, in ensuring residency applicants from diverse backgrounds don't get unfairly filtered out in the review process, "if you can make some rules and say, 'You have to look at 80% of all applications that come across,' or put some numbers associated with it, it's specific, it's bite-sized, and it's accomplishable."
Mejicano agreed that commitment and fine-tuning will be needed to carry out the report's agenda and noted that learners and program directors can play a key role by continuing to advocate for changes they want. For schools, organizations, and governing bodies across the country, meeting the UGRC's goals is going to be "a big, heavy lift," Mejicano said. "That's going to take all of us putting pressure on them, individually and organizationally, to move."
Follow Medscape on Facebook, Twitter, Instagram, and YouTube.
Credits:
Getty Images
Medscape Medical News © 2021 WebMD, LLC

Send comments and news tips to news@medscape.net.
Cite this: Proposed Residency Fixes: Are They Realistic or Just Wishful Thinking? - Medscape - Oct 07, 2021.