Third-year medical student Liz Groesbeck was like other excited Las Vegas Raiders fans last month headed to the first full-capacity game in the new Allegiant Stadium since the team moved to "Sin City." She was in an Uber on a first date just blocks from the game that would pit her Raiders against the Seattle Seahawks when she saw a man on the ground and people gathered around him.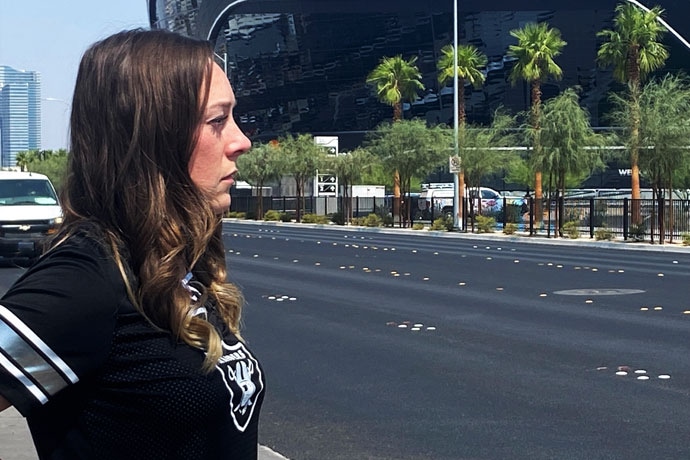 Abandoning her keys, cellphone, and date in the Uber, Groesbeck popped out to see if she could help. The Uber had been stuck in traffic, so Groesbeck thought she'd still be able to jump back in the car if she wasn't needed.
Then she heard screams. "That didn't concern me. People scream whenever anything unexpected happens," said the 28-year-old student from the Kirk Kerkorian School of Medicine at the University of Nevada, Las Vegas (UNLV). But the screams were only a small indication of what she would discover on closer inspection. The arm of the middle-aged man lying on the ground was detached. An abandoned gold SUV remained on the curb nearby. It would turn out to be a hit-and-run of pedestrians by a driver later charged by police with DUI.
"I was one of the first people there," Groesbeck recounted for Medscape Medical News. "I knew this guy did not just fall. I told someone to call EMS and I got someone to take his wife somewhere else [away from the bloody scene]. She was obviously very distraught. …At a couple of points she was hysterical."
Next, Groesbeck, who, ironically, had finished her emergency general surgery rotation the day before, focused on the patient. Kneeling beside him, she determined that the immediate priorities were to stop the bleeding and clear his airway. "He was barely breathing," she recounted. Another student who Groesbeck believes was pursuing a medical degree — there wasn't time for formal introductions — offered to help, along with bystanders headed to the game.
"The crowd was very energetic. It was a beautiful thing." Groesbeck cited the spirit of saving lives that developed from the October 1, 2017, Las Vegas country music festival shooting. "People are very willing to try to help others in any way they can."
Groesbeck, leading the effort, asked for belts, "and bystanders immediately provided that," and the other student followed Groesbeck's directions to apply tourniquets with the help of those around her. With the blood loss being stemmed, Groesbeck's next priority was making sure the patient could breathe.
Appealing for clothing to clear the man's airway, "five shirts were handed in a circle to me." She only needed one jersey to scoop the blood out of his mouth manually to free his airway.
She overruled well-meaning suggestions to lay the man on his side — which she was concerned could paralyze him — or use a straw to help him breathe. "I did not want to stick anything down his throat." Meanwhile, there was so much traffic that night around Allegiant Stadium that when the ambulance couldn't get any closer the firefighters and paramedics exited the vehicle and ran to the scene.
From Training to Practice
The decisions Groesbeck made until they could arrive called upon her years of training to be a doctor, and specifically an EMT certification course she had to pass before beginning medical school, she said.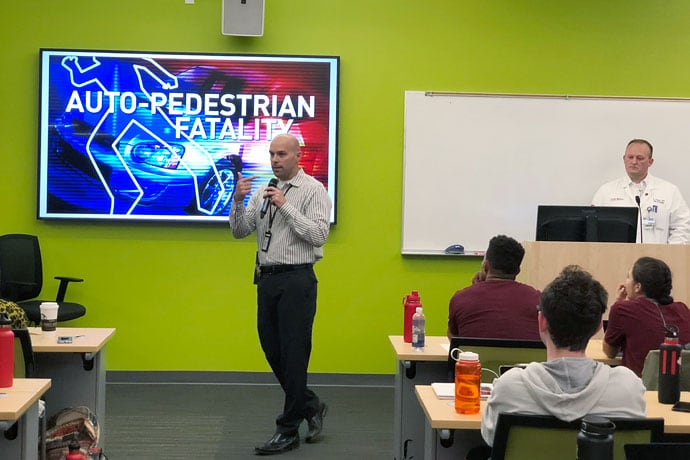 She credits the life-saving methods she learned in that course to Douglas Fraser, MD, FACS, associate professor of surgery at UNLV and University Medical Center (UMC) trauma medical director. He happened to be the attending physician when the accident victim was admitted to the hospital that night in critical condition. The man's wife also was injured, but not to the extent of her husband.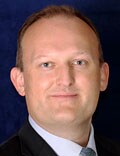 Fraser said he didn't know at the time that his student had been involved in saving the man's life until Groesbeck reached out to say thanks for teaching her what to do in an emergency. "I [first] was overly impressed that she did that. Students are so busy; they move after they graduate or finish their rotations. You don't get to see them time and time again; your short time with them could have a lasting impact and that is my goal," Fraser told Medscape Medical News.
"They rarely thank you or reflect back. It renewed my sense that I want to teach more, to see the positive impact it had on Elizabeth" and other students, he said.
In terms of the emergency situation she navigated, Fraser said he was very proud of his student, but was also concerned she could have gotten hurt herself in the middle of a busy intersection. "She was selfless and put herself in harm's way to help someone." He also noted it was the first time he knew of a student putting her skills to the test so soon after learning them. "It was a good outcome and she truly provided lifesaving care to this victim."
He attributed her training to the Stop the Bleed program, which began after the Sandy Hook tragedy in 2012. UNLV requires new med students to complete the American College of Surgeons' first aid program to learn how to stop the bleeding of a severely injured person by applying tourniquets and pressure. "You have to stop the bleeding right away…and look to see whether their airway is open and if it's not, open their airway or you won't have a patient very long. I know she did that. These are the two most important lifesaving skills that she did."
Medical students are often called upon as doctors by their family and friends, Fraser continued. "Everyone looks to you. It can happen on an airplane; you can be anywhere. She heard a person was in need and jumped to action and was able to use the training her school provided and was able to put it to good use."
Not Her First Call to Action
Just the week before the incident, Groesbeck was on clinical rotations at UMC helping in the emergency and operating rooms. "She was always very engaged and mature beyond her years," Fraser said. "She definitely had that 'it' factor. She was sincere with patients and their families and performed well in the operating room. …She was very comfortable around the patients; very comfortable in stressful situations."
He added, "I look forward to her participating in trauma surgery rotations in the near future."
In the meantime, Groesbeck was pleased to learn that the man she saved survived and thrilled to be part of that effort. As of press time, he had not contacted her. Nor has the other student who helped save his life.
"A lot of people stepped up and donated their time to help. He got lucky on a very unlucky day," Groesbeck said.
She recalled a previous accident victim years ago who wasn't as lucky. On the way to pick up her white coat for the ceremony before her first year of medical school, she came upon a car that had flipped upside down. "It sheared the roof away. I checked on the restrained passenger. He was partially scalped. The windows were broken and I climbed in next to him." This time, she used her own shirt to hold pressure on the wound. "He, unfortunately did not make it." There was nothing she could have done, she was told.
"That one got me mentally. Very graphic imaging was stuck in my head," Groesbeck said. With a masters in neuroscience, she was accustomed to seeing the brain, "but not like this. I felt sad he passed in such a violent way." So the more recent life-saving experience was redemptive, she said. "I've been through hell and back."
And she's still on track to become the doctor she envisioned as a child, mummifying her cats with gauze wraps and covering her little sister with adhesive bandages. "It felt good knowing what I could do," Groesbeck said. "I'm glad this [man] made it. He got lucky and he could go home to his family. I was not positive when he left in the ambulance. It was a huge relief."
Of her role in the episode and her future career ambitions, Groesbeck noted: "We are studying all the time. It's not very rewarding. But this, not thinking but having sprung into action, doing the right thing and he could go home to his family a week later. It's things like this that make the endless hours of studying worth it. I feel like I accomplished something.
For more news, follow Medscape on Facebook, Twitter, Instagram, YouTube, and LinkedIn.
Credits:
Lead Image: UNLV
Image 1: UNLV
Image 2: Dr Douglas Fraser
Image 3: Dr Douglas Fraser
Medscape Medical News © 2021

Cite this: Med Student's Skills Put to the Test Saving Life of Accident Victim - Medscape - Sep 29, 2021.