In July 2021, University Hospitals, in Cleveland, Ohio, announced that its staff had transplanted a kidney into the wrong patient. Although the patient who received the kidney was recovering well, the patient who was supposed to have received the kidney was skipped over. As a result of the error, two employees were placed on administrative leave and the incident was being investigated, the hospital announced.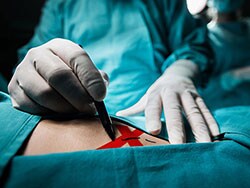 In April 2020, an interventional radiologist at Boca Raton Regional Hospital, in Boca Raton, Florida, was sued for allegedly placing a stent into the wrong kidney of an 80-year-old patient. Using fluoroscopic guidance, the doctor removed an old stent from the right side but incorrectly replaced it with a new stent on the left side, according to a Medscape interview with the patient's lawyers at Searcy Law, in West Palm Beach.
Wrong-site surgery ― surgery performed on the wrong patient, the wrong body part, or the wrong side of the body ― is a rare but distressing event and garners much attention when it happens. "The problem is that it is so rare that doctors don't focus on it," says Mary R. Kwaan, MD, a colorectal surgeon at UCLA Medical Center, Los Angeles, California.
A 2006 study in which Kwaan was the lead author concluded that there was one wrong-site surgery for every 112,994 surgeries. Those mistakes can add up. A 2006 study estimated that 25 to 52 wrong-site surgeries were performed each week in the United States.
"Many surgeons don't think it can happen to them, so they don't take extra precautions," says David Mayer, MD, executive director of the MedStar Institute for Quality and Safety, in Washington, DC. "When they make a wrong-site error, usually the first thing they say is, 'I never thought this would happen to me,' " he says.
Wrong-site surgeries are considered sentinel events ― the worst kinds of medical errors. The Sullivan Group, a patient safety consultancy based in Colorado, reports that in 2013, 2.7% of patients who were involved in wrong-site surgeries died and 41% experienced some type of permanent injury. The mean malpractice payment was $127,000.
Some malpractice payments are much higher. In 2013, a Maryland ob/gyn paid a $1.42 million malpractice award for removing the wrong ovary from a woman in 2009. In 2017, a Pennsylvania urologist paid $870,000 for removing the wrong testicle from a man in 2013.
Wrong-Site Surgery Often Involves Experienced Surgeons
One might think that wrong-site surgeries usually involve younger or less-experienced surgeons, but that's not the case; two thirds of the surgeons who perform wrong-site surgeries are in their 40s and 50s, compared with fewer than 25% younger than 40.
In a rather chilling statistic, in a 2013 survey, 12.4% of doctors who were involved in sentinel events in general had claims for more than one event.
These errors are more common in certain specialties. In a study reported in the Journal of Neurology, Neurosurgery and Spine, 25% of orthopedic surgeons reported performing at least one wrong-site surgery during their career.
Within orthopedics, spine surgery is ground zero for wrong-site surgery. "Finding the site in spine surgery can be more difficult than in common left-right orthopedic procedures," says Joseph A. Bosco III, a New York City orthopedist.
A 2007 study found that 25% of neurosurgeons had performed wrong-site surgeries. In Missouri in 2013, for example, a 53-year-old patient who was scheduled to undergo a left-sided craniotomy bypass allegedly underwent a right-sided craniotomy and was unable to speak after surgery.
Wrong-site surgeries are also performed by general surgeons, urologists, cardiologists, otolaryngologists, and ophthalmologists. A 2021 lawsuit accused a Tampa, Florida urologist of removing the patient's wrong testicle. And a 2019 lawsuit accused a Chicago, Illinois ophthalmologist of operating on the wrong eye to remove a cyst.
It's Not Just the Surgeon's Mistake
Mistakes are not only made by the surgeon in the operating room (OR). They can be made by staff when scheduling a surgery, radiologists and pathologists when writing their reports for surgery, and by team members in the OR.
Many people are prone to confusing left and right. A 2020 study found that 14.9% of people had difficulty distinguishing left from right; other studies have shown higher rates. Distractions increase the likelihood of mistakes. In a 2015 study, background noise in a hospital ward made it more difficult for medical students to make left-right judgments.
OR personnel can be confused when patients are turned around. "To operate on the back of someone's leg, the surgeon may turn the patient from supine to prone, and so left becomes right," says Samuel C. Seiden, MD, an anesthesiologist in Roseville, California, who has studied wrong-site surgery.
Operative site markings that are drawn on the skin can be rubbed off when surgical prep is applied, and markings aren't usually possible for procedures such as spine surgeries. Surgical draping can make it harder to distinguish the patient's left and right, and a busy surgeon relying on memory may confuse cases and perform wrong-patient surgery.
A Push to Eliminate Wrong-Site Surgery
In 2004, the Joint Commission, which accredits hospitals and many surgery centers, decided to do something about wrong-site surgery and related surgical errors. It released a universal protocol, which requires hospitals to take three steps to prevent errors: perform preoperative verification that is based on patient care documents; mark the operative site; and take a time-out just before surgery, during which the team should consider whether a mistake is about to be made.
Two years after the Joing Commission published its protocol, Seiden led a study to determine what effect it had had. The investigators found that wrong-site cases had decreased by only about one third. Preventing wrong-site surgery "turns out to be more complicated to eradicate than anybody thought," Mark Chassin, MD, president of the Joint Commission, stated a few years later.
Why did the protocol have only a limited effect? Seiden says that it has been hard to change doctors' traditional attitudes against standardization. "Some have had an attitude that checklists are for dummies, but that is changing," he says.
For instance, some surgical teams were not paying attention during time-outs. "The time-out should be like the invocation of the National Anthem," an orthopedic surgeon from Iowa wrote. "All other activities should stop."
Even had surgeons followed the universal protocol, about one third of wrong-site surgeries would not have been identified, according to Kwaan's study, which was published in the same year as Seiden's. As an example, when the wrong kidney was removed at Methodist Hospital, in St. Louis Park, Minnesota, the hospital said it was following a protocol set by the Minnesota Hospital Association.
Redoubling Efforts
In 2009, the Joint Commission decided to take another tack. It encouraged hospitals to make root-cause analyses not only of wrong-site surgeries but also of near misses, which are much more plentiful. It used the insights gained to change surgical routines and protocols.
The Safe Surgery Project, a collaboration between the Joint Commission's Center for Transforming Healthcare and eight hospitals and surgery centers, reduced the number of errors and near misses by 46% in the scheduling area, 63% in pre-op, and 51% in the OR area.
From that project, the center developed the Targeted Solutions Tool, which basically uses the same methodology that the project used. The center told Medscape that 79 healthcare organizations have used the tool and have reduced the number of errors and near misses by 56% in scheduling, 24% in pre-op, and 48% in the OR.
For this approach to work, however, surgical teams must report their errors to the hospital, which had not been done before. A 2008 study by the Office of the Inspector General of the US Department of Health and Human Services found that surgical staff did not report 86% of adverse events to their hospitals. Reasons given included lack of time, fear of punitive action, and skepticism that reporting would do any good.
Unlike some other adverse events, it's hard to keep wrong-site surgeries secret from patients, because they can usually see the scars from it, but some surgeons invent ways to cover it up from patients, too, Mayer says. One wrong-side hernia repair was corrected in mid operation. Afterward, the surgeon told the patient that he had found another hernia on the other side and had fixed that one, too.
Changing the Culture
Reformers argue that wrong-site surgeries can be prevented by changing the culture of the hospital or surgery center. "We have to think of wrong-site surgeries as a failure of the system, not of the individual," says Ron Savrin, MD, a general surgeon in Chagrin Falls, Ohio, who is a surgery subject matter expert for the Sullivan Group. "It should never be only up to one individual to stop an error from occurring."
Seeing oneself as part of a team can reduce errors. Although other people can introduce errors that make a person look bad, they can also stop the errors that might otherwise have occurred. Punishing individuals for making errors does little good in stopping errors.
"It's human nature to want to punish somebody for making a mistake, and it's hard to change that mentality," Savrin says. He recalls that when he was a resident, "the morbidity and mortality conferences could be very difficult for anyone who made a mistake, but I think that attitude is changing."
Studies have found wide variation in the number of wrong-site surgeries among hospitals. A recent Pennsylvania study found an average of one wrong-site surgery or near miss per hospital per year, but about one third of hospitals did not report any.
Wrong-site surgeries are often concentrated in certain hospitals ― even prestigious teaching hospitals are not immune. A decade ago, Rhode Island Hospital had five wrong-site surgeries in 2 years, and Boston's Beth Israel Deaconess Medical Center had three wrong-spine surgeries within 2 months.
Other Ways to Reduce Errors
Seiden thinks reform efforts should take a page from his own specialty. Anesthesiology has developed a variety of forcing functions, which are simple changes in technology that can stop errors. An example is the use of a valve that will not deliver a drug unless certain steps are followed.
The StartBox System, a new way to prevent surgical errors, delivers the surgery blade only after all safety information has been provided. Tested by 11 orthopedic surgeons performing 487 procedures, the system identified 17 near misses.
Another approach is to film time-outs so as to enforce compliance with protocols and help with root-cause analyses. NYU-Langone Medical Center, in New York City, not only films the time-out but also grades OR teams on compliance, says Bosco, who is vice chair of clinical affairs in the Department of Orthopedic Surgery at the hospital.
In addition, more states are requiring hospitals to report adverse events, including wrong-site surgeries. According to the National Academy for State Health Policy, 28 states require the reporting of adverse events. However, only six states identify facilities in public reports; 16 states publish only aggregate data; and five states do not report error data to the public.
The Goal Is Zero Errors
Are there fewer wrong-site surgeries now? "My sense is that surgeons, hospitals, and surgery centers are taking wrong-site errors more seriously," Savrin says.
Because reported information is spotty and no major studies on incidence have been conducted in recent years, "we don't have a clear idea," he says, "but my best guess is that the rate is declining.
"Absolute zero preventable errors has to be our goal," Savrin says "We might not get there, but we can't stop trying."
For more news, follow Medscape on Facebook, Twitter, Instagram, and YouTube.
Credits:
Images: Getty Images
Medscape Medical News © 2021

Send news tips to news@medscape.net.
Cite this: MDs Doing Wrong-Site Surgery: Why Is It Still Happening? - Medscape - Sep 29, 2021.