Patients with rheumatoid arthritis who were taking glucocorticoids and received short-term denosumab (Prolia) had lost any gains in bone mineral density at the spine or hip as well as any improvements in bone turnover markers a year later, according to findings from a post-hoc analysis of a phase 2 trial.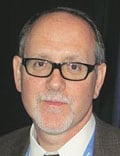 That is, stopping denosumab after a 12-month course resulted in a gradual increase in bone turnover markers and a concurrent return to baseline lumbar spine and total hip bone mineral density, Kenneth G. Saag, MD, professor of medicine and division director of clinical immunology and rheumatology at the University of Alabama at Birmingham, and colleagues reported in an article published online Sept. 17, 2021 in Arthritis & Rheumatology.
"These results provide further support for recommendations that patients discontinuing denosumab should transition to follow-on osteoporosis therapy to prevent or minimize remodeling-induced bone loss," they concluded.
Like all nonbisphosphonate medications for osteoporosis, Saag and colleagues wrote, the pharmacologic effects of denosumab are readily reversible after discontinuation.
The current findings in glucocorticoid-treated patients are consistent with those observed in postmenopausal women 2 years after discontinuing denosumab therapy for osteoporosis. Denosumab is typically given for a longer time in such patients, compared with patients receiving glucocorticoids.
Invited to comment, Karen E. Hansen, MD, a rheumatologist and associate professor at the University of Wisconsin, Madison, who was not involved with the study, agreed that the results "highlight the need to prescribe another osteoporosis medication after stopping denosumab, in hopes of preventing loss of bone mineral density."
Hansen, a coauthor of a review and meta-analysis of denosumab in the treatment of glucocorticoid-induced osteoporosis, noted that the American College of Rheumatology guideline for the prevention and treatment of glucocorticoid-induced osteoporosis suggests the use of denosumab as fourth-line therapy, after oral bisphosphonates, intravenous bisphosphonates, and teriparatide (Forteo).
"Its use is particularly relevant in patients who have contraindications or side effects from bisphosphonates or anabolic therapy, or when patient compliance must be ensured," she said in an interview.
"The type, timing, and effect of therapy after denosumab discontinuation, however, remain controversial," Saag and colleagues noted.
However, ongoing trials that are investigating the optimal medication and dosing needed to prevent such losses in bone mineral density after stopping denosumab should provide greater insight, Hansen said.
Bone Health After Stopping Denosumab
Patients with rheumatoid arthritis often have bone loss that can be worsened by their frequent use of glucocorticoids, leading to an increased risk of fragility fractures.
Denosumab, a monoclonal antibody that inhibits receptor activator of nuclear factor kappaB ligand (RANKL), was approved by the Food and Drug Administration in 2018 for treating patients with glucocorticoid-induced osteoporosis and a high risk of fracture.
Saag and colleagues performed a post-hoc analysis of a subgroup of 82 patients receiving glucocorticoids who were part of a larger phase 2 clinical trial of 218 patients with rheumatoid arthritis.
The patients had been randomized to receive placebo (n = 26), 60 mg denosumab (the approved dose, n = 27), or 180 mg denosumab (n = 29), given as two subcutaneous 6-month injections at baseline and 6 months, followed by 12 months without any bone-loss prevention therapy.
The patients had a mean age of 55, and 62% were women.
While receiving denosumab, their serum levels of the bone resorption marker C-terminal telopeptide of type I collagen (CTX) and the bone formation marker procollagen type I N-terminal propeptide (P1NP) decreased significantly from baseline.
In patients who received the 60-mg dose of denosumab, CTX levels had returned to baseline levels 6 months and 12 months after denosumab was discontinued.
Median levels of P1NP in these patients were 0.16% lower than baseline and 15% higher than baseline at 6 months and 12 months after denosumab was stopped, respectively.
In patients who received the 180-mg dose of denosumab, CTX levels also had returned to baseline levels 6 months and 12 months after denosumab was discontinued.
Median levels of P1NP in these patients were 9% and 76% higher than baseline levels, at 6 months and 12 months after denosumab was stopped, respectively.
Bone mineral density at the lumbar spine and total hip increased during the 12 months of denosumab treatment and then returned to baseline after 12 months of discontinuation of both doses of denosumab.
No osteoporotic fractures were reported during the 12-month denosumab treatment or the 12-month follow-up.
The study was funded by Amgen, which markets denosumab. Saag is an investigator with Amgen, Mereo, and Radius, and a consultant for Amgen and Roche. Four coauthors are employees of Amgen. The other six coauthors all reported a financial relationship with Amgen.
This article originally appeared on MDedge.com, part of the Medscape Professional Network.
Credits:
Lead Image: Wikimedia Commons
Image 1: MDedge News
Medscape Medical News © 2021 WebMD, LLC

Cite this: Bone Gains Lost Following Denosumab Stop in Steroid-Treated RA - Medscape - Sep 28, 2021.