Treatment with a biologic greatly boosts the likelihood that children with psoriasis will achieve a 75% improvement in the Psoriasis Area and Severity Index (PASI75) score at 12 or 16 weeks in comparison with placebo or methotrexate, according to a meta-analysis and systematic review of double-blinded, randomized controlled trials of five biologics.
In the analysis, there was no statistically significant difference in side effects at initial follow-up.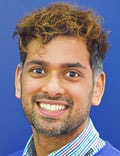 "Biologics are safe and effective in the management of moderate to severe psoriasis in children," one of the study authors, dermatologist Deshan Sebaratnam, MBBS, a clinical senior lecturer at the University of Sydney, in Sydney, Australia, said in an interview.
The analysis involved five trials of pediatric patients younger than 18 years (mean age, 13.2 years) who underwent treatment with adalimumab, etanercept, ixekizumab, secukinumab, or ustekinumab. The results were presented at the World Congress of Pediatric Dermatology (WCPD) 2021 Annual Meeting.
The US Food and Drug Administration has not approved adalimumab for the treatment of psoriasis in children, but it has approved the following drugs for pediatric patients: ixekizumab (for patients aged 6 years and older), etanercept (4 years and older), secukinumab (6 years and older), and ustekinumab (6 years and older).
For their analyses of patients who achieved PASI 75 and PASI 90, the researchers analyzed five trials that included 376 patients who received a biologic; four trials that included 317 patients who received a placebo or methotrexate; and one trial with adalimumab. The trials were conducted from 2008 to 2020.
Patients who underwent treatment with a biologic were more likely to reach PASI 75 (odds ratio [OR] = 12.37; 95% CI: 6.23 – 24.55; P < .00001). In the studies, 270 of 376 patients who were treated with a biologic and 54 of 317 patients who were given placebo or methotrexate reached PASI 75.
Those treated with a biologic were also significantly more likely to achieve PASI 90 (OR = 14.62; 95% CI: 3.81 – 56.09; P < .0001). In the studies, 191 of 376 patients and 22 of 317 patients who received placebo or methotrexate achieved PASI 90.
The researchers also analyzed four trials of all the drugs except ustekinumab and found that biologic therapy increased the likelihood of achieving 100% clearance (OR = 22.96; 95% CI: 6.97 – 75.60; P < .00001). In these trials, 234 patients received a biologic; of those, 82 achieved PASI 100, compared with 2 of the 175 who received placebo or methotrexate.
There was no statistically significant difference in adverse events at initial follow-up for the biologic group in comparison with those who received controls/methotrexate (OR = 0.95; 95% CI: 0.51 – 1.80; P = .88).
Although many randomized controlled studies of the use of biologics for children have been published, "no summative review exists," the authors note.
New Jersey dermatologist Karan Lal, DO, chair of the Society for Pediatric Dermatology's Website and Social Media Committee, praised the review in an interview and said the findings reflect his own clinical observations.
Lal reported that he has not seen any major side effects with the use of biologics for children – unlike other treatments, such as methotrexate and apremilast.
"The only thing that bothers me with biologics are the long-term risks ― malignancy, development of other diseases. We don't have that much data on these yet," he said.
He suggested using phototherapy, topicals, or biologics to treat children with intractable psoriasis. "Unfortunately, not many biologics are approved for use in children, so in terms of choosing one, there isn't much," he said. "I seldom use etanercept, due to frequency of injections, so ustekinumab is my go-to. However, the recent approval of pediatric use of ixekizumab ― my go-to for adults ― may make it my preferred biologic. It does sting with injections, but it just works the fastest and has prolonged efficacy."
No study funding is reported. Sebaratnam has been a consultant or speaker with honoraria for Janssen, AbbVie, LEO Pharma, Pfizer, Sun Pharma, and Novartis. Study coauthor Amy Paller, MD, led some of the studies analyzed in the review. She has been an investigator for AbbVie, Eli Lilly, Galderma, Incyte, Janssen, Novartis, Palvella, Regeneron, and UCB and a consultant with honorarium for AbbVie, Almirall, Asana, Boehringer-Ingelheim, Dermira, Eli Lilly, Exciure, Forte, Galderma, Janssen, LEO Pharma, LifeMax, Novartis, Regeneron, Sanofi-Genzyme, Sol-Gel, and UCB. The other review authors and Lal have reported no relevant financial relationships.
The World Congress of Pediatric Dermatology (WCPD) 2021 Annual Meeting: Abstract P069.
Randy Dotinga is a freelance journalist who covers medicine and health.
For more news, follow Medscape on Facebook, Twitter, Instagram, and YouTube.
Credits:
Lead Image: Science Source
Image 1: Deshan Sebaratnam, MBBS
Medscape Medical News © 2021

Send news tips to news@medscape.net.
Cite this: Meta-Analysis: Five Biologics Perform Strongly in Children With Psoriasis - Medscape - Sep 28, 2021.