I was recently inspired by a post written on COVID-19 day 616 by the anonymous author The Modern Day Physician. This post addressed the parallels between frontline clinicians who continue to walk in harm's way following our Hippocratic oath and the war heroes who have gone before us. It acknowledged that medicine, a moral profession, may carry moral distress — that burnout exists even in the most stoic. This could have been written by any one of us in healthcare. The author's intention is to spur clinicians to begin to engage in meaningful dialogue in the darkest of times, a strategy that I hope will allow for crucial systematic changes.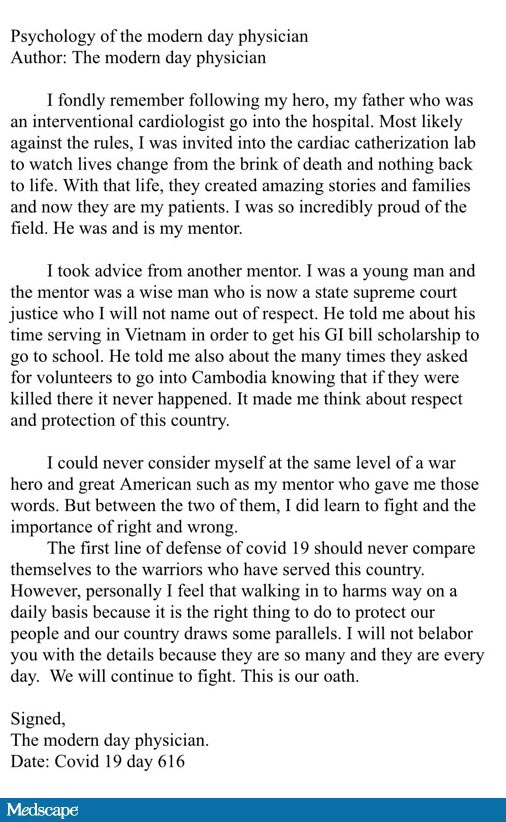 Courtesy of The Modern Day Physician, who wishes to remain anonymous
Hospitalizations and deaths continue to ravage the country while clinicians battle two pandemics: COVID-19 and disinformation. COVID-19 offers a rare opportunity to reconsider how the healthcare structure values the opinions and well-being of its workers.
Health systems, institutions, and organizations would be remiss not to realize the same social forces that have been magnified by the pandemic regarding social justice and equity unequivocally shape the culture within healthcare today. We see this translation through the minds of the patients we serve, the environment we work in, and the community of employees we work with.
These challenges in healthcare are universal, with some factors disproportionately varying by generation, sex, gender, race, ethnicity, as well as medical specialty. What many of these challenges translate to is burnout.
In a survey performed by Medscape, the highly competitive specialty of cardiology was one of the top 10 to identify high rates of clinician burnout. And a more recent survey reported during the first peak of the pandemic that 2 out of every 3 physicians expressed burnout, with women and ethnic minority physicians most likely to report such feelings. Seeing this disaggregated data could be instrumental in positively targeting these populations.
Beyond that, it's important to note that the usual drivers of burnout in any profession are typically threefold and may include macroeconomics at the societal level, operational inefficiencies at the organizational level, and difficulties maintaining a good work-life balance at the personal level.
Healthcare systems have looked for fixes for such distress. And although a confluence of these factors ultimately leads to burnout, most interventions thus far focus on person-level interventions. In fact, I began to write this blog on #NationalPhysicianSuicideDay, a day to recognize the 300-400 physicians who take their life each year. I participated in a mandatory wellness retreat focusing on mental fortitude and self-care lessons. Although these lessons are invaluable and should be addressed in any work sector, if we just focus on personal resilience tools, we will miss out on an opportunity for real change.
Fewer interventions thoughtfully address system-level issues at the core of the burnout epidemic, including bias, workflow design, poor communication among clinicians and other members of the healthcare team, and the overfocus on quantity as opposed to quality. Most interventions do not address the clinicians' concerns nor are they individualized toward personal feelings of emotional exhaustion, depersonalization, or accomplishment (whether societal, organizational or personal).
In my view, burnout is not a psychiatric or even a personal problem. I think it is inherent in the current way of healthcare delivery, at least in the United States. Hence, finding solutions requires that we address the real source of the problem: the structure of the healthcare industry.
We all know that clinician well-being is an essential institutional value that has a positive impact, including higher retention rates, improved devotion to patients, better outcomes, better morale, and improved recruitment. It would be naive to think that this pandemic and all of its demands have not exhausted our entire healthcare system, with many hospitals teetering on the edge of being overwhelmed, and with many already there.
Yes, this is a unique and challenging time to practice medicine. However, I believe that despite sparse resources challenging our healthcare sector across this nation, we must continue to have the same tenacious stamina we had pre-pandemic, and eliminating the challenges of burnout must remain pivotal. It's clear as day that when the workforce is at its best, physically and mentally, all goals can be achieved.
Despite COVID-19 presenting one of the greatest tests clinicians have taken in over a century, many of us continue to rise to the occasion with bravery, selflessness, and compassion. Let us not forget what is being done by the frontline workers; the clinician-scientists who have worked countless hours on the vaccine; the public advocates who are helping to mitigate any falsehood; the community members reaching out to the most vulnerable of our populations; and the outpatient clinicians who continue to effectively help reduce hospitalizations for both COVID- and non–COVID-related conditions.
Let us listen to their words, understand their exhaustion, and continue to implement effective solutions to help reshape the healthcare culture we practice in.
Why? Because all of our lives depend on it, now more than ever.
#TheModernDayPhysician
Date: COVID-19 Day 632
The opinions expressed in this blog are solely my own and do not necessarily reflect the views and opinions of my affiliations.
Follow theheart.org | Medscape Cardiology on Twitter
Follow Medscape on Facebook, Twitter, Instagram, and YouTube
About Dr Rachel Bond
Rachel M. Bond, MD, FACC, is a board-certified attending cardiologist in Arizona who has devoted her career to the treatment of heart disease through early detection, education, and prevention. She is a women's heart health and prevention specialist and the author of several review papers referencing maternal health, sex, and gender differences and cardiovascular conditions that predominantly affect women, along with opinion pieces aimed at addressing health equity, reducing health disparities, and promoting the professional development of women and minorities in the health-science profession. She has a passion for advocacy of education and mentorship and has advised as an expert source through news and media outlets. Her clinical interests include heart health prevention and maternal health. Dr Bond is a Fellow of the American College of Cardiology and a member of the American Society for Preventive Cardiology, the Association of Black Cardiologists, and the American Heart Association, where she is a national spokesperson for the "Go Red for Women" campaign and sits on the board of directors.
Twitter:
@drrachelmbond
Instagram:
@drrachelmbond
Facebook:
@drrachelmbond
© 2021 WebMD, LLC

Any views expressed above are the author's own and do not necessarily reflect the views of WebMD or Medscape.
Cite this: Rachel M. Bond. Health Systems Need to Offer More Than Wellness Retreats - Medscape - Sep 24, 2021.