Slips and falls are a major source of injuries, especially among the elderly, but they're also a way for schemers to rake in big bucks, as a story in the New York Daily News, among other news outlets, indicates.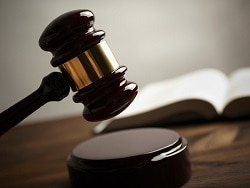 In the latest iteration of this age-old practice, a team of attorneys and doctors allegedly recruited more than 400 New York City inhabitants, many of whom were homeless or addicted to drugs, over the course of 5 years to participate in their scam.
These people, who were often desperate for money, were coached to claim they'd tripped and fallen over one of the many obstacles pedestrians encounter in the city — sidewalk cracks, potholes, open or protruding cellar doors, and the like. The participant would be cajoled into signing his or her name to a fraudulent suit. Over the years, the scam netted the bosses more than $31 million from city businesses and their insurance companies.
In some cases, to add authenticity to the swindle, the scammers convinced the so-called victims to undergo an operation, promising them up to $1500 to go under the knife.
Accused by the US Attorney's Office of masterminding the slip-and-fall operation were two attorneys, George Constantine and Marc Elefant, and a pair of doctors, Andrew Dowd, MD, an orthopedic surgeon, and Sady Ribeiro, MD, a pain management specialist and surgeon.
According to the charges, Constantine and Elefant filed lawsuits — either together or separately, though the report isn't clear — on behalf of hundreds of people who took part in the scheme. Dowd and Ribeiro also profited handsomely, according to authorities. Dowd, they say, earned roughly $9500 per surgery. Ribeiro is accused of treating nearly 200 participants during the con and of often paying kickbacks to them to drum up additional referrals.
If convicted on all charges, including mail and wire fraud, each of the defendants could face up to 20 years in prison.
This isn't the first time such a scheme has been hatched and carried out in New York City.
In May 2020, three men were sentenced to prison for their involvement in a similar slip-and-fall operation that took place between 2013 and 2018. (Their sentencing followed an earlier conviction for conspiracy to commit mail and wire fraud.)
Like the most recent scheme, the one that began in 2013 preyed on the hopeless. "The whole essence of this conspiracy is to find the down-and-out, find the desperate, find the homeless," the sentencing judge said at the time. "No person who has a job and education and can support his or her family even minimally is going to say, 'Oh, I'll undergo unnecessary back surgery for a thousand dollars.' These people were vulnerable and desperate."
Sales Reps in the OR — Helpful or Harmful?
Although medical device makers insist that the practice of placing sales reps in operating rooms (ORs) has proven beneficial to surgeons over the years, others claim it has contributed to unwanted outcomes, according to a report published in Kaiser Health News.
In May 2018, for instance, Cristina Martinez underwent what was supposed to be a routine spinal implant procedure. In the course of the operation, her Houston-based spine surgeon discovered that the implant he was about to insert in her back was larger than the one he had intended to use. Under different circumstances, the device maker's sales representative who was present in the OR that day might have been able to supply the smaller implant. But the rep didn't have one available, so the surgeon proceeded with the operation using the larger plastic disk.
Four days later, in another procedure, the surgeon removed that disk and replaced it with one that was the correct size. Martinez has claimed that she awakened from the second procedure in pain, the result of nerve damage that she says led to loss of feeling in her left leg.
In a suit against the doctor, the device maker, and its distributor and sales reps, Martinez alleges that her injuries were the direct result of their negligence in not having the proper disk available during the initial operation.
The defendants have each denied any wrongdoing.
The accused spine surgeon submitted to the court his operating notes, which reportedly say that he had depended on a company distributor and its sales reps to provide "all lengths available" of the implant. In another filing, he contends that the "small area of leg numbness experienced by Ms. Martinez was a known complication of the first surgery...and was not the result of any alleged negligence."
The device maker also denies any wrongdoing. In its filings, it claims that sales reps initially ordered a sterile kit that included implants ranging from 50 mm to 55 mm in length. The kit, says the manufacturer, was duly shipped to Houston, but the surgeon replaced the original implant with a 40-mm version during Martinez' reoperation.
A trial is scheduled for this November.
But was the Houston incident typical?
Device makers argue that having sales reps in the OR makes sense: Well trained, they offer surgeons vital technical guidance in the use of products that are often complex.
Kaiser Health News says its investigation found otherwise. This practice and others "have been blamed for contributing to serious patient harm in thousands of medical malpractice, product liability, and whistleblower lawsuits filed over the past decade," it reports.
The list of allegations is long: Some patients say they were injured because sales reps sold or delivered either the wrong-size implant or a defective one. Others say that in their communications with doctors, device makers were shown to have been less than truthful about the safety and durability of their products.
Currently, more than 28,000 suits have been consolidated into six multi-district federal cases. Most involve patients who claim injury after receiving hip implants. Some of the procedures required painful reoperations.
Other court actions cite device makers for other misdeeds, including keeping federal regulators in the dark about potentially dangerous product defects and plying surgeons with millions of dollars in illegal kickbacks.
Device makers have denied these and other allegations. Many of their cases have been settled confidentially.
This High-Risk Specialty Found a Way to Lower Its Claim Rates
Ob/gyns who undergo training that simulates team interactions during a high-acuity clinical case face fewer malpractice claims afterward, according to a study published in August in Obstetrics and Gynecology.
Researchers examined the claim rates of 292 ob/gyns who had undergone one or more such training simulations from 2002 to 2019. To gauge the effect of simulation training on the rate of medical malpractice claims, the researchers compared pretraining rates with posttraining rates. Because participants were insured by the same carrier, the team had access to the relevant claims data as well as the doctors' durations of coverage.
The investigators assessed claim rates for the period 2002 to 2019 (the full study period), as well as rates for 2-year and 1-year participation.
Researchers found a nonsignificant drop in claim rates for doctors in the 1-year group. The drop was greater for those in the 2-year group; it decreased from 9.2 to 5.4 claims per 100 physician coverage years. (A coverage year is defined as 12 months of indemnity protection.)
For doctors who took part for the entire study period — and were therefore more likely to be among the nearly 20% of doctors who attended three or more training sessions — postsimulation claim rates dropped significantly, from 11.2 to 5.7 per 100 physician coverage years. (Attendance in more than one simulation session correlated with a greater reduction in claim rates.)
"We observed a significant reduction in malpractice claim rates after simulation training," the researchers concluded. "Wider use of simulation training within obstetrics and gynecology should be considered."
The content contained in this article is for informational purposes only and does not constitute legal advice. Reliance on any information provided in this article is solely at your own risk.
Wayne J. Guglielmo, MA, is an independent journalist based in Mahwah, New Jersey.
For more news, follow Medscape on Facebook, Twitter, Instagram, and YouTube.
Credits:
Images: Getty Images
Medscape Business of Medicine © 2021

Send news tips to news@medscape.net.
Cite this: Doctors Preyed on Homeless for Slip-and-Fall Schemes; More - Medscape - Sep 21, 2021.