Subclinical or preclinical interstitial lung disease in patients with connective tissue diseases is not a benign entity, and many patients may experience progression of lung fibrosis before a diagnosis of ILD is made, investigators caution.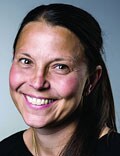 Among patients with connective tissue disease assessed with baseline and follow-up high-resolution CT scans for ILD, nearly one-fourth had evidence of ILD progression over a median of 4.5 years, reported Anna-Maria Hoffmann-Vold, MD, PhD, from Oslo University Hospital. "Subclinical ILD is frequently present across all connective tissue diseases. It progresses over time in a substantial subgroup of people comparable to patients with clinical ILD, and our findings really question the terms 'subclinical/preclinical ILD,' which may potentially lead to a suboptimal watchful waiting management," she said in an oral abstract presentation during the European Respiratory Society International Congress.
Jesse Roman, MD, CEO at the Jane & Leonard Korman Respiratory Institute at Thomas Jefferson University, Philadelphia, who was not involved in the study, commented that the findings regarding subclinical disease come as no surprise.
"The connective tissue disorders are linked to interstitial lung disease, and we believe that they are the primary causes of interstitial lung diseases in most countries," he said in an interview.
"Basically, what you're detecting is that if you can identify these people early, then you can see that they behave like any other patients with interstitial lung disease with progression, so most experts recommend that patients with any kind of connective tissue disorder be followed with either CT scans or pulmonary function tests, or carefully interviewed every time they come to identify any kind of very early interstitial lung disease – particularly in patients with rheumatoid arthritis, in patients with systemic sclerosis, and in patients with dermatomyositis," Roman said.
He noted that when patients present with an idiopathic or undiagnosed condition suggestive of ILD, clinicians at his center will order serology tests to detect potential cases of subclinical connective tissue disorders.
Observational Study
Hoffmann-Vold and colleagues looked at 525 patients with connective tissue diseases assessed for ILD at their center, including 296 with systemic sclerosis, 94 with anti-synthetase syndrome, and 135 with mixed connective tissue disease.
They used semiquantitative assessment to determine the prevalence of ILD, defining subclinical disease as ILD extent of less than 5% on high-resolution CT, preserved lung function with forced vital capacity (FVC) greater than 80% of predicted, and no respiratory symptoms.
Clinical ILD was defined as either ILD extent greater than 5%, or ILD extent below 5% but with respiratory symptoms and FVC below 80% of predicted.
They found that 44% of the patients had ILD on high-resolution CT, 43% had no evidence of ILD, and 13% had subclinical ILD.
In a comparison of patients without ILD and those with either clinical or subclinical ILD, they found that, while the mean patient age was about 51 in all three groups, men were more likely than women to have clinical ILD. A higher proportion of patients with clinical ILD (39%) died during the total observation period of about 13 years, compared with 22% of patients without ILD, and 18% of those with subclinical ILD.
As noted before, of 395 patients with baseline and follow-up high-resolution CT, 95 (24%) had evidence of lung fibrosis progression, with 38% of patients with subclinical ILD and 51% of patients with clinical ILD having progression during follow-up.
"In our connective tissue disease patients with ILD, the symptoms-define-disease argument would clearly lead to [the idea] that ILD is not a disease until patients become symptomatic, which we all know is frequently appearing in advanced stages of ILD," Hoffmann-Vold said.
The study was funded by Oslo University Hospital. Hoffmann-Vold and Roman reported no relevant conflicts of interest to disclose.
This article originally appeared in Chest Physician.
Credits:
Lead Image: Science Source
Medscape Medical News © 2021 WebMD, LLC

Cite this: Fibrosis Progression Flies Below the Radar in Subclinical ILD - Medscape - Sep 17, 2021.