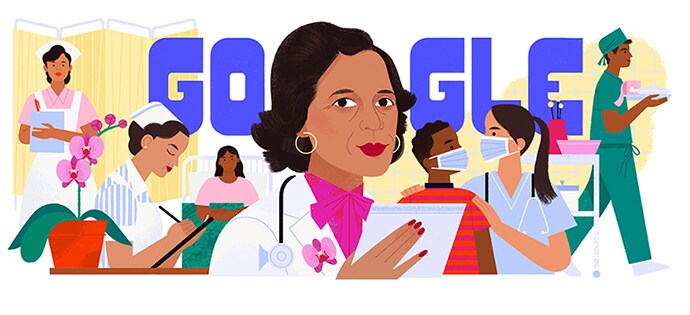 Surfing the web recently, you may have noticed that the Google Doodle is a nurse, a Latin American one at that. In keeping with the celebration of National Hispanic Heritage Month, the tech giant today honored Panamanian American nurse and educator Ildaura Murillo-Rohde, who helped start the National Association of Hispanic Nurses (NAHN).
According to Google, "Dr. Murillo-Rohde dedicated her life to enhancing the quality of healthcare for underrepresented communities while equipping other Hispanic nurses with the skills to do the same."
Murillo-Rohde was born in 1920 in Panama into a family of health professionals and immigrated in 1945 to San Antonio, Texas, where few of the city's nurses understood the language and culture of their predominantly Hispanic patients. "Murillo-Rohde set out on a lifelong mission to cultivate a nursing workforce that could best serve America's growing Hispanic community," Google reported.
After earning her doctorate from New York University in 1971, Murillo-Rohde began her efforts to "identify the underrepresentation of marginalized groups in the medical community as a national issue." She helped start the organization now known as NAHN and served as its first president.
Current NAHN president Adrianna Nava weighed in on the Google honor. "We are deeply honored as an organization she founded to be part of her legacy as we launch Hispanic Heritage Month," Nava told Medscape Medical News. The celebration began today and runs through October 15.
Nava welcomed the national attention the Google honor brings to the organization, as "we continue to see disparities throughout the country."
American Nurses Association President Ernest Grant, who is Black, echoed that sentiment. In the global Year of the Nurse, the Google honor recognizes the nurses of color and diversity represented in the profession along with a larger effort to end racism, he told Medscape Medical News. "We should be representing the people we serve. Dr. Murillo-Rohde is a prime example. She celebrated and embraced her Hispanic and Latinx roots and blazed a trail for others."
Along with her work with NAHN, Murillo-Rohde promoted cultural awareness as a psychiatric nurse, faculty member, professor, and dean, Google stated on its website about the honor. The American Academy of Nursing honored the doctor's many achievements with its prestigious fellowship — one of the highest nursing honors in the nation. NAHN also recognizes its first president with the Dr. Ildaura Murillo-Rohde Scholarship and the Dr. Ildaura Murillo-Rohde Award for Education Excellence by a Hispanic Registered Nurse.
For more news, follow Medscape on Facebook, Twitter, Instagram, YouTube, and LinkedIn.
Credits:
Images: Google
Medscape Medical News © 2021

Cite this: Google Honors Latin American Nurse Pioneer for Hispanic Heritage Month - Medscape - Sep 15, 2021.