Editor's note: Find the latest COVID-19 news and guidance in Medscape's Coronavirus Resource Center.
Current scientific evidence does not indicate that people who are not immunocompromised need booster shots of COVID-19 vaccines, a team of experts write in a viewpoint article in The Lancet.
Research shows that the vaccines remain effective at preventing severe COVID-19, according to the group of experts. They include two high-level officials in the office of the US Food and Drug Administration that regulates vaccines who recently announced plans to leave the agency.
Doctors and nurses in the United States are divided about the need for COVID-19 boosters and about how the United States should prioritize its supply of vaccines, according to a Medscape poll of more than 1700 clinicians that collected responses from August 25 to September 6.
Does Evidence Support Boosters?
Overall, 71% of 575 US physicians who were polled said they thought the available evidence supports giving boosters to people who have already had two doses of the Moderna or Pfizer COVID-19 vaccines; 12% disagreed, and 17% said they were unsure. Of 1133 nurses surveyed, 66% said they thought evidence supports boosters, 15% disagreed, and 19% were unsure.
More than three fourths of the 348 male physician respondents said they believed the evidence supports boosters; 64% of their female colleagues (208 were polled) shared this view.
Responses varied by age: 74% of physicians and 70% of nurses aged 55 and older said they believed the evidence supports boosters. Fewer of their younger colleagues (61% of doctors and 56% of nurses) agreed.
Doctors based outside the United States were significantly less likely than US doctors to say the evidence supports boosters. Only 42% of about 200 doctors based outside the United States thought boosters are needed; 32% said the evidence doesn't support boosters, and 27% said they were unsure.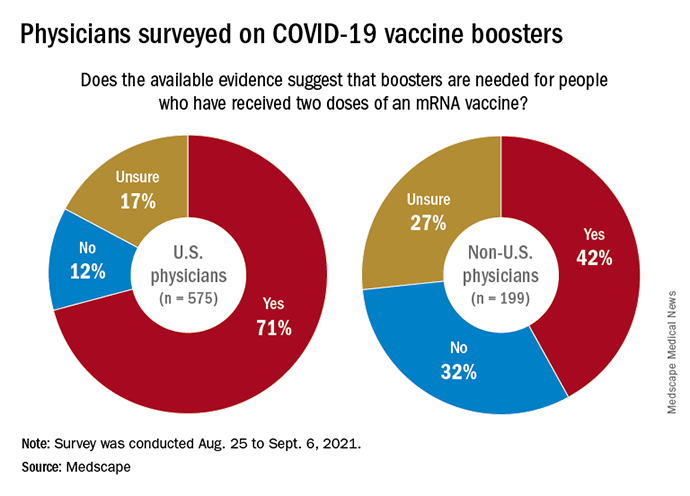 "The evidence is definitely looking like those who are immunocompromised are needing boosters at this time," said Priscilla Hanudel, MD, an emergency medicine physician in Los Angeles, California. These include patients older than 70 and those taking certain drugs, such as immunosuppressors or chemotherapy drugs. "It does look like antibodies are going to wane in the general population," she said. "The general population is well protected from severe disease, but in the next few months, it will probably be worthwhile to boost everyone."
Others see it differently. "I don't see data for [giving boosters] in the general population," said Monica Gandhi, MD, MPH, an infectious diseases doctor and professor of medicine at the University of California, San Francisco. More data are needed as to where severe breakthrough cases are occurring, she said.
The US Centers for Disease Control and Prevention reports that more than 14,000 breakthrough infections in vaccinated people have resulted in hospitalization or death. Gandhi says researchers need to stratify those results on the basis of age, preexisting conditions, and other immunocompromising factors. Beyond that, "population studies have not shown a decrease in protection against severe disease across multiple countries," she said.
Among nonclinicians, a survey of 506 WebMD readers taken August 26–28 found that 59% of respondents believe the evidence supports giving boosters to fully vaccinated Americans; 20% disagreed, and 21% said they were unsure. Again, responses varied by age. Two thirds of respondents aged 45 and older believed the evidence supports boosters, but only 50% of respondents younger than 45 agreed.
To Donate Doses or Save Them?
When asked whether they think it's ethical for the United States to use its stock of COVID-19 mRNA vaccines to give vaccinated Americans booster shots while many around the world have not received any vaccines, 61% of physicians said yes, 26% said no, and 12% were unsure. Nurses were more likely to say giving out boosters was unethical (36% said so) or that they were unsure (17%). Among physicians based outside the United States, 62% said it was not ethical for the United States to give mRNA vaccine boosters.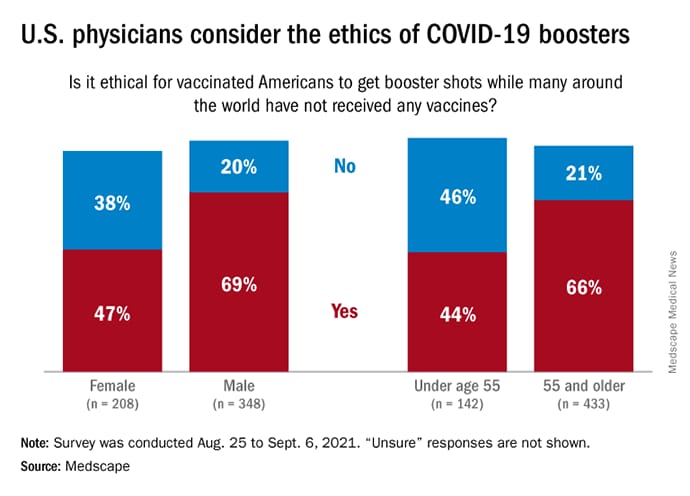 Female physicians were almost twice as likely as their male counterparts to say it was not ethical to give boosters to Americans (38% compared to 20%). Sixty-nine percent of male physicians said giving boosters was an ethical choice, in contrast to 47% of female physicians.
Gandhi says prioritizing boosters for Americans, rather than donating vaccine to other countries, isn't the ethical decision and that, from a geopolitical perspective, the optics aren't good. Because protection against severe infection appears to remain strong in fully vaccinated people, "there could be an argument made that we are protecting Americans from cold-like symptoms" by giving a third dose, Gandhi said. Healthcare workers and others in vulnerable settings are dying of COVID-19, she said. "The optics of that are terrible," she noted.
In the WebMD survey, 38% of respondents said it was ethical to give boosters; 33% said it wasn't, and the rest were unsure. Whereas 54% of male respondents said it was ethical for the United States to give out boosters, only 35% of women agreed; 37% of women said it was not ethical, compared to 24% of men.
In her Los Angeles emergency department, Hanudel says, they are seeing very few severe breakthrough infections among vaccinated healthcare workers despite the fact that they are regularly exposed to the virus (the healthcare workers wear masks). Anecdotally, that points to the robustness of two doses of the vaccine without a booster, she says. More important than providing a third shot for the fully vaccinated "is for the unvaccinated to get those first two doses," she says.
Donavyn Coffey is a freelance journalist who covers health and the environment from her home in the Bluegrass. Her work has appeared in Popular Science, Insider, and SELF.
For more news, follow Medscape on Facebook, Twitter, Instagram, and YouTube.
Credits:
Lead Image: Ann Walker/Science Source
Image 1: Medscape
Image 2: Medscape
Medscape Medical News © 2021

Send news tips to news@medscape.net.
Cite this: Doctors Divided About Need for COVID-19 Boosters: Poll - Medscape - Sep 13, 2021.