An expert panel of 48 dermatologists from 13 countries has developed recommendations to guide efforts aimed at preventing cutaneous squamous cell carcinoma (CSCC) in solid organ transplant recipients.
The recommendations were published online on Sept. 1 in JAMA Dermatology.
Because of lifelong immunosuppression, solid organ transplant recipients (SOTRs) have a risk of CSCC that is 20-200 times higher than in the general population and despite a growing literature on prevention of CSCC in these patients, uncertainty remains regarding best practices for various patient scenarios.
Paul Massey, MD, MPH, of the department of dermatology, Brigham and Women's Hospital, Boston, and colleagues used a Delphi process to identify consensus-based medical management recommendations for prevention of CSCC in SOTRs.
The survey design was guided by a novel actinic damage and skin cancer index (AD-SCI) made up of six ordinal stages corresponding to an increasing burden of actinic damage and CSCC.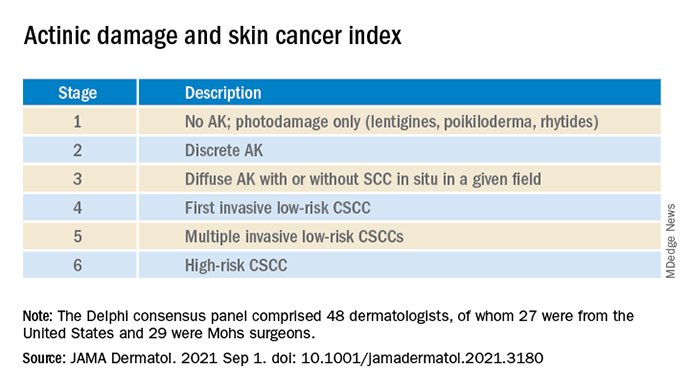 The AD-SCI stage-based recommendations were established when consensus was reached (80% or higher concordance) or near consensus was reached (70%-80% concordance) among panel members.
For five of the six AD-SCI stages, the panel was able to make recommendations. Key recommendations include:
Cryotherapy for scattered AK.

Field therapy for AK when grouped in one site, unless AKs are thick, in which case field therapy and cryotherapy are recommended.

Combination lesion-directed and field therapy with fluorouracil for field cancerized skin.

Initiation of acitretin therapy and discussion of immunosuppression reduction or modification for patients who develop multiple CSCCs at a high rate (10 per year) or develop high-risk CSCC (defined by a tumor with roughly ≥20% risk of nodal metastasis). The panel did not make a recommendation as to the best immunosuppression modification strategy to pursue.
Lingering Questions
The panel was unable to reach consensus on a recommendation for SOTRs with a first low-risk CSCC, reflecting "clinical equipoise" in this situation and the need for further study in this clinical scenario, they say.
The panel did not make a recommendation for use of nicotinamide or capecitabine in any of the six stages, which is "notable," they acknowledge, given results of a double-blind randomized controlled trial in immunocompetent patients demonstrating benefit in preventing AKs and CSCCs, as reported previously.
Nearly three-quarters of the panel felt that a lack of efficacy data specifically for the SOTR population limited their use of nicotinamide. "Given the low cost, high safety, and demonstration of CSCC reduction in non-SOTRs, nicotinamide administration may be an area for further consideration and expanded study," the panel wrote.
As for capecitabine, the panel notes that case series in SOTRs have found efficacy for chemoprevention, but randomized controlled studies are lacking. More than half of the panel noted that they did not have routine access to capecitabine in their practice.
The panel recommended routine skin surveillance and sunscreen use for all patients.
"These recommendations reflect consensus among expert transplant dermatologists and the incorporation of limited and sometimes contradictory evidence into real-world clinical experience across a range of CSCC disease severity," the panel said.
"Areas of consensus may aid physicians in establishing best practices regarding prevention of CSCC in SOTRs in the setting of limited high level of evidence data in this population," they added.
This research had no specific funding. Author disclosures included serving as a consultant to Regeneron, Sanofi, and receiving research funding from Castle Biosciences, Regeneron, Novartis, and Genentech. A complete list of disclosures for panel members is available with the original article.
This article originally appeared on MDedge.com, part of the Medscape Professional Network.
Credits:
Lead Image: Science Source
Medscape Medical News © 2021 WebMD, LLC

Cite this: New Guidance on Preventing Cutaneous SCC in Solid Organ Transplant Patients Published - Medscape - Sep 13, 2021.