Twenty-six percent of men of color and 20% of White men said they visit their primary care physician less than once a year or never, according to a national survey from the Cleveland Clinic. Additionally, only 35% of Latino men and 31% of Asian men see their primary care physician more than once a year, according to the survey.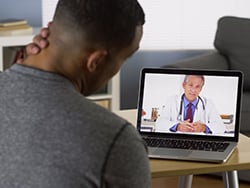 The survey included only male persons. Although the sample size was small ― only 1000 persons ― physicians say they are seeing the same trends at their practices.
The survey, which was as part of the Cleveland Clinic's annual MENtion It campaign, shows that virtual visits across the Cleveland Clinic's network increased from approximately 37,000 in 2019 to 1.2 million in 2020. Five key findings emerged from the survey:
Twenty-nine percent of all men preferred virtual visits, and younger men were more comfortable with virtual visits than in-person visits. Forty-one percent of millennials (persons aged 25 to 40 years), 36% of the Generation Z cohort (aged 18 to 24 years ), and 32% of Generation Xers (aged 41 to 56 years) preferred a virtual visit. Only 9% of baby boomer men (aged 57 years of age and older) preferred virtual care.

Forty-four percent of all men preferred to talk about sexual health problems with a physician online or by phone because they were "too embarrassed" to discuss them in person. Of Latino men, 56% reported feeling embarrassed about discussing sexual health problems during an in-person visit.

Nineteen percent of millennial men visit their primary care physician "only when something is wrong."

Older men are more comfortable than younger men when it comes to talking about health issues. For example, 61% of Gen Z, 70% of millennial, and 87% of baby boomer men are "very comfortable" discussing health risks. Regarding talking about sexual issues, 34% of Gen Z, 49% of millennial, and 59% of baby boomer men were "very comfortable."

Younger men are accessing online health sites and online health visits with physicians. Twenty-eight percent of millennial men and 25% of Gen Z men have accessed online services such as Roman or Hims for a personal evaluation or to get a prescription filled; only 6% of baby boomer men use these online tools.
Younger Men Often Seek "Transactional" Care
Andrew Carroll, MD, a family physician in Chandler, Arizona, said the survey's findings mirror what he sees in his practice. Although his older male patients understand the importance of having a primary care physician to ensure continuity of care, younger male patients are more likely to come in for "transactional" types of care, such as getting stitches or for treatment of a sinus infection.
When men of any age have an established relationship with a physician, they are not as embarrassed by questions regarding their sexual health, either in person or in a virtual setting, he said.
Carroll regards media coverage of actor Chadwick Boseman's death from colon cancer at the age of 43 as a factor in male patients being more inclined to talk about their health. "But again, we want men to know that having a relationship with a physician is good at any life stage," he said.
According to the American Cancer Society, Black patients are disproportionately affected by colorectal cancer. Compared to other ethnic groups, Blacks in the United States are 20% more likely to get colorectal cancer and are approximately 40% more likely to die as a result.
Increasing the Number of Physicians of Color Can Help
Telehealth is an option for many of Ogechika Alozie, MD's, patients. Many of the El Paso, Texas–based infectious disease specialist's patients are men with HIV. Their average age is 35. Approximately 35% of his patients prefer telehealth visits, he said.
The lack of physicians of color has an impact on patients and their ability to build a trusting relationship with healthcare practitioners, said Alozie. "I'm lucky to be Black, and I live in El Paso, so we're kind of the same shade...and I [treat] HIV, so they know we're talking about sex."
In 2019, approximately 1.2 million people in the United States had HIV, according to the US Department of Health and Human Services. That year, the highest rates of HIV infections were among Black persons (42%), followed by Latino persons, at nearly 22%, and people of multiple races, at 18%, according to the agency.
Alozie, who is also chair of the Texas Medical Association's committee on health information technology, advises physicians who are conducting telehealth visits to employ softer backgrounds that feature pictures. Other than the use of backgrounds, Alozie's advice for getting patients to open up during visits is the same for in-person visits:
Don't be in a hurry, especially during the first visit.

Ask open-ended questions in which the patient talks and you listen.

Define the visit up front. For example, "We're going to talk about X, Y, and Z. Is that okay? Tell me about X.' " This sets expectations as to what's going to be covered during the visit, he said.
Alozie calls himself "a hugger." He also likes to shake his patient's hand or put a hand on their shoulder during in-person visits. "There's never going to be a replacement for the in-person visit. Telehealth is about giving our patients an option."
For more news, follow Medscape on Facebook, Twitter, Instagram, and YouTube.
Image Credit: Dreamstime
Medscape Medical News © 2021

Send news tips to news@medscape.net.
Cite this: Men Prefer Telemedicine; Doctors Should Take Notice: Survey - Medscape - Sep 08, 2021.