MANCHESTER—The medical tribunal involving leading oncologist Professor Justin Stebbing was dramatically halted today due to concerns about the evidence given by one of his key defence witnesses.

Prof Stebbing, a cancer medicine and oncology professor at Imperial College London with a private practice in Harley Street, has an international reputation for his innovative treatments which has led to wealthy, terminally-ill cancer patients from around the world turning to him in the hope of extending their lives.

He's appearing before a Medical Practitioners Tribunal Service (MPTS) fitness to practise hearing and is accused of failing to provide good clinical care to 12 patients between March 2014 and March 2017.

The 36 charges - 21 of which he's admitted - include allegations that he inappropriately treated patients given their advanced cancer or poor prognosis, overstated life expectancy and the benefits of chemotherapy and continued to treat patients when it was futile and they had just weeks to live.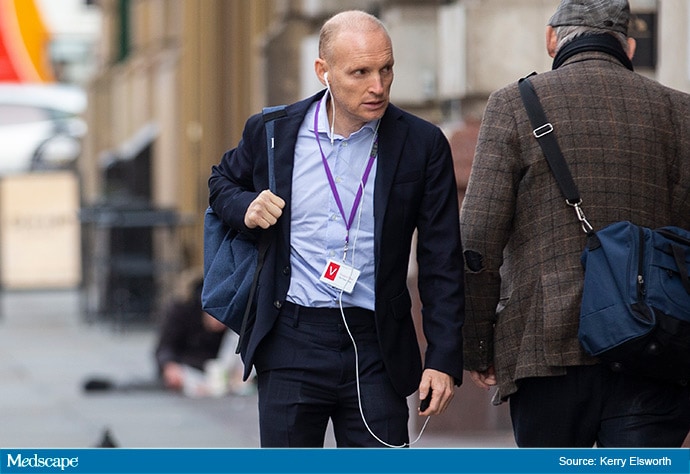 Expert Witness
Expert witness Professor Karol Sikora - who's been described as a leading world authority on cancer - has been giving evidence on behalf of Prof Stebbing. (Prof Sikora also comments on cancer issues for Medscape UK.)
But Sharon Beattie QC, for the GMC, questioned Prof Sikora's "impartiality" after the tribunal heard he'd approached Prof Stebbing before charges were brought against him and "volunteered his services".
Professor Sikora also admitted to obtaining a "summary" about three of the 12 patients by "ways and means" from undisclosed sources.
Ms Beattie asked why he'd omitted to mention obtaining the documents when asked about his involvement as a witness in the tribunal.
"Maybe I shouldn't," he said.
"Is it a crime?"
Ms Beattie also said Prof Sikora had failed to mention in a report that he had volunteered his services and he'd taken the view, prior to being instructed in the case, "that these proceedings were unfair".
"What you didn't say is I have reached that view by going though papers," she said.
"Why did you omit that?"
Patient Summaries
Ms Beattie pressed Prof Sikora on how he'd obtained the patient summaries, claiming he hadn't been truthful after initially telling tribunal Chair Hassan Khan that he "couldn't remember" how he'd got them.
Mr Khan also asked Prof Sikora to clarify how he'd obtained the patient information
Prof Sikora said he remembered the identity of one source, which wasn't Prof Stebbing, but he didn't want to name them for "confidence" reasons and he couldn't remember the others.
Ms Beattie asked Prof Sikora why he'd not said that initially, instead of saying he "didn't know" or "couldn't remember" how he'd got the patient information.
"Well, I've got quite a lot of friends in oncology," he said.
"I think this is a blind alley Ms Beattie."
Ms Beattie then reminded him of his obligations under oath to be "truthful" when giving evidence.
"That affirmation is taken very seriously by courts and tribunals because of the statement within it," she said.
"So do you accept it's never a blind alley to discuss why a witness hasn't been frank?"
Professor Sikora replied: "I have been frank."
Interrupted Proceedings
Prof Stebbing's QC Mary O'Rourke then interrupted proceedings and suggested that Prof Sikora may wish to get legal advice from his medical defence organisation (MDO).
She said she was concerned that his recollection of how he was instructed and obtained documents "may be mistaken".
It was important to establish the provenance of documents the professor held, she said, and whether the manner they had been obtained gave rise to "professional obligations and duties" for him.
Ms Beattie agreed that Prof Sikora should get legal advice and the main issues were the answers he'd given the tribunal and whether he'd breached his own or other's professional obligations in respect of the documents he held.
"I've reached the view that we couldn't just park this issue because it has potential significance to Professor Sikora's professional standing," she said.
"I don't meet that in a tendentious or judgemental way it's just these issue are serious."
Mr Khan then agreed to both parties request to adjourn the tribunal.
Aggressive Approach
Earlier, Prof Sikora had claimed that Prof Stebbing was right to take an "aggressive" approach and give chemotherapy to a stage 4 lung cancer patient who died a week later.
The female patient - known as Patient C - was treated by Prof Stebbing between August and October 2014.
Prof Stebbing is accused of inappropriately escalating her care, which included providing assisted ventilation, and prescribing second-line full dose chemotherapy at the Princess Grace Hospital prior to her death.
It's alleged he also failed to discuss a realistic assessment of the patient's prognosis with her or her family, failed to discuss the risks and benefits of not having treatment and failed to obtain consent.
Prof Sikora was asked by Ms Beattie about the appropriateness of the second line chemotherapy.
Patient C had been seen by leading US oncologist Charles Rudin, chief of thoracic oncology at the Memorial Sloan Kettering Cancer Centre, who'd described Patient B's prognosis as "terrible from the outset", Ms Beattie said.
But Prof Sikora argued that the patient could have responded to treatment, which had been agreed with Dr Rudin, and could have lived for "several months or even 1 or 2 years".
The tribunal heard that was disputed between Prof Sikora, who believed Patient C had responded to first-line chemotherapy because her tumour had shrunk in size, and other expert witnesses who believed her cancer had progressed.
Ms Beattie said Patient C, who also developed an infection and progressive lymphangitis, was given further chemotherapy because Prof Stebbing had believed her cancer was "eminently reversible" even though her condition had deteriorated.
As a result, she said, Prof Stebbing had been prepared to "override" the patient's wishes not to be moved to the hospital's ITU unit and be given ventilation.
Ms Beattie asked Professor Sikora whether Patient C should have had further involvement with palliative care doctors prior to her death.
"The patient had an aggressive, rapidly-growing tumour," he responded.
"This patient lived a week after second-line chemotherapy.
"There's no way of predicting how it will go. So Professor Stebbing was aggressive almost to the end and that it what the patient and the family wanted.
"And that's why he got nice letters from the family afterwards."
Ms Beattie claimed the family and patient had been in a "vulnerable" position and end of life care would have been appropriate.
"You're trying to show there was incompetence here, and there wasn't," replied Prof Sikora.
"This was a genuine approach to it. It was an aggressive approach but a fair approach."
'Conductor of the Orchestra'
Ms Beattie said Professor Stebbing's belief that the patient's cancer was reversible had not only meant he was prepared to override the patient's wishes but also led to a "chain of decisions and actions" in ITU.
"Professor Stebbing is the conductor of the orchestra," replied Professor Sikora.
"But it's not only his decision to admit someone to ITU.
"And the patient changed her mind. No-one wants to go to ITU. It's abhorrent to have assisted ventilation of any form. No-one wants to do that.
"But if it's the only way of surviving you're willing to do things that you wouldn't normally do.
"That's the situation it came to."
He said it had seemed "reasonable to escalate care" as Prof Stebbing had believed the cancer was reversible and he was being pilloried "through no fault of his own".
The hearing is due to resume next week.
Ian Leonard is a freelance journalist experienced in covering MPTS hearings.
© 2021 WebMD, LLC

Send comments and news tips to uknewsdesk@medscape.net.
Cite this: Ian Leonard. Leading Oncologist's MPTS Hearing Halted Over Expert Testimony - Medscape - Sep 03, 2021.