Equine therapy, which involves interactions with horses in a controlled environment, reduces fear and other symptoms of posttraumatic stress disorder (PTSD), new research suggests.
Results from a study of about 60 military veterans who underwent weekly sessions of horse-assisted therapy showed "marked reductions" in clinician-rated and self-reported symptoms of PTSD and depression up to 3 months posttreatment.

"What we're doing here with horses is helping people overcome something very specific to PTSD," co-investigator Yuval Neria, PhD, professor of clinical medical psychology and director of the PTSD Treatment and Research Program, Columbia University Medical Center, New York City, told Medscape Medical News.
"It offers the opportunity to overcome fear, to facilitate self-efficacy, to facilitate trust in yourself, to understand your feelings, and perhaps to change them over time, he said.
In addition, veterans loved the experience, Neria reported. He noted that many patients with PTSD have trouble with traditional treatments and are eager to try something "creative and new."
The findings were published online August 31 in the Journal of Clinical Psychiatry.
Building Bonds
PTSD affects an estimated 10% to 30% of US military personnel. These rates are higher than in the general population because veterans may experience increased trauma through combat, injury, and sexual assault, the investigators note.
Previous research has suggested that horse-human interactions can build bonds that foster behavioral changes. These powerful animals provide instantaneous feedback, allowing patients to develop emotional awareness.
"Horses are very sensitive to whatever we communicate with them, whether it's fear or anger or stress," said Neria.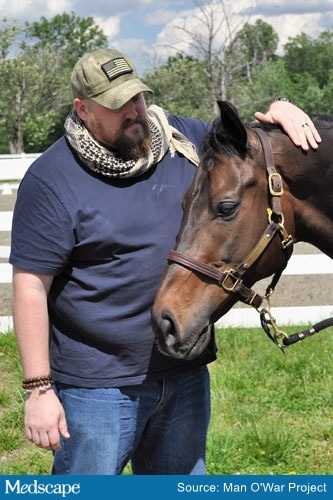 Equine-assisted therapy is increasingly being used for various mental and physical conditions. Launching an open-label study to examine this type of treatment for PTSD "was an opportunity to look at something very, very different," Neria said.
"This is not psychotherapy; it's not medication — and it's not neural stimulation," he added.
The study included 63 veterans with PTSD (mean age, 50 years; 37% women). Of these, 47 were receiving psychotherapy alone, pharmacotherapy alone, or both. In addition, 48 had at least one comorbid disorder. All were divided into 16 groups of three to five participants each.
The program consisted of eight 90-minute weekly sessions conducted at a large equestrian center. Sessions were co-led by a mental health professional and an equine specialist who guided participants in horse communication and behavior.
Early sessions focused on acquainting patients with the horses, grooming exercises, and learning "leading," which involved directing a horse with a rope or wand. During subsequent sessions, patients became more comfortable with managing the horses in individual and teamwork exercises.
The horses were specifically chosen for their temperament and had no history of aggression. A horse wrangler attended sessions to further ensure safety.
Few Dropouts
The study included four assessment points: pre-treatment, midpoint, posttreatment, and 3-month follow-up.
All 63 participants completed baseline assessments. Only five patients (7.9%) discontinued the program.
"We didn't see dropouts at the rate we usually see in evidence-based therapies for PTSD, which is remarkable and suggests that people really loved it," said Neria.
The primary outcome was the Clinician-Administered PTSD Scale-5 (CAPS-5), a structured interview that evaluates intrusive memories, social avoidance, and other symptoms based on DSM-5 criteria.
In the intent-to-treat analysis, mean CAPS-5 scores decreased from 38.6 at baseline to 26.9 posttreatment. In addition, 29 (46.0%) and 23 (36.5%) participants scored below the PTSD diagnostic threshold of 25 at posttreatment and follow-up, respectively.
Notably, 50.8% of the study population had a clinically significant change, defined as 30% or greater decrease in CAPS-5 score, at posttreatment; 54.0% had a significant change at follow-up.
Mean scores on the self-reported 20-item PTSD Checklist for DSM-5 (PCL-5) questionnaire decreased from 50.7 at baseline to 34.6 at study termination.
Depression symptoms, measured by the clinician-rated Hamilton Depression Rating Scale and the self-reported Beck Depression Inventory-II, also improved.
Structural, Functional Change
The results did not differ by age, gender, or type of trauma. Neria noted that many women in the study had suffered sexual abuse or assault, suggesting that the intervention might be appropriate for PTSD outside the military.
"I'm very keen on moving this along into a civilian population," he said.
The study did not examine potential mechanisms of action. The benefits may come from something inherent in the equine interactions, the human group process, or just being in the beautiful setting where the treatment took place, the investigators note.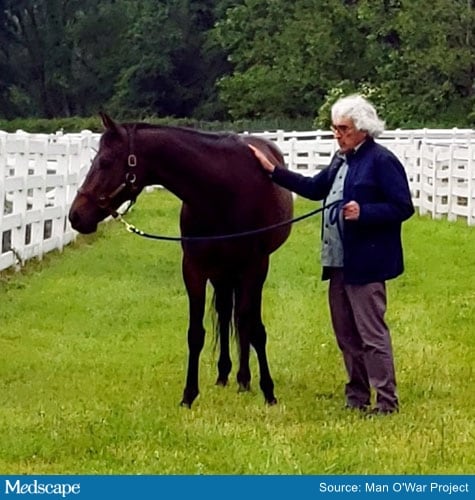 However, Neria thinks there is another potential explanation — real changes in the brain.
Neuroimaging of a subsample of 20 participants before and after the intervention showed a significant increase in caudate functional connectivity and a reduction in gray matter density of the thalamus and the caudate.
"We see a big change both structurally and functionally," with the results pointing to an impact on the reward network of the brain, said Neria.
"This suggests that pleasure was perhaps the main mechanism of action," which corresponds with patient reports of really enjoying the experience, he added.
Neria noted that equine therapy is different from bonding with a loyal dog. Interacting with a large and powerful animal may give veterans a sense of accomplishment and self-worth, which can be tremendously therapeutic, he said.
Next Step in Therapy?
Commenting on the research for Medscape Medical News, retired Col. Elspeth Cameron Ritchie, MD, chair of psychiatry, MedStar Washington Hospital Center in Washington, DC, called equine therapy "innovative" in PTSD.
"I see this as the next step in finding acceptable therapies that people like to do," she said.
Some patients have an aversion to talk therapy because it makes them relive their trauma; and many dislike the side effects of medications, which can include erectile dysfunction, said Ritchie, who was not involved with the research.
"So something like this that they can enjoy, have a sense of mastery, can bond with an animal, I think is wonderful," she said.
Ritchie noted that working with animals offers "a kind of biofeedback" that may calm anxieties, help maintain control, and "is very nonjudgmental."
However, she pointed out that equine therapy is not new. For example, horses have been used previously to treat patients with a variety of disabilities, including autism.
Ritchie thought it was "very wise" that study participants just learned to control the horses and didn't actually ride them, because that could be a frightening experience.
Nonetheless, she noted equine therapy "is not going to be accessible for everybody."
In addition, Ritchie noted surprise that the investigators didn't mention more of the quite extensive research that has been conducted on dog therapy in patients with PTSD.
Neria and Ritchie have disclosed no relevant financial relationships.
J Clin Psychiatry. Published online August 31, 2021. Full article
For more Medscape Psychiatry news, join us on Twitter and Facebook.
Credits:
Thumbnail: Man O'War Project
Article images: Man O'War Project
Headshot: Columbia University
Medscape Medical News © 2021

Cite this: Pauline Anderson. 'Innovative' Equine Therapy Helps Overcome PTSD Symptoms - Medscape - Sep 02, 2021.