Editor's note: Find the latest COVID-19 news and guidance in Medscape's Coronavirus Resource Center.
The global pandemic has had numerous negative effects on hospital-based physicians, including risk to personal safety, immense stress, and, as a new report points out, effects on salaries and income.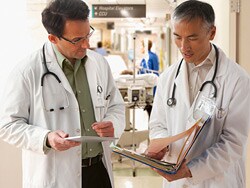 The Medscape Hospitalist Compensation Report 2021 surveyed nearly 18,000 US-based hospitalists about various factors of their work, including earnings. The report found that hospitalists earn more than nonhospitalist primary care physicians, whose average annual salary is $236,000, but they earned less than other nonhospitalists, whose average annual salary is $341,000. (The report defines "nonhospitalist" as primary care physicians and specialists who do not work in a hospital, excluding anesthesiologists, pathologists, radiologists, and surgeons.)
About one quarter of hospitalists said their income decreased. Of those who lost income, the vast majority (88%) attributed it to the pandemic, citing job loss, reduced hours, or reduced patient volume. A minority (20%) attributed their reduced income to nonpandemic factors, such as maternity leave, relocation, or a partner leaving the practice.
About the same percentage of hospitalists (58%) and nonhospitalists (56%) received an incentive bonus as part of their compensation. However, nonhospitalists received a larger bonus ($41,000) than hospitalists ($30,000), according to this year's report.
Just over half of hospitalists (58%) reported that they did not suffer any financial or practice-related ill effects from the pandemic. Very few hospitalists (4%) struggled through a temporary period in which they received no earnings because of layoffs (1%) or because they were furloughed for a period (3%). Another 16% said they were not given an annual raise, and 12% said their hours were reduced.
"Both the lockdown and canceled procedures definitely were a factor here. Moreover, several hospitals reported pay cuts for their staff. On the other hand, many hospitals remained at full capacity with a very busy workflow throughout the pandemic," said Alok S. Patel, MD, a pediatric hospitalist at UCSF Benioff Children's Hospital, San Francisco, California.
Gender Pay Gap Persists
Male hospitalists make 30% more than female hospitalists; male nonhospitalists earn 33% more than women. "The gender pay gap in medicine is by no means a new phenomenon. Despite increased awareness, the problem still persists. Even bias in promotion and clinical opportunities can affect financial gain, which would also widen the pay gap," said Patel.
However, this marks the fourth straight year that more than half of hospitalists (59%) feel they are fairly compensated.
More than 40% of hospitalists reported a net worth of $1 million or more, 20% reported a net worth between $2 million and $5 million, and 5% reported having more than $5 million.
For the fifth straight year, home mortgages were the largest source of hospitalist debt. Also high on the list were paying off car loans, personal college and medical school loans, and credit card debt.
Hospitalists Are Working Similar Hours but Are Seeing More Patients
Hospitalists worked 4 more hours on average than nonhospitalists before the pandemic (53 and 49 hours, respectively). Hospitalists have been working 5 more hours on average than nonhospitalists since the start of the pandemic (55 and 50 hours, respectively).
Hospitalists saw an average of 60 patients per week before COVID; in contrast, nonhospitalists saw an average of 78 patients weekly. Hospitalists are seeing more patients now (64 per week) than at the start of the pandemic. However, nonhospitalist patient volume dropped from 78 per week to 73.
Hospitalists spend about 4 more hours per week on paperwork and administration than nonhospitalists. These tasks include electronic health record documentation, administrative and managerial work, participation in professional organizations, clinical reading, and research.
About one quarter of hospitalists and nonhospitalists said knowing they are making the world a better place is the most rewarding aspect of their job. Nearly 3 in 10 nonhospitalists said patient relationships and specifically their gratitude are the most rewarding aspects.
Having so many rules and regulations is often the most challenging part of the job for both hospitalists (20%) and nonhospitalists (24%). For hospitalists, working long hours was more challenging than it was for nonhospitalists (18% and 13%, respectively).
Overall, Hospitalists Are Satisfied With Their Careers
If they had to do it all over, a large majority of hospitalists (77%) and nonhospitalists (79%) would choose to go into medicine again.
Of the physicians who would choose medicine as their career again, most hospitalists (75%) and nonhospitalists (80%) said they would choose the same specialty.
"I would choose to be a hospitalist again primarily because of the flexibility, the range of career directions, and how well this role fits into a hybrid career model. I like the variety and the ability to take on different roles, from surgical subspecialties to acute care to chronic disease management. In addition, the ability to customize a schedule and take on shift work is beneficial when it comes to work-life balance," said Patel.
The survey collected data from physicians who self-identify as hospitalists and are currently practicing in the United States across more than 30 disciplines. Responses were collected between October 2020 and February 2021.
For more news, follow Medscape on Facebook, Twitter, Instagram, and YouTube.
Medscape Medical News © 2021

Send news tips to news@medscape.net.
Cite this: COVID-19 Cost Hospitalists Income, but Not Love of Medicine: Survey - Medscape - Aug 27, 2021.