MANCHESTER—World-renowned oncologist Professor Justin Stebbing was suspended by a private health care provider after he ignored the "dissenting views" of colleagues and restrictions placed on his practice to give chemotherapy to a cancer patient, a medical tribunal heard.
Prof Stebbing, a cancer medicine and oncology professor at Imperial College London with a private practice in Harley Street, has an international reputation for his innovative treatments which has led to wealthy, terminally-ill cancer patients from around the world turning to him in the hope of extending their lives.
They include New Zealand multi-millionaire Sir Douglas Myers and the actor Lynda Bellingham.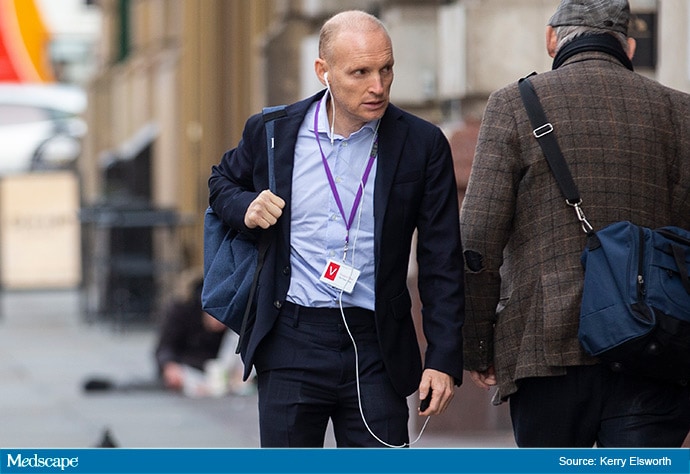 36 Charges
He's appearing before a Medical Practitioners Tribunal Service (MPTS) fitness to practise hearing and is accused of failing to provide good clinical care to 12 patients between March 2014 and March 2017.
In some cases, he's accused of inappropriately treating patients given their advanced cancer or poor prognosis, overstating life expectancy and the benefits of chemotherapy and continuing to treat patients when it was futile and they had just weeks to live.
The 36 charges - 21 of which he's admitted - also include failing to keep proper records and failing to gain informed consent for treatment from patients.

Patient L
The tribunal heard about Prof Stebbing's treatment of one cancer patient from New Zealand - known as Patient L - who was admitted to the Princess Grace Hospital in March 2017, where he was diagnosed with a small bowel obstruction and then given irinotecan-based chemotherapy.
Prof Stebbing, who'd treated the patient since 2013, has admitted inappropriately prescribing the treatment, given the bowel obstruction was evident on a CT scan and conditions had been placed on his practice by HCA Healthcare.
Those conditions required him to get authorisation from two supervisors before changing a patient's treatment and he was subsequently suspended by the private health care company.
The patient's daughter - Miss BB - told the tribunal that she'd never discussed the possibility of her father not having treatment as it was "totally untypical" to what he wanted to do and he "wasn't a go peacefully kind of guy".
Her father had been "adamant" that he wanted to carry on receiving treatment and had hoped to live for another 6 months.
Miss BB said she'd been unaware that Prof Stebbing needed authorisation to prescribe chemotherapy to her father but he'd later become aware of the oncologist's suspension.
Her father had been aware that Prof Stebbing's colleagues had objected to her father's treatment, she said, but he'd believed it was "the right thing".
"It seemed to me that he [my father] was aware of some issues around Professor Stebbing continuing with the treatment," said Miss BB.
"And that there were dissenting views around the treatment that he was being given.
"He was very angry and wanted to financially support any legal case against Professor Stebbing."
Miss BB said her father "trusted" Prof Stebbing and was "satisfied" that he was doing the "right thing for him" after going to a US oncologist for a second opinion.
She added: "My father had the view that Justin was a genius and was doing different, unusual things, which he was thrilled about.
"In an interview, he'd discussed his cancer and said it wasn't a death sentence."

Dishonest
Prof Stebbing has admitted several other charges in relation to Patient L after he sought to have treatment retrospectively authorised at an MDT meeting and changed details on paperwork, including removing a reference to the CT scan, with his actions deemed dishonest.
But Prof Stebbing denies a charge of failing to withdraw the chemotherapy prescription after previously telling the tribunal he was under the impression it had been administered on the day it was prescribed.
He also denies failing to obtain informed consent and to maintain adequate records and a separate charge of dishonesty relating to his failure to get authorisation for the chemotherapy and a failure to withdraw his prescription.

Patient C
The tribunal also heard about a 70-year-old patient - Patient C - who'd been diagnosed with advanced lung cancer, between August and October 2014.
Prof Stebbing is accused of inappropriately escalating her care, which included providing assisted ventilation and prescribing second-line full dose chemotherapy in the weeks prior to her death.
It's alleged he also failed to discuss a realistic assessment of the patient's prognosis with her or her family, failed to discuss the risks and benefits of not having treatment and did not consider an appropriate ceiling of care with colleagues.
But Patient C's daughter - Miss AA - told the tribunal that Prof Stebbing had discussed the risk and benefits of not going ahead with the chemotherapy and the family had wanted the treatment even if it only had a "tiny chance" of success because her mother "loved life".
"We knew if she had the chemotherapy there was a very, very slim chance of potential recovery – 1% or 2%," she said. "We knew it was minimal."
"But we knew, watching her in ICU, that if we did nothing she could potentially die.
"If anyone would have known my mother they would known that a 1% chance would have been of benefit to us."
Miss AA said Prof Stebbing's attitude towards her mother was in stark contrast to colleagues at The Princess Grace Hospital, where she was treated.
They had a "very direct" approach, she said, and were "callous and cold" and they had wanted Prof Stebbing to be the family's point of contact due to his "caring" and "empathetic" attitude.
Ms Sharon Beattie QC, for the GMC, asked Miss AA if Prof Stebbing had been prepared to "override" her mother's wishes not to have non-invasive ventilation and be transferred to ICU because he believed her mother's cancer was "eminently reversible".
"Not that I recall, that's not my picture of events.

"My picture of events is different but I might not have been party to a potential conversation or it was a highly emotional time."
The tribunal continues.
Ian Leonard is a freelance journalist experienced in covering MPTS hearings.
© 2021 WebMD, LLC

Send comments and news tips to uknewsdesk@medscape.net.
Cite this: Ian Leonard. Oncologist Suspended After Ignoring Colleagues' Dissenting Views, Tribunal Hears - Medscape - Aug 27, 2021.