The novel calcitonin gene-related peptide (CGRP) antagonist atogepant is safe and effective for the preventive treatment of migraine, full results from a phase 3 trial suggest.
AbbVie, the company developing the oral therapy, announced topline results of the ADVANCE trial of atogepant last year. Safety results were presented in April at the 2021 annual meeting of the American Academy of Neurology.
The full results were published online August 19 in The New England Journal of Medicine ahead of the upcoming target action date of the US Food and Drug Administration (FDA).
The multicenter study included almost 900 patients who were randomly assigned to receive either placebo or one of three doses of atogepant for 12 weeks. The mean number of monthly migraine days decreased by about 4 for all three doses of the active treatment, compared with a reduction of 2.5 days with placebo.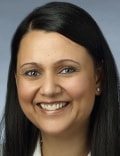 "Overall, this study showed us that atogepant was safe and surprisingly seems to be pretty effective regardless of the dose," lead author Jessica Ailani, MD, director of MedStar Georgetown Headache Center and associate professor of neurology at Georgetown University, Washington, DC, told Medscape Medical News.
All Doses Effective
The study included 873 patients with episodic migraine with or without aura. Patients who were not assigned to the placebo control group received either 10 mg, 30 mg, or 60 mg of atogepant once daily.
After a 4-week screening period, all patients received treatment for 12 weeks and then entered a 4-week safety follow-up period. In total, the participants completed eight scheduled clinical visits.
The mean reduction from baseline in the mean number of migraine days per month was 3.7 with the 10-mg dose of atogepant, 3.9 with the 30-mg dose, 4.2 with the 60-mg dose, and 2.5 with placebo. The differences between each active dose and placebo was statistically significant (P < .001).
Treatment with the CGRP inhibitor was also associated with a reduction in the mean number of headache days per month.
The mean reduction from baseline was 3.9 days for the 10-mg dose, 4.0 days for the 30-mg dose, 4.2 days for the 60-mg dose, and 2.5 days for placebo (P < .001 for all comparisons with placebo).
In addition, for 55.6% of the 10-mg group, 58.7% of the 30-mg group, 60.8% of the 60-mg group, and 29.0% of the control group, there was a reduction of at least 50% in the 3-month average number of migraine days per month (P < .001 for each vs placebo).
The most commonly reported adverse events (AEs) among patients who received atogepant were constipation (6.9% to 7.7% across doses), nausea (4.4% to 6.1%), and upper respiratory tract infection (1.4% to 3.9%). Frequency of AEs did not differ between the active-treatment groups and the control group, and no relationships between AEs and atogepant dose were observed.
Multidose Flexibility
"Side effects were pretty even across the board," said Ailani. She noted that the reported AEs were expected because of atogepant's mechanism of action. In addition, the rate of discontinuation in the study was low.
The proportion of participants who experienced a reduction in monthly migraine days of at least 50% grew as time passed.
"By the end of this study, your chance of having a greater than 50% response is about 75%," Ailani said.
"Imagine telling your patient, 'You stick on this drug for 3 months, and I can almost guarantee you that you're going to get better,'" she added.
Although the treatment has no drug-drug contraindications, drug-drug interactions may occur. "The availability of various doses would allow clinicians to adjust treatment to avoid potential drug-drug interactions," said Ailani. "That multidose flexibility is very important."
An FDA decision on atogepant could be made in the coming months. "I'm hopeful, as a clinician, that it is positive news, because we really have waited a long time for something like this," Ailani said.
"You can easily identify patients who would do well on this medication," she added.
In a different study of atogepant among patients with chronic migraine, there were recruitment delays because of the pandemic. That study is now almost complete, Ailani reported.
"Well-Conducted Study"
Commenting on the findings for Medscape Medical News, Kathleen B. Digre, MD, chief of the Division of Headache and Neuro-Ophthalmology at the University of Utah Health, Salt Lake City, Utah, expressed enthusiasm for the experimental drug.
"I'm excited to see another treatment modality for migraine," said Digre, who was not involved with the research. "It was a very well-conducted study," she added.
The treatment arms were almost identical in regard to disease severity, and all the doses showed an effect. Although the difference in reduction of monthly migraine days in comparison with placebo was numerically small, "for people who have frequent migraine, it's important," Digre said.
The results for atogepant should be viewed in a larger context, however. "Even though it's a treatment that works better than placebo for well-matched controls, it may not be a medication that everybody's going to respond to," she noted.
"And we can't generalize it for some of the most disabled people, which is for chronic migraine," she said.
It is significant that the study was published in The New England Journal of Medicine, Digre noted.
"Sometimes migraine is dismissed as not important and not affecting people's lives," she said. "That makes me very happy to see migraine being taken seriously by our major journals."
In addition, she noted that the prospects for FDA approval of atogepant seem favorable. "I'm hopeful that they will approve it, because it's got a low side-effect profile, plus it's effective."
Migraine-specific preventive therapy has emerged only in the past few years. "I'm so excited to see this surge of preventive medicine for migraine," Digre said.
"It's so important, because we see so many people who are disabled by migraine," she added.
The study was funded by Allergan before atogepant was acquired by AbbVie. Ailani has received honoraria from AbbVie for consulting, has received compensation from Allergan and AbbVie for participating in a speakers' bureau, and has received clinical trial grants from Allergan. Digre has reported no relevant financial relationships.
N Engl J Med. Published online August 19, 2021. Abstract
Follow Erik Greb on Twitter: @MedscapeErik.
For more Medscape Neurology news, join us on Facebook and Twitter.
Medscape Medical News © 2021

Send news tips to news@medscape.net.
Cite this: Atogepant Reduces Migraine Days: ADVANCE Trial Published - Medscape - Aug 25, 2021.