Consumers are increasingly turning to the internet to find and access care, which means physicians with a less developed online presence may struggle to reach new patients, especially Millennials, according to a new report.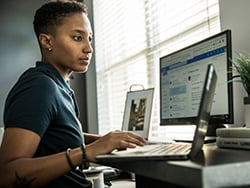 The analysis, by customer experience management company Reputation, looked at 348,000 customer reviews across 113,000 physicians and healthcare facilities. Using a proprietary AI-based scoring system, a Reputation Score was calculated by taking "a snapshot of everything customers say about a provider online," including feedback posted to sites like Google and Facebook, the company said in a statement.
The report found that physicians who amassed more online reviews had higher Reputation Scores and greater patient engagement, as indicated by the 540% uptick in conversions on their Google My Business (GMB) listings. Conversion rates were measured by "how often someone clicks on a GMB listing to call a location, visit a website, or get directions to a location," according to the company.
Patients Turning to the Internet for Decision Making
Reputation also surveyed 1000 US adults aged 27-64 to determine how they choose a physician. Conducted in 2020 after the start of the pandemic, 68% of respondents said they went online at some point during the year to find information about a potential healthcare provider, compared with just 22.4% in 2019 and 9% in 2018.
Those in the market for a new primary care physician relied on word-of-mouth recommendations most often (23%). Although just 12.5% preferred to start with a web search, there was a 25% increase in GMB listing engagement from April-December 2020 when compared with January-February 2020, suggesting the listings were used more frequently as a beginning point to initiate contact with a provider.
Four fifths of respondents (82.4%) said whether a physician accepted their insurance was the most important factor guiding their choice of provider, followed by proximity to work or home (75.4%). Aside from those considerations, "patient ratings/reviews are the single-most important factor influencing Millennials' choice of physicians" at 38.9%, says the company.
Physicians "Woefully Disconnected"
Despite the search for care going digital, as of 2020, most physicians remained "woefully disconnected" from consumer decision-making. Roughly two thirds (65%) of physicians had zero online reviews and are not providing patient experience information — in the form of ratings and reviews, often across multiple platforms — that the public desires. In turn, they risk developing an "unfavorable reputation among Millennials" and may have trouble expanding patient volumes.
Input from peers can have a powerful effect. Half (50.8%) of survey respondents have chosen one physician over another based on reviews and 66.7% deem a 4-star rating as the "minimum acceptable standard" when considering a provider. More than 9% (9.4%) of respondents read at least 20 reviews before making their decision and 38.9% read five to nine reviews.
As for age-related differences, 47.6% of Millennials preferred using Google reviews to evaluate physicians vs 21.5% of Baby Boomers — the latter group most often read reviews on WebMD. And compared with older adults, Millennials are six times more likely to rely on Facebook reviews of healthcare providers.
How to Boost Online Reputation
Faced with a "digital reckoning," says the company, physicians who "request reviews, respond to them and use patient feedback to improve the patient experience" can improve their online reputations and attract a larger share of consumers now utilizing the web for care decisions. This is particularly critical if providers want to engage hard-to-reach Millennials, who are old enough to be shouldering the responsibilities of their own care as well as for their children and aging parents.
A robust online footprint can also help build connections with the Gen Z population (those born after 1997), who were raised with digital technology, are quickly approaching adulthood, and will soon become prominent players in the healthcare system themselves.
Providers who "fail to improve their digital savvy will become irrelevant," says the company, because "the consumer shapes the reputation of the healthcare provider, and that process begins online."
Steph Weber is a Midwest-based freelance journalist specializing in healthcare and law.
For more news, follow Medscape on Facebook, Twitter, Instagram, YouTube, and LinkedIn
Medscape Medical News © 2021

Send news tips to news@medscape.net.
Cite this: Physicians Can Be Savvy Online or Become Irrelevant, Says Report - Medscape - Aug 18, 2021.